Evidence indicates Sheriff Jody Greene may not live in Columbus County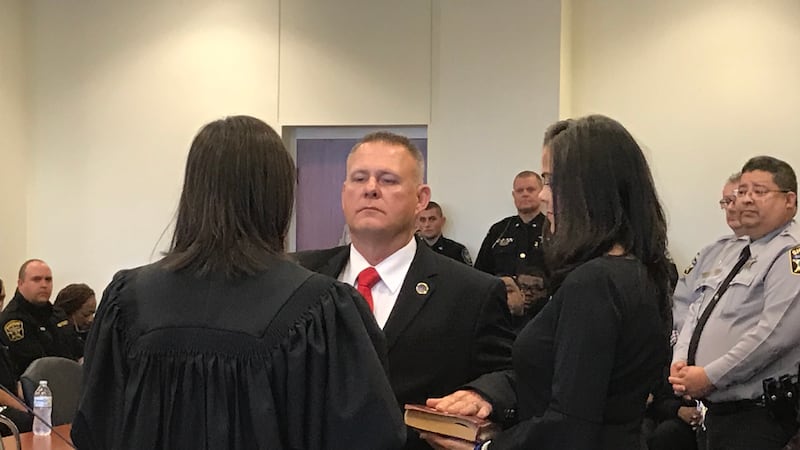 Updated: Dec. 14, 2018 at 6:57 AM EST
COLUMBUS COUNTY, NC (WECT) - There's no power hookup, there's no trash service and the owner of a property in Cerro Gordo is not paying any taxes for structures associated with this property, according to Columbus County tax records.
Yet newly elected Columbus County Sheriff Jody Greene claimed that property along Page Mill Road as his primary residence when he signed up to run to be the chief law enforcement official in that community.
In multiple conversations, Greene has been unable to provide a clear explanation as to why this is the case. The revelation could derail a fledgling administration as the sheriff is required by state law to live in the county he or she serves.
Property tax records dated as late as December of this year for that address indicate there is no structure that has been assessed on that property. Neighboring properties for other homeowners however do include property taxes relating to structures.
Additionally, Duke Energy told reporters the property Greene has listed as his residence is not associated with any power service account, and the neighboring address only has a commercial account which has had minimal power usage, and none at all in some recent months.
Inklings Greene may not live in the county were the basis for a protest that challenges the legitimacy of the recently certified election in which Greene ousted incumbent Lewis Hatcher, winning by 37 votes.
Rumors about whether Greene lived in the county were passed around during the primary and general election campaigns, but no formal complaint was filed that WECT is aware of. The original protest filed with the county board of elections was rejected earlier this month, but on a technicality because the person filing the protest says they inadvertently checked a box that they were not a registered voter in Columbus County. The protester has recently appealed this rejection to the North Carolina State Board of Elections.
North Carolina General Statute 162-2 states that to serve as a county sheriff, one must have resided in that county for one full year prior to the general election.
In a phone conversation with a reporter, Greene stated the Page Mill Road address has been his primary residence, but when asked if he had a home on the 50-acre property, he chose to clarify that it was a "dwelling." A camper is visible from the property line, but Greene stated that is where his dogs live. From public property outside the area, sheds, farm buildings and that camper are noticeable, but nothing that appeared to be a home.
We asked Columbus County property tax workers if it was possible Greene had moved a trailer to his property and could be living out of that since there were no structures or dwellings listed on county records at the address in question. They said he would have had to set up trash services and he had not. Greene said he lives nearly half a mile off the road and did not want to haul his trash to the road, which is why he did not initiate trash services.
After being unable to confirm visually that a dwelling appeared on the property, a reporter contacted Greene again to try to clarify his residency.
"I'm going to end this conversation. Next time you call, I'll forward you to my attorney," Greene said, adding that he expected privacy at his personal residence. WECT routinely interviews elected officials at their homes, including former sheriffs of Columbus County.
WECT spoke with Hatcher on Thursday about concerns that the man who narrowly beat him in the sheriff's race doesn't actually live in Columbus County as required by law. Hatcher said he shares those concerns, but did not know about this potential issue until after early voting in the general election had begun.
"He should be held to the same standard I'm held to," Hatcher said. "I've rode out there also. There's nothing that gave me any indication that anyone lived there. ... What's good for me should be good for my opponent."
Hatcher also said Greene's defensiveness about where he lived was concerning. Greene was angry after learning reporters had visited his property in an attempt to confirm he lived there, and told us not to come back.
"If it's legit, why would you have an issue showing someone?" Hatcher asked.
Greene denounced WECT story in a Facebook post late Thursday night while also stating that an acquaintance of Hatcher's damaged a patrol car and it was never reported.
While Columbus County tax records show no structures for which Greene is paying taxes, public records in Horry County, S.C., indicate Greene owns a home in Cherry Grove, S.C., just north of Myrtle Beach. The property, valued at just under $300,000, is being taxed as a secondary residence in that community.
Prior to becoming sheriff in Columbus County, Greene served as an N.C. State Trooper stationed in nearby Robeson County.
It is unclear when the NCSBE will hear this protest appeal. A spokesperson for the state agency says they have all their investigators focused on the NC-9 Congressional District investigation.
We have reached out to Columbus County commissioners for comment on this issue since they may have to investigate this claim. We have not been able to reach anyone yet.
Copyright 2018 WECT. All rights reserved.