UNTESTED: Rape Kits Collecting Dust Across NC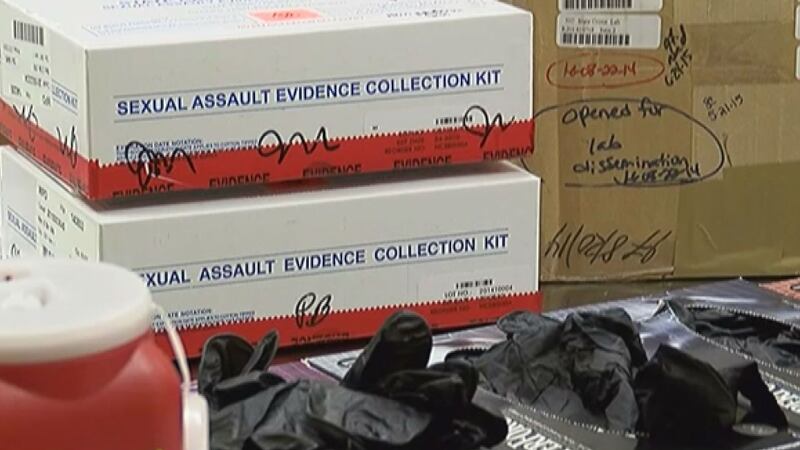 Published: Oct. 28, 2015 at 2:35 PM EDT
|
Updated: Nov. 3, 2015 at 1:15 PM EST
WILMINGTON, NC (WECT) - Earlier this year, we reported it was taking two or more years in some cases for rape victims from the Wilmington area to get DNA results following the crime. During the course of our investigation, we uncovered some information you may find even more disturbing. We learned the vast majority of rape kits taken from victims are never sent to the state lab for processing at all.
In 2014, Wilmington Police took in a total of 41 rape kits for rapes and other sexual assaults, but only submitted 10 rape kits to the state lab to be analyzed.
While it might shock you that such a small percentage were sent for testing, it also came as a surprise to the director of the Rape Crisis Center in Wilmington.
"I was under the impression and I think our clients are under the impression that when they go through that process that [the kit] is going to be sent off," Rape Crisis Center Director Jessica Green said.
Green explained it often takes 7 or 8 hours for medical teams to perform the 17 part exam for a rape kit, and the invasive procedure can be a trauma of its own after a victim has been raped.
"I think that [victims] are going to be really shocked and really heartbroken to know that they went through all that trouble and hassle for it to not come to anything," Green said.
Most of these rape cases are never brought to the District Attorney's attention, because police don't feel there's enough evidence to press charges. In those cases, it's up to police to notify victims of the status of their case. But some rape victims from this area have told us they waited years and years with no answers, never being notified about what happened with the investigation into their rape.
"It is hard to kind of say, we did everything we could and it still wasn't enough. That's a difficult conversation," Green says of why officials may not be more forthcoming with rape victims. "But I think we owe our survivors more answers."
For those cases that are passed on to the DA's office that prosecutors decide not to pursue for lack of evidence, it is policy for prosecutors to contact the victims to explain why they are not moving forward.
This pattern of rape kits not being sent off for testing is not unique to Wilmington. Each year, the state crime lab receives about 250 sexual assault kits for processing from crimes all across the state. That number pales in comparison to the number of rapes and sexual assaults reported each year, and the number of kits collected.
Local investigators say there are valid reasons many rape kits are shelved and not sent to Raleigh for processing. Sometimes the victim changes her mind and decides not to pursue criminal charges. Or the victim knows her attacker, and the rape suspect has admitted to authorities they had sex. In these cases, DNA analysis is less critical because there is no question about identity of the accused rapist.
"The issue is not sexual activity, it's whether it was consensual or not," explained New Hanover County District Attorney Ben David. "If we have that in the evidence vault, am I going as the prosecutor to send that [rape kit] to Raleigh and spend all the resources of the state….while we prove what both sides already agree on? Of course not."
Authorities say they rarely prosecute in cases where it's simply the suspect's word against the victim's and there are no serious injuries or other evidence, like video, of a rape.
"Sexual assaults are one of the only types of crime of which there may be no evidence beyond the victim's report that a crime was committed at all," explained veteran sex crimes prosecutor Connie Jordan. "There are usually no broken windows, pried open doors, stolen property, eye witnesses, and there are very rarely physical injuries sustained on the victim. In my experience, these are easily the most difficult cases to prosecute for all of these reasons and more."
As for the kits that actually are sent off to the state lab for processing? There's no guarantee the bodily fluid samples from the rape kit will translate into usable DNA evidence.
In cases where no DNA is found in the rape kit, or in cases where the victim has waited too long after the crime to have a rape kit taken, the WPD says they will sometimes send in other evidence for analysis. DNA can sometimes be found on clothing, bedding or a couch cushion, but not always.
"What frequently wins cases in 'he said, she said' sexual assaults, is physical evidence," David said. "If we don't believe that there is evidence, we don't want to re-victimize them and put them on the ghost train of a not guilty verdict, or even a dismissal if we really believe in our assessment that that's where this is heading."
Clearly, the obstacles a rape victim must overcome to prove their case are more daunting than may be commonly understood. Despite the statistics that indicate most rape kits are taken in Wilmington are collecting dust in evidence rooms, rather than being processed, David says victims should still have them taken.
"As humiliating as it might be, as painful as it might appear at the time, absolutely submit to that rape test, and get that kit drawn," David advises. "Because things may change and it's going to be absolutely essential while the evidence is still able to be collected, to collect it."
Jessica Green is hopeful that eventually, state policy will change so that all rape kits are tested. She says in other states and jurisdictions where all kits are tested, investigators have found DNA from repeat offenders they would have likely missed if they didn't test every kit.
State Lab Director John Byrd says that is a policy decision that would have to be addressed and funded by state lawmakers.
"We know across the country there are efforts to statutorily require all sexual assault kits to be worked," Byrd explained. "North Carolina currently could not handle that without more resources. More manpower, more instrumentation, and more resources to be able to pay for all that. However…if the General Assembly determines that is the policy we need to follow, we'll provide them the resources that we need in order to be able to accomplish that mission."
Copyright 2015 WECT. All rights reserved.