Tenant complaints prompt housing investigation in Carolina Beach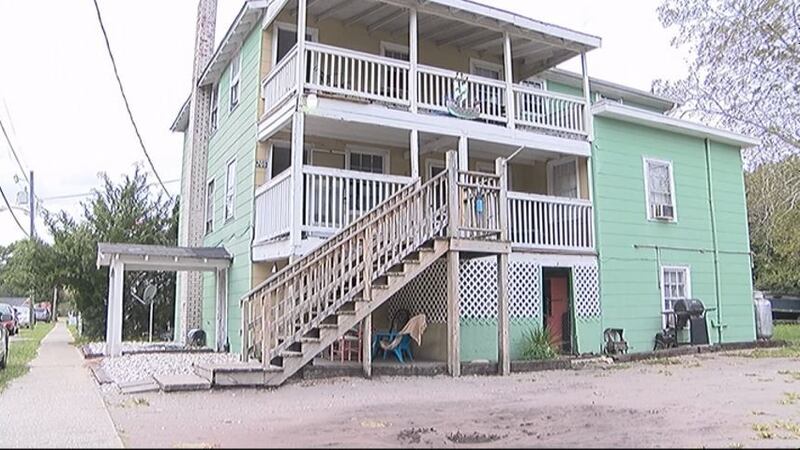 Published: Sep. 24, 2015 at 8:19 PM EDT
|
Updated: Oct. 19, 2015 at 11:26 AM EDT
CAROLINA BEACH, NC (WECT) - A boarding house in Carolina Beach is raising concerns after several complaints filed by residents of the home. The town of Carolina Beach began an investigation and code enforcement fire and building inspectors went to the home October 7. The complete report is expected to be finalized in the next few days.
The Issues
It is an 85-year-old building that used to be a hotel.
Now it is considered a "non-conforming boarding house" in Carolina Beach. Owned by Jonnie Barnitz and her husband Corey Garsh, there is no credit or background check required to live at the house, located on Florence Avenue. Rent is paid week-to-week on every Friday and water, internet, cable, and electricity are all included.
On August 14, the Town of Carolina Beach received a complaint from a former tenant citing: "Bedbugs, roaches, pipes leaking, wiring issue, maggots, mold in walls."
According to Carolina Beach ordinances:
Whenever the building inspector or designated official receives a complaint alleging a violation of chapter 4 of the Code, or applicable building codes or other matters within the jurisdiction of the building inspector, or whenever the building inspector or designated official becomes aware of the same, it shall investigate the matter and take action in accordance with the procedures set forth in this chapter.
The investigation began soon after the complaint was filed, and a month later, a second complaint had similar claims.
"Definitely some safety concerns that we want to look at," said Assistant Town Manager Ed Parvin. "And expedite enforcement action."
"Nothing's ever fixed. There have been several people that have moved in and seen things that were not right," tenant Tim Chestnutt explained. "But they wanted to move in just because it's cheaper than other places and everything included."
Garsh, however, says the "tenants are all happy." He was surprised by the allegations of current and former tenants. Garsh says that the building is all full, and he and his wife are simply giving people a place to stay.
There is speculation to who is responsible for the condition of the inside of the house, because in a boarding house, residents are responsible for cleaning their own space. According to Carolina Beach, all responsibility for the house falls on the owner.
Next Steps
Town officials have conducted an inspection with code, zoning, building, and fire staff.
The Carolina Beach Fire Inspector, found the following three issues in the house:
Install smoke detectors and Carbon Monoxide detectors in areas of the house.

Remove padlocks on doors and fix half locks.

Install a new fire extinguisher and remove an out of date/dishcharged extinguisher.
"There may be one code that does a fine, and another that has a timeline for eviction," Parvin explained.
According to zoning ordinances, boarding houses are no longer allowed on the island. Because the house was built and has been running for decades, it can stay on the island, as long as it meets health and safety requirements.
"If it went away or that use stopped for six or more months, in our code, you couldn't use it," Parvin said.
The owners have 30 days to change what the fire inspector has found, they have also met with code enforcement and plan to comply with moving forward to correct any other violations.
Copyright 2015 WECT. All rights reserved.