NHRMC transport team paves the way in NC for life-saving treatment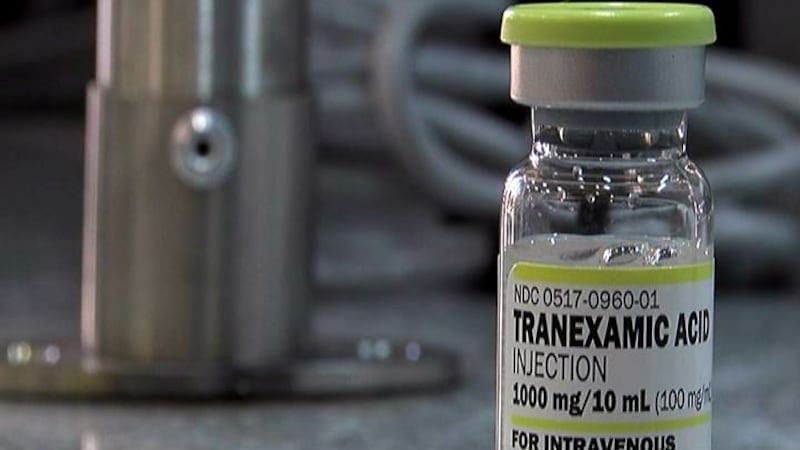 Published: Dec. 16, 2014 at 11:37 PM EST
|
Updated: Dec. 21, 2014 at 2:48 AM EST
WILMINGTON, NC (WECT) - As of December 1, a drug used on the battlefield to treat wounded soldiers suffering from severe bleeding can be administered in transport to New Hanover Regional Medical Center.
A hospital spokesperson said the New Hanover Regional Medical Center's AirLink VitaLink Critical Care Transport team is one of the first air medical transport services in the state to use Tranexaminc Acid (TXA).
"In the event that the weather's poor and we can't fly patients into the medical center, we have to go and get them by ground," Clinical Outcomes Manager at Critical Care Transport Brian Langston explained. "Being able to take this drug to the bedside and administer it there on scene to get the trauma center and ICU level care started earlier, the better off the patient outcomes are."
Doctor Heston Lamar, medical director at Critical Care Transport, said the body can lose its ability to clot blood after a major traumatic injury. TXA works to restore that process and improve a patient's outcome of survival when used within three hours of the incident.
"[Studies] found that in the sickest trauma patients--soldiers--who had the lowest blood pressures and required the most transfusions, their odds of survival versus someone who did not have the drug were seven times higher."
Although TXA has been administered in trauma centers for years, Lamar said studies on using the drug outside of a hospital setting were not conducted until recent years. He explained that most studies are sponsored and promoted by major pharmaceutical companies and because TXA is a generic, it took longer before studies developed.
Lamar tests showed TXA was highly effective in stabilizing patients before they ever arrived at the hospital, however he said it isn't a miracle drug.
"Major trauma is still a big deal. It isn't like you're going to get the drug and go skipping down the street. It makes a big difference in how people kind of turn out generally a month or so later," Lamar said. "The cost is low and you give it to 100 people, if you save three to five people for such a minimal costs and very few side effects if it's given in the right time frame, it's a no brainer."
New Hanover Regional Medical Center is also actively working to earn approval equip county EMS ambulances with TXA. Lamar hopes to be the first facility in the state to do so.
Copyright 2014 WECT. All rights reserved.