State Rep: "Poor leadership skills" behind Miller job search
Published: May. 15, 2014 at 1:01 PM EDT
|
Updated: Jul. 8, 2015 at 12:15 PM EDT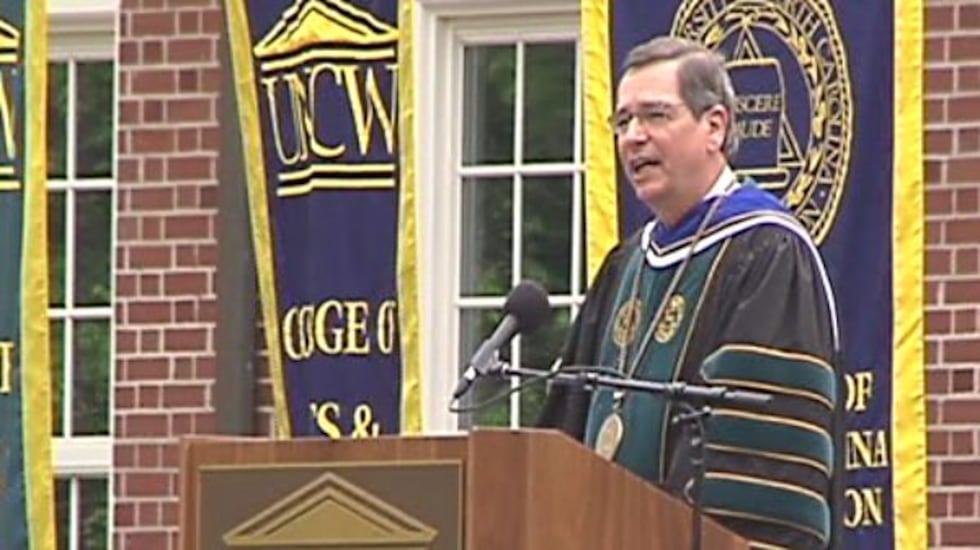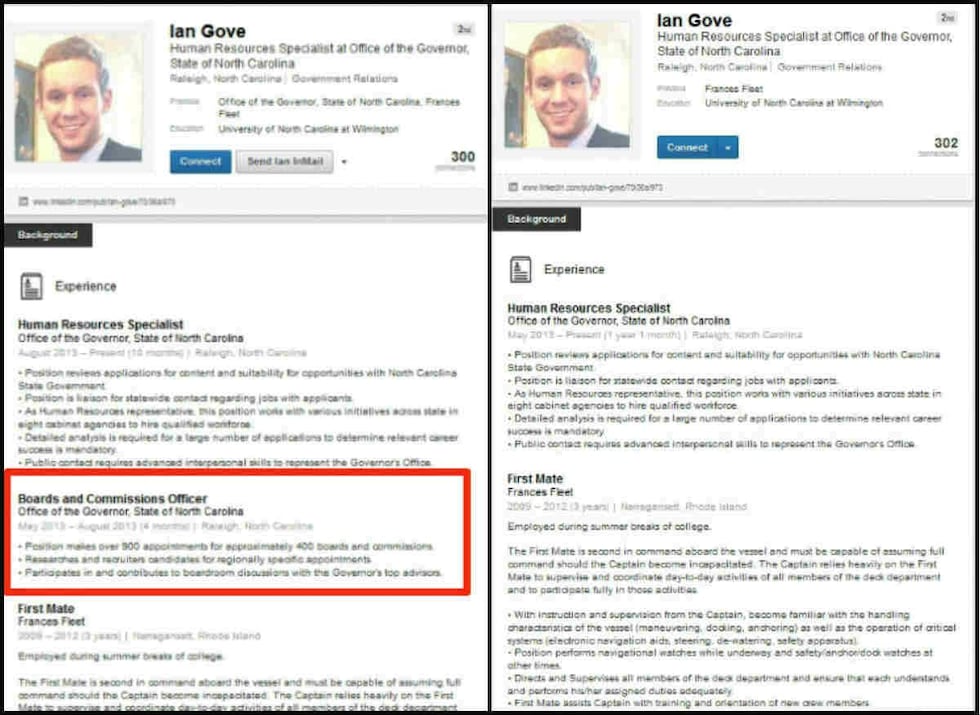 WILMINGTON, NC (WECT) - A state representative says "poor leadership skills" are more likely to be the reason for the recent job search of UNCW Chancellor Gary Miller and not an ongoing discussion into how the university handled the punishment of one of its fraternities.

Miller received a performance review about two years into his job as president of the Wilmington campus, which is earlier than normal for university chancellors, according to UNC system policy.
While the review is not considered public record, Rep. John Bell, a Goldsboro Republican, said he's heard from more than ten people with knowledge of the report that it was not flattering to Miller.

Rep. Bell contacted WECT after a report Friday about an investigation of the university's handling of Sigma Alpha Epsilon fraternity's 2012 suspension from campus after underage drinking violations. Supporters of Chancellor Miller have blamed fallout from the SAE suspension as one of the reasons Miller looking for a new job.  

Bell disagrees.

"I would think poor leadership skills in combination with all these different things are the reason the chancellor is looking to seek employment elsewhere," Rep. Bell said.
Bell pointed to the recent discussion of cutting some athletic programs at the university and a lawsuit brought by a current professor who said he was discriminated against for his conservative viewpoint as part of those other reasons.
You can read coverage of the athletic discussion here: http://bit.ly/1lpAsUt and the court's decision on Professor Mike Adams' lawsuit here: http://bit.ly/1mrZF4I.

Bell, a UNCW SAE alumnus,  co-sponsored an act in the General Assembly last session based on the way SAE was treated in its disciplinary hearings. The act, which passed almost unanimously into law, now allows students to have legal counsel in disciplinary proceedings.

Rep. Bell says he's speaking up now because he wants to set the record straight as to why he believes Miller is looking for a new job.  He says he's sick of Miller and others trying to discredit members of the SAE fraternity in what may be his final days on the job at UNCW. Miller has not spoken publicly about his job search to this point.

In response to Bell's claims, the university released this statement:
Chancellor Miller has not been asked to leave the university, nor has he been asked to leave based upon a performance evaluation. Therefore, the assertion that Chancellor Miller is exploring other opportunities because of a performance evaluation is false. Further, with few exceptions – none of which are applicable here – such employment-related information constitutes confidential information and its disclosure would implicate the violation of several state statutes.

Bell says he learned the information about Miller's performance review from a number of people who had access to the report. He says he believes in transparency, and is not bound by any ethics rules that would keep him from disclosing this information.

The national SAE organization sent the local chapter a cease and desist order in 2012 after complaints and UNCW followed with its own. After a disciplinary hearing and appeal, Miller upheld the suspension that year.
Bell is part of a group of UNCW SAE alumni who have expressed displeasure with the university over its handling of the suspension.
The group includes current members of the Board of Trustees Dennis Burgard and Michael Drummond, along with local businessman Parks Griffin.
Griffin is a founding member and was the first president of SAE at UNCW in 1977, according to records. Griffin was also the chairman of Governor Pat McCrory's 2013 inauguration committee and a major contributor to the Governor, giving $8,000 between 2011 and 2012. He also says he was one of approximately sixty people interviewed for Miller's recent performance review.

Records show that Griffin played an active role with the fraternity during the suspension process the past couple years. In September of 2012, Griffin was asked to leave a meeting between UNCW Assistant Dean of Students Chip Phillips and then-SAE student President Ian Gove because he kept interrupting the meeting, according to records obtained by WECT.

General counsel recommended the university commission an outside review of how it handled the suspension process with SAE after Burgard and Drummond raised concerns. A sworn affidavit from Phillips collected during that outside review says Griffin along with other SAE members intimidated Phillips to the point that he had to call campus police.

Asst. Dean Phillips said following the SAE disciplinary hearing Griffin approached him in a threatening manner, demanding files in Phillip's hand. At that point, Phillips claimed approximately 15 SAE members and alumni surrounded him. Phillips said in the affidavit that he felt like he was being surrounded by "a gang in a school yard" and felt highly threatened. When Phillips left the building, he says he was followed by Griffin and the group and eventually called campus police. UNCW Police Chief David Donaldson confirms that Phillips called police, asking for an escort to his office, and later to his car.

Bell and Griffin both characterize the incident differently.
Griffin says there was a group of men in coats and ties standing outside the hearing room, because they were not allowed inside. He says they asked for the documents that they were allowed access to by law, but were denied.
Griffin supplied WECT with a short video clip taken by a cell phone showing Phillips talking with SAE supporters outside the hearing room. At that point, voices are not being raised and Phillips had a clear exit from the situation.
In the video, Phillips is shown telling the members that he will not share the documentation from the hearing with them. (*You can view that video in three different locations. 1 WEB - see the top of this story. 2 APP - check under the "top video" section 3 Mobile users click this link: http://bit.ly/1juWraX *)

In August of 2013, Governor McCrory filled 2 vacancies on the UNCW Board of Trustees, the first gubernatorial appointments to the board since the Beverly Perdue administration in 2011. McCrory selected Burgard of Jacksonville and Drummond of High Point, both SAE alumni.

At the same time Burgard and Drummond joined the UNCW Board of Trustees, Ian Gove, the SAE student-president at the time of the suspension in 2012, worked for Governor McCrory's office. According to a LinkedIn resume, Gove started as a Boards and Commissions Officer in May 2013, where he was responsible for "researching and recruiting candidates for specific board appointments."

When reached for comment about Gove's position inside that office, Ryan Tronovitch, the Deputy Communications Director for Governor McCrory, said "he is not part of decision making."

Shortly after WECT reached out to the governor's office, Gove's LinkedIn resume had been changed to eliminate his role as a Boards and Commissions Officer. After Burgard and Drummond's appointment, Gove left that role and went on to work as a Human Resources Specialist with McCrory where he is still employed today.

Griffin said it's not uncommon for people with Greek affiliation to be represented in many leadership settings and the significance of the SAE appointments and hirings is being overstated.
Despite the rising tide of UNCW SAE alumni in a position of influence, Burgard says there are no covert attempts to push Chancellor Miller out in retaliation for his suspension of the fraternity.

"This is an easy story to throw together because it looks good on paper, but it's not reality," Burgard said.

"There are really no dots to be connected. Two trustees that happen to be from the same organization, live in different parts of the state, were appointed to be a part of the board because of their interest in UNC Wilmington and making it a better university. Not trying to run an agenda against the administration," Rep. Bell added.  

Copyright 2014 WECT. All rights reserved.