Cape Fear Foodie: Olivero
Published: Nov. 17, 2023 at 11:03 AM EST
WILMINGTON, N.C. (WECT) - As we head into the holidays, I had originally planned on doing an all-encompassing piece on the various Thanksgiving themed handhelds that are all the rage nowadays. From Mess Hall's "Smashgiving Burger" to Block Taco's Thanksgiving Empanada. The only problem is, I underestimated the time and effort (and sheer willpower) it would take to track these down and eat them all in a rather short period of time.
However, I am incredibly thankful I was able to visit one of the newest restaurants in Wilmington, Olivero. I've talked to plenty of people about Olivero, and almost universally it is a new favorite among many. Of course, with that kind of praise, getting a table can be tricky. To be fair you could roll the dice and snatch a seat at either the bar, or the kitchen bar that acts as a sort of chef's table. However, it took my crew a few weeks to finally lock down a table, so make your reservations well in advance.
Located on the corner of Third Street and Castle, the interior of the building is simple and cozy. Brick walls, exposed beams, and glass block windows from the historic building give a chic industrial base that is accented by unique artwork, cool light fixtures, and a gorgeous tile mosaic. It's all part of what owner Sunny Gerhart envisioned when deciding to open his second restaurant in Wilmington. However, it's the menu the James Beard nominee and his co-executive chef Lauren Krall Ivey have put together that is the real focal point here.
A mixture of Spanish, Italian, and even New Orleans inspired foods come from Gerhart's heritage, and it's remarkable how the different flavors are able to perform a delicate dance on your palate. Starting with the small plates, Olivero's offers everything from smoked eggplant to pickled shrimp. My table went with croquetas, filled with melted cheese and serrano ham, and resting in a pool of spicy pepper jam. The first bite brought that "OMG, this is so good" feeling and let us know we were in for a real treat.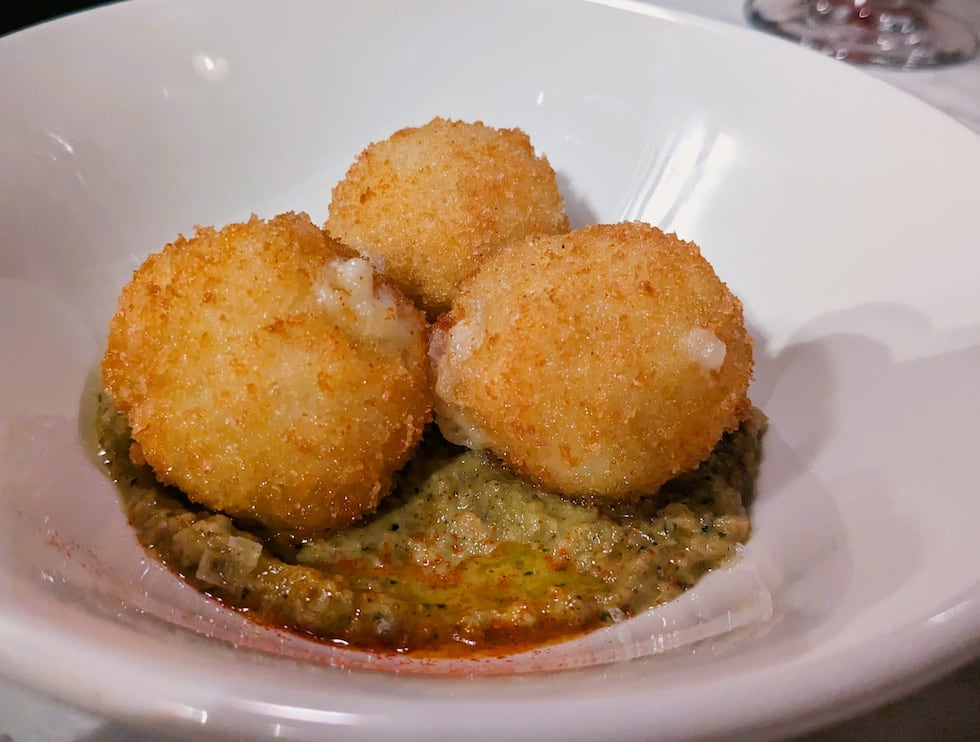 Speaking of a melting pot of influences and flavors, try the beignet dish, with pillowy beignets nestled on fontina fonduta, a pile of mortadella, then drizzled with Calabrian hot honey. Buttery, creamy, salty, spicy, sweet, it has it all.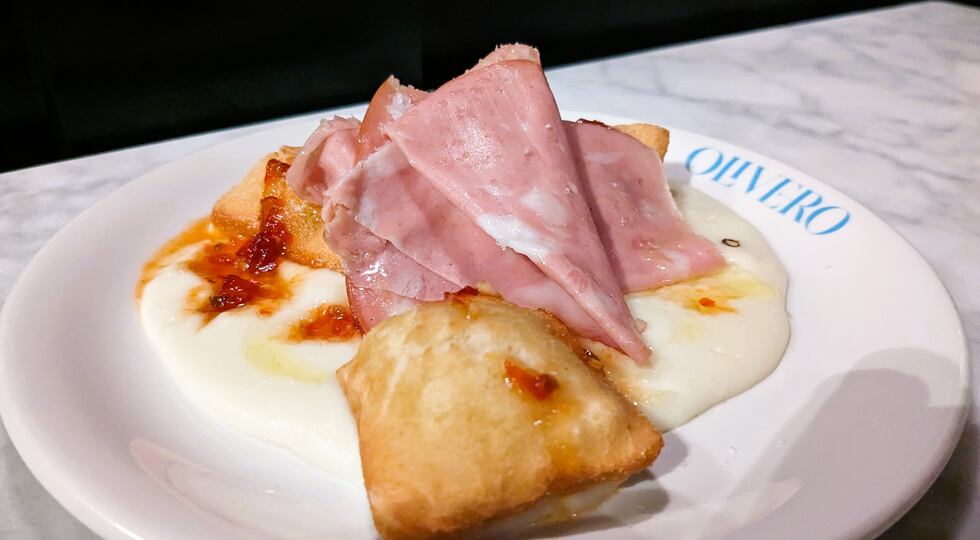 To be sure, the entrées can easily be shared among two people, and I would recommend sharing an entrée and getting at least two of the small plates. Although we didn't know this going in, so naturally the table ordered their own entrées (there is absolutely no shame in doing that!).
The menu is split into pasta or protein-forward entrees. After a tough debate, I went with the Chicken Milanese, which featured a large chicken cutlet, pounded flat and fried. It is massive. Then it's topped with flash fried soppressata, loads of shaved manchego, and a drizzle of grilled broccoli salsa verde. The portion size was more than enough for one person, and the flavors and textures were on point.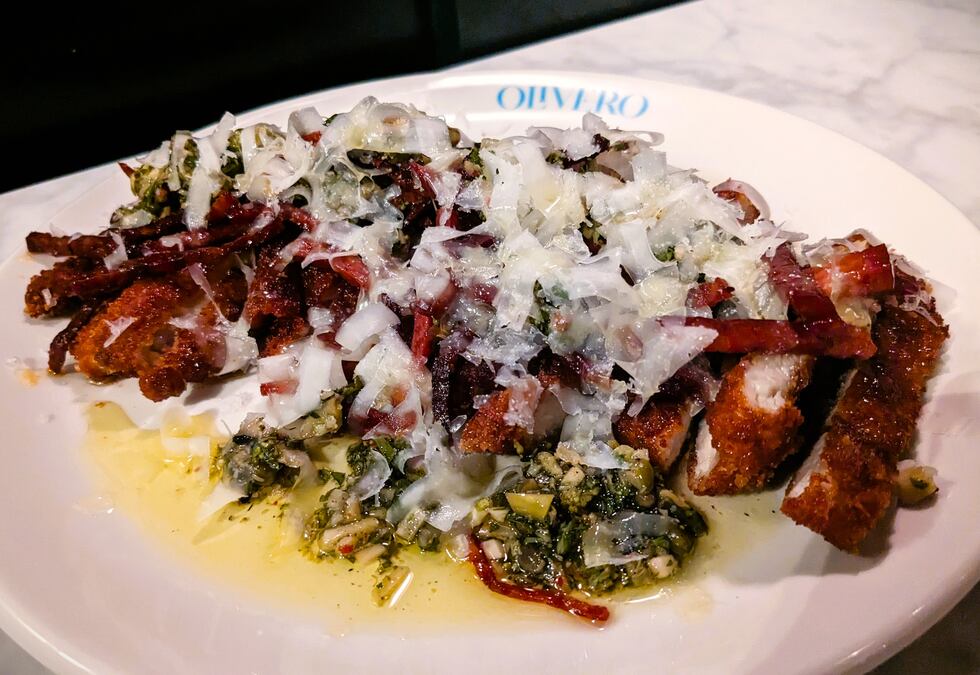 We also tried the mafaldine pasta dish, with crab from North Carolina, various mushrooms, and manchego. The noodles are made in-house, and it shows. It reminded me of a stroganoff, with the savory cream base and mushrooms, but instead of beef, you are treated to hits of crab. It's simply delicious.
Then came the most talked-about and possibly scrutinized dish on Olivero's menu, the lasagna. Instead of meat, this version uses octopus bolognese, with chorizo, and whipped ricotta. It almost reads as something from a Chopped episode and Gerhart and Krall Ivey have spoken before about trying to perfect the dish. I can attest though, that it's worth waiting weeks for a reservation. The pasta looks charred, but isn't burned or crunchy. You immediately know you're eating seafood on the front end, but then the chorizo punches through and is rounded out by the whipped ricotta. I couldn't stop raving about the meal for days (and clearly still can't).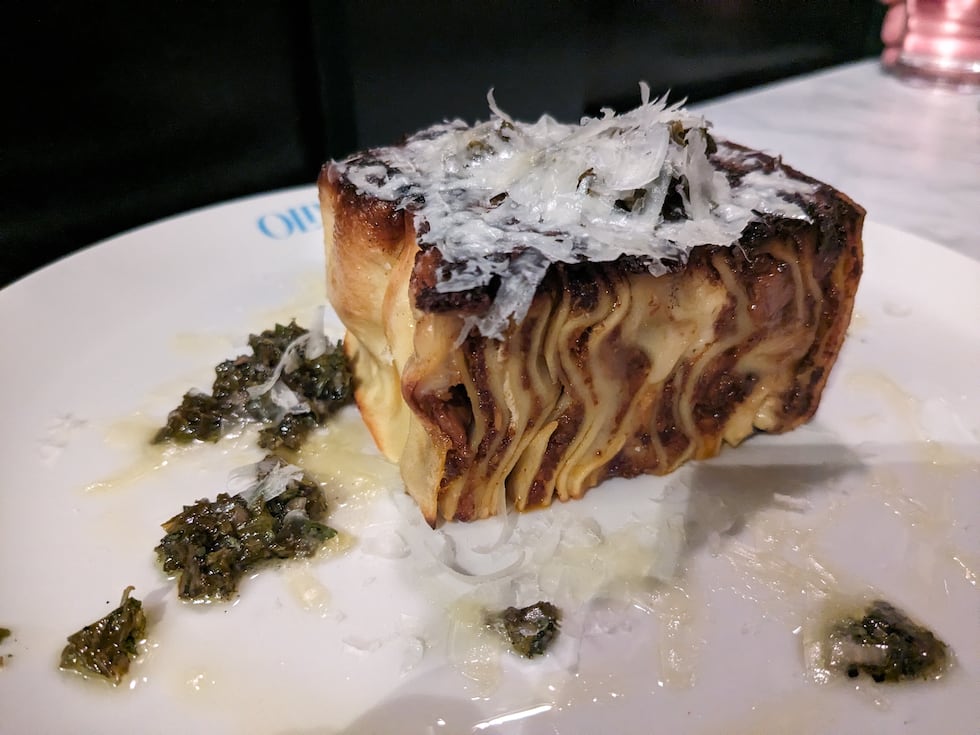 By this point we were on the verge of pitching a tent and taking a nap, content to rest knowing we had indulged in an excellent dinner. But we were convinced to try the panna cotta desert, when in Rome (or Olivero) as they say. The sweet cream was covered in crumbled, salty olive oil cake, with a side of fig preserves. It was the perfect cap to a nearly perfect evening.
Again, look to make reservations now, as it can be difficult to get a seat, especially on the weekends. The menu is on the higher-end price wise, but you can certainly share meals if that's a sticking point for you (then again, you're dining at a James Beard nominee's restaurant, so roll with the punches). And lastly, just enjoy yourself and the company you're with, that's what the holidays are all about!
IF YOU GO:
Olivero is located at 522 S 3rd St, Wilmington, NC 28401
Do you recommend a restaurant? Or know of a best-kept secret that you want the rest of the Cape Fear to know about? Shoot me an email at corey.preece@gray.tv and I would love to feature your selection. Cheers!
Copyright 2023 WECT. All rights reserved.