New Hanover Co. Sheriff's Office: THC-infused snacks packaged using counterfeited brands seized
Published: Oct. 31, 2023 at 8:59 AM EDT
|
Updated: Oct. 31, 2023 at 6:19 PM EDT
WILMINGTON, N.C. (WECT) - According a release from the North Carolina Department of the Secretary of State, $170,000 worth of THC-infused snacks that were packaged using counterfeited brands were seized in eastern North Carolina over the past few weeks from store shelves.
In New Hanover County, about 1,500 grams of suspected marijuana, some other illegal THC products and about 60 chocolate bars of various flavors containing the psychedelic mushroom Psilocybin were seized from the EZ Mart located at 1619 Castle Hayne Road in Wilmington.
"Trademark Law Enforcement Agents with the Secretary of State's Office and the NC Anti-Counterfeiting Task Force worked with local authorities, including the New Hanover County Sheriff's Office, and other local law enforcement agencies on the coordinated enforcement effort," the release states. "Counterfeited brands ranged from Skittles and Fritos to AirHeads and Oreos."
Mohammad Ahmad Darwich's family owns the business, and he was arrested along with his employee Melinda Lee Greenleaf and charged with felony marijuana and schedule 1-related drug offenses.
Additionally, a number of weapons were seized during the operation, including high-caliber AR-15 style rifles/pistols.
The NHCSO says that neither Darwich or Greenleaf were felons, none of the weapons seized were stolen, and that it is consulting with ATF for any potential future weapon charges.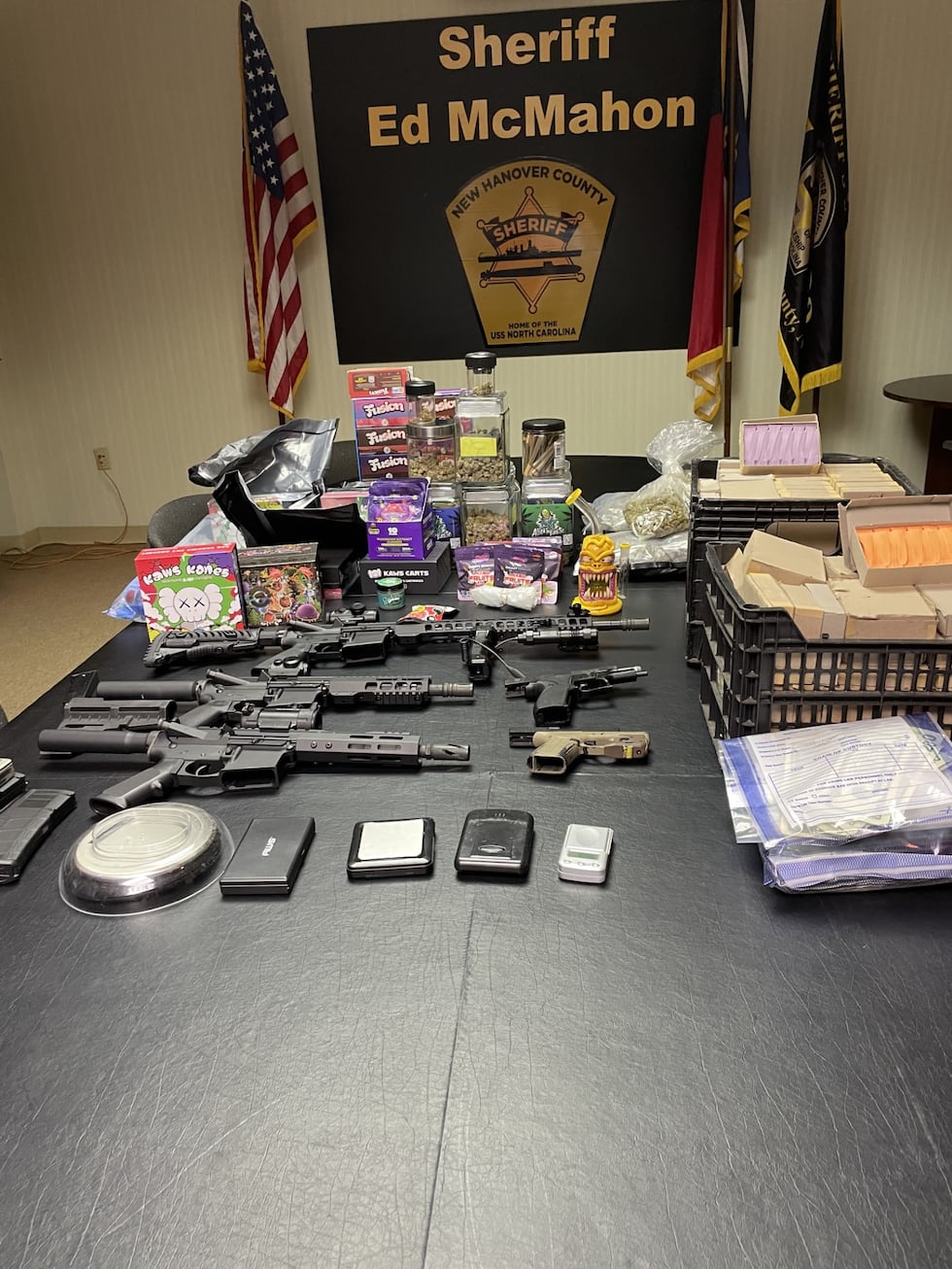 "The counterfeited snacks were seized from a variety of vape and tobacco shops, with a majority located near high schools or colleges," the release explains. "Counterfeit items with a total estimated retail value of $170,000 were seized as a result of 8 search warrants and 24 consent searches."
"While the packaging on the THC edibles includes markings indicating the snacks include THC, Secretary Marshall notes that these markings are deceptive and can easily be overlooked," the release adds. "The packaging is meant to look like regular food, candy, chips, and other sweets. Many times the labels feature a cartoon character or other images attractive to children."
The sheriff's office held a news conference at 9:15 a.m. on Tuesday, Oct. 31. You can watch it below or on the WECT News Facebook page.
Copyright 2023 WECT. All rights reserved.