Eddy Pineiro's 23-yard FG as time expires helps Bryce Young, Panthers get 1st win over Texans 15-13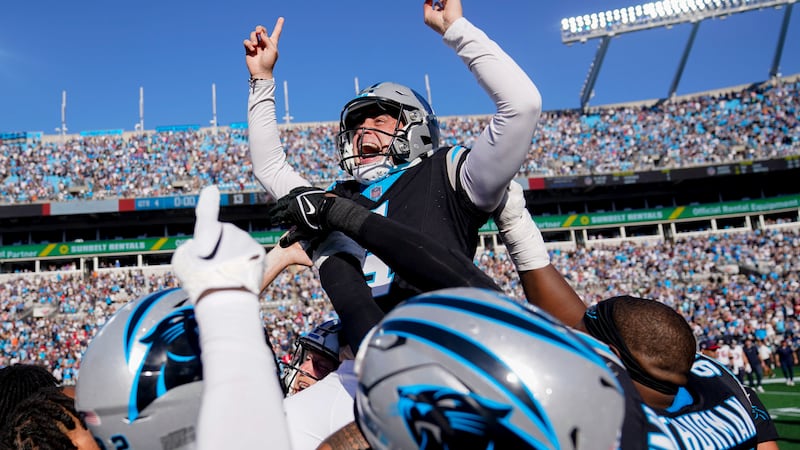 Published: Oct. 29, 2023 at 5:01 PM EDT
CHARLOTTE, N.C. (AP) — Bryce Young outdueled C.J. Stroud in a battle of the NFL's top two draft picks, and Eddy Pineiro made a 23-yard field goal as time expired to send the Carolina Panthers over the Houston Texans 15-13 on Sunday for their first win of the season.
Young, the No. 1 overall pick, threw for 235 yards and a touchdown. He led a winning 15-play, 86-yard drive that took more than six minutes off the clock in helping the Panthers (1-6) snap a 56-game losing streak in games they trailed at any point in fourth quarter, the longest in NFL since at least 1991.
Carolina's last fourth-quarter comeback win was Oct. 21, 2018, against the Philadelphia Eagles.
Stroud, the second overall pick, was 16 of 24 for 140 yards and ran for a touchdown for Houston (3-4).
The ending was filled with drama with the Panthers lining up for three different field-goal attempts.
On a 38-yarder, Tavierre Thomas ran into the backfield early in an attempt to block the kick and ran into holder Johnny Hekker. That moved the Panthers 10 yards closer. Then Thomas was flagged again for unsportsmanlike conduct for trying to stop the clock by jumping offsides again, moving the ball another 5 yards closer.
Pineiro made his third attempt, even as another flag for offsides was thrown on the Texans.
Young overcame six sacks and three drops by his wide receivers to record his first win since coming into the NFL out of Alabama.
Young had his two biggest completions of the season — 40 and 31 yards.
Adam Thielen had eight catches for 72 yards for Carolina. Tommy Tremble caught a touchdown pass for the second straight game as the Panthers won in their first game with offensive coordinator Thomas Brown as play-caller.
The win kept Carolina from matching its worst start in franchise history. The Panthers were 0-7 to start the 1998 season.
The Panthers trailed 7-6 at the halftime after Pinero missed an extra point following Young's 1-yard touchdown pass to Tremble.
But Young's 40-yard strike to fellow rookie Jonathan Mingo set up one Pineiro field goal and Donte Jackson's forced fumble on fullback Andrew Beck led to another field goal to give Carolina a 12-7 lead.
But Stroud put the Texans back on top 13-12, completing a 31-yard pass to Noah Brown to set up a 1-yard TD run on a quarterback sneak. Brown was initially flagged for stepping out of bounds, but officials later allowed the catch after determining the ball was tipped at the line of scrimmage. The 2-point conversion was no good.
INJURIES
Texans: Rookie C Jarrett Patterson was carted off the field midway through the fourth quarter with a lower leg injury.
Panthers: OLB Justin Houston left the game with a hamstring injury.
UP NEXT
Texans: Host Buccaneers on Sunday.
Panthers: Host Colts on Sunday.
Copyright 2023 WCSC. All rights reserved.