Young, Panthers show flashes of potential but remain winless after loss at Miami
Carolina built an early 14-point lead, but lost 42-21.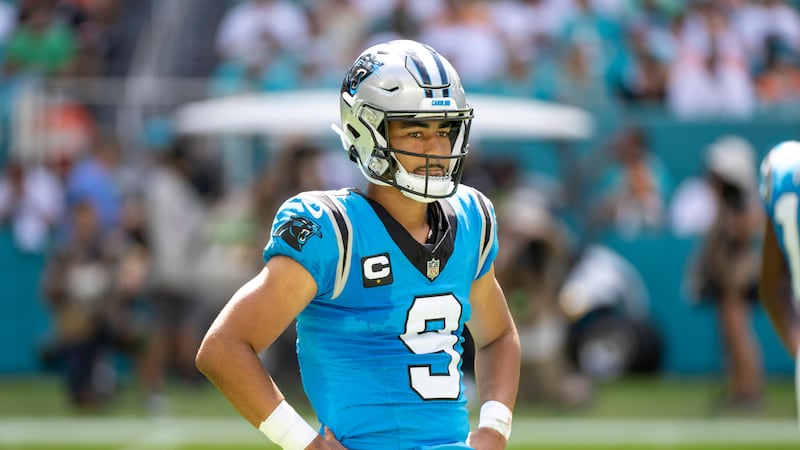 Published: Oct. 16, 2023 at 5:08 AM EDT
MIAMI GARDENS, Fla. (AP) — After the Miami Dolphins beat the Carolina Panthers on Sunday, Tua Tagovailoa found Panthers quarterback Bryce Young, embraced him and shared a few encouraging words as the No. 1 overall pick seeks the first win of his NFL career.
"It's a conversation that I felt like if I was on the other side of the ball, I would want someone to tell me," Tagovailoa said. "I think he's doing a tremendous job. There's going to be times where you're going to make mistakes because you're a rookie, and there's things that, when he plays the next game, that he'd wish he knew this game. He'll continue to grow from that."
Young and the Panthers (0-6) showed flashes of potential in a 42-21 loss to the Dolphins, though.
Carolina put together back-to-back touchdown drives to open the game and forced two three-and-outs against the NFL's No. 1 offense to take an early two-score lead.
Young completed six of his first seven passes and found Adam Thielen in the end zone for an 8-yard score that made it 14-0. Chuba Hubbard stepped up in place of Miles Sanders, who was out with a shoulder injury. Hubbard had a 6-yard touchdown run on Carolina's second drive and finished with a season-high 19 rushes for 88 yards.
Coach Frank Reich said the team's early success in the running and passing games is a reflection of what the Panthers want to be — they just haven't been able to put it together for a full game yet.
"Bryce was super sharp. The offense was good. We were protecting well, running the ball well, mixing it," Reich said. "Feeling like we should feel."
But it wasn't enough against a Dolphins team averaging nearly 500 yards of offense per game. The Panthers, the NFL's only winless team, were outscored 42-7 after the first quarter. They punted three times during that stretch, turned the ball over on downs four times and missed a field goal.
"It was a good start, but obviously you're not gonna win a game in the first quarter, in the first couple of drives," Young said. "So we have to do a lot better job of sustaining and building off that. There were some good things there, and then didn't have the success after that. First and foremost, that falls on me. I have to do a better job of executing and making sure we all execute as a unit."
Young finished 23 of 38 with 217 yards and an 85.1 QB rating — his highest this season.
Thielen had another big game, surpassing 100 yards receiving for the third time this season with 115 yards on 11 catches. He's the NFL's No. 1 receiver on third down and has 49 receptions on the year — one fewer than the NFL receptions leader Ja'Marr Chase.
The Panthers have a bye next week and will host the Houston Texans on Oct 29. Reich said he still believes this team can win a lot of football games.
"There's positive things to build on, but obviously you lose by three touchdowns, so nothing feels good about it. Nothing," Reich said. "But we'll look at the tape, and I know there's good things on the tape. We'll get better from the good and the bad."
Related: Young doesn't make excuses for performance as Panthers fall to 0-5 with loss to Lions
Watch continuous news coverage here:
Copyright 2023 WBTV. All rights reserved.