Summons: Hornets' Bridges accused of violating protective order, throwing billiard balls at car
Miles Bridges has an unserved warrant for his arrest, the Mecklenburg County Sheriff's Office said.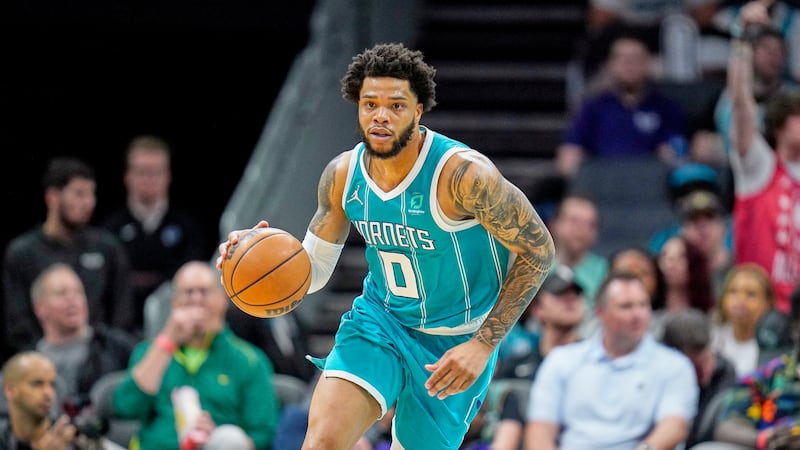 Published: Oct. 11, 2023 at 6:44 PM EDT
CHARLOTTE, N.C. (WBTV/AP) - The Mecklenburg County Sheriff's Office said it has an unserved warrant for Hornets forward Miles Bridges for a violation of a domestic violence protective order, along with an unserved criminal summons for a domestic protective order violation, misdemeanor child abuse and injury to personal property.
The sheriff's office said the warrant is related to previous domestic charges. According to the Associated Press, the warrant was issued in January, but has not yet been served. The criminal summons was issued on Wednesday.
According to the sheriff's office, the warrant is for a protective order violation.
The summons, which was issued on Oct. 11, alleges that a day earlier, Bridges violated the protective order and threw billiard balls at his ex-girlfriend's car, while their children were inside it. The balls smashed a window and dented the car.
The summons also alleges that while Bridges threw the balls, his current girlfriend yelled and kicked the car. It also accuses him of threatening to withhold child support and that he would "take everything from her" if she told the police about the incident.
In a statement Wednesday night, the Hornets said they are aware of the reports and are in the process of gathering more information.
Bridges was previously investigated by the NBA and was handed down a 30-game suspension without pay in April. Because Bridges missed the entirety of last season, 20 of those games are considered already served. He'll miss the first 10 games of the 2023-24 season, according to the NBA. He is not allowed to participate in preseason games.
The suspension came after Bridges allegedly assaulted his girlfriend in front of their two children in Los Angeles on June 27, 2022.
Bridges was charged with multiple offenses, but plead no contest to a felony domestic violence charge in November 2022, and had the other charges dismissed.
In the wake of the investigation, he missed the entire 2022-23 season and was not signed to an NBA contract.
In July, Bridges apologized for the "pain and embarrassment" caused by the domestic violence investigation. Bridges agreed to a one-year, $7.9 million contract with the Hornets to return this season and vowed to rebuild relationships with teammates and become more active in the Charlotte community.
The summons issued this week states that Bridges is due in court on the morning of Nov. 13.
The Associated Press contributed to this report.
Download the free WBTV News app for the latest stories sent straight to your device.
Watch continuous news coverage below:
Copyright 2023 WBTV. All rights reserved.