NCAA grants UNC football player Tez Walker immediate eligibility after months-long fight
The NCAA previously said Walker had transferred too many times and would have to sit this season out.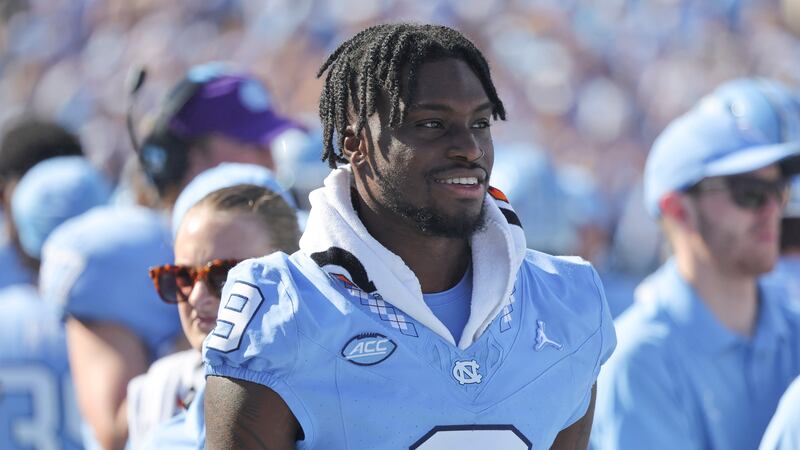 Published: Oct. 5, 2023 at 1:24 PM EDT
CHARLOTTE, N.C. (WBTV) - After a months-long battle with the NCAA, University of North Carolina football player Tez Walker has finally been granted eligibility to play this season.
Walker, a West Charlotte High School graduate in 2019, had been deemed ineligible to play up until this point after the NCAA ruled that he had transferred too many times and would have to sit out the current season.
Immediately out of high school, Walker initially committed to ETSU, but never set foot on campus after de-committing due to an ACL injury. He transferred to NC Central, but never played a down for the Eagles because the 2020 season was canceled due to COVID-19.
He transferred out of NC Central prior to the 2021 season, landing at Kent State, where he played the past two seasons. In 2022, he hauled in 58 passes for more than 900 yards and 11 touchdowns.
Walker transferred to UNC this spring, and figured to be a key piece of the Tar Heels' offense this year - that is, until the NCAA ruled him ineligible.
In August, family members said that because he never played a snap for either ETSU or NC Central, he should not have been counted as having transferred to Kent State in the first place.
The NCAA obviously disagreed before changing course on Thursday.
"I'm so excited and thankful that the NCAA has granted my eligibility to play this season," Walker said in a statement. "This hasn't been easy, but I'm looking forward to putting this in the past and moving forward...I've received so much support from the University [of North Carolina], the athletics department, my coaches, the staff and my teammates."
UNC head coach Mack Brown also released a statement following the NCAA's latest decision, saying that he is "thrilled" with Thursday's ruling.
"Everything that's transpired over the last few months has been with the sole purpose of helping and supporting him, and now he's going to have a chance to live his dream," Brown said. "We want to express our gratitude to the people at UNC who have worked tirelessly to assist Tez. We never gave up...this is, and always has been, about the welfare of this young man."
Now that he is officially eligible, it is unclear how soon Walker could suit up for the Tar Heels in game action.
UNC will host Syracuse in Chapel Hill on Saturday afternoon. Kickoff is scheduled for 3:30 p.m.
Related: 'It hurts': Tez Walker's grandmother speaks on NCAA transfer ruling
Watch continuous news coverage here:
Copyright 2023 WBTV. All rights reserved.