Trooper pulls snake out of car 'like it was a cute little kitten,' driver says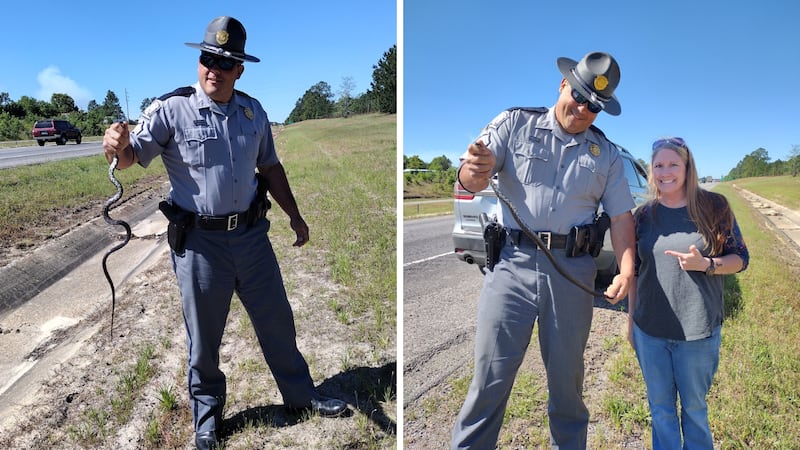 Published: Sep. 8, 2023 at 11:12 AM EDT
KERSHAW COUNTY, S.C. (WMBF/Gray News) – Two South Carolina troopers came to a woman's rescue when she noticed a snake in her car while she was driving down the interstate.
The South Carolina Department of Public Safety said Mary Alice Simmons was headed down I-20 in Kershaw County when she saw a snake on the floorboard of the passenger seat.
She said she remained calm and managed to pull over onto the shoulder.
"I definitely freaked out. I'm surprised I didn't wreck," Simmons told the Department of Public Safety.
She called 911, and dispatchers told her they would send Highway Patrol out to help with her slithering situation.
Senior Trooper Bruce Horton and Sgt. Jonathan Oxandaboure responded to the call and found Simmons. who they said was a little rattled.
By the time troopers arrived, the 4-foot-long king snake had already made its way to the dashboard.
"She was having a rough day, that's for sure," Oxandaboure said. "I felt bad for the lady because she wanted to burn the car."
Oxandaboure then opened the car door and grabbed the snake with one hand behind the head and the other on the tail.
"This trooper had to be a good ole country boy," Simmons said. "He reached in there, grabbed that snake and pulled him right out like it was a cute little kitten."
He then released the snake into a swamp near his office.
Simmons said she appreciated both troopers for answering her call and helping get rid of her unwelcomed passenger.
Copyright 2023 WMBF via Gray Media Group, Inc. All rights reserved.