Published: Jul. 28, 2023 at 11:35 AM EDT
WILMINGTON, N.C. (WECT) - New restaurants in and around the Port City seemingly pop up faster than weeds in a summer garden. While some open their doors with a whimper, others make a splash, like a big cannonball into a refreshing pool. One of those that introduced itself to the Wilmington food scene recently is the newly opened Covey restaurant.
Covey means a flock of birds, and its new location is a great place for friends and family to gather for food and drink. The restaurant didn't take the spot of a former location, it created an entirely new space at the corner of Independence Boulevard and Tiburon Drive near the mall. A beautiful building, with numerous dining rooms, open seating, and a warm and cozy feel. The space could use some more color via some artwork, but overall I loved the building and think many visitors will as well.
Our server told us their early business has very much been word of mouth so far, as they haven't delivered a social media blitz that many restaurants often do. But on this Friday evening visit, you would have thought it was a long-time mainstay of the food scene, with reservations a must to get a table.
The menu is undeniably elevated, and the price point won't be for every wallet or taste. However, I felt the dishes my group chose were unique and well executed with absolutely impeccable service. I'm completely at ease splashing the cash on a meal if there is more to the experience than what is on my plate.
Our server was excellent, and even when the bottle of wine we chose wasn't to our liking, she quickly fetched the sommelier who ensured everything was taken care of. When we dirtied our utensils after eating our small plates, they were immediately replaced. I don't even recall needing to ask for more water or a new drink, every want was promptly met with a smiling face. That alone should be praised, then again you can have immaculate service but the food has to shine as well.
For starters, you're treated to a basket of fresh, flakey biscuits with butter (complimentary bread is always worth its weight in gold). After we quickly dispatched the biscuits, we scoured the small plates menu. There is something for everyone here, from Cool Melon Soup, to Smoked Fish Dip, and charcuterie boards. We settled on the Potato Pave, a Hasselback-style potato (deep fried, and cut into thin slices) nestled in a luscious cheese fondue sauce and topped with chives. Picture it as an elegant way to enjoy a fried potato and cheese, it was delicious.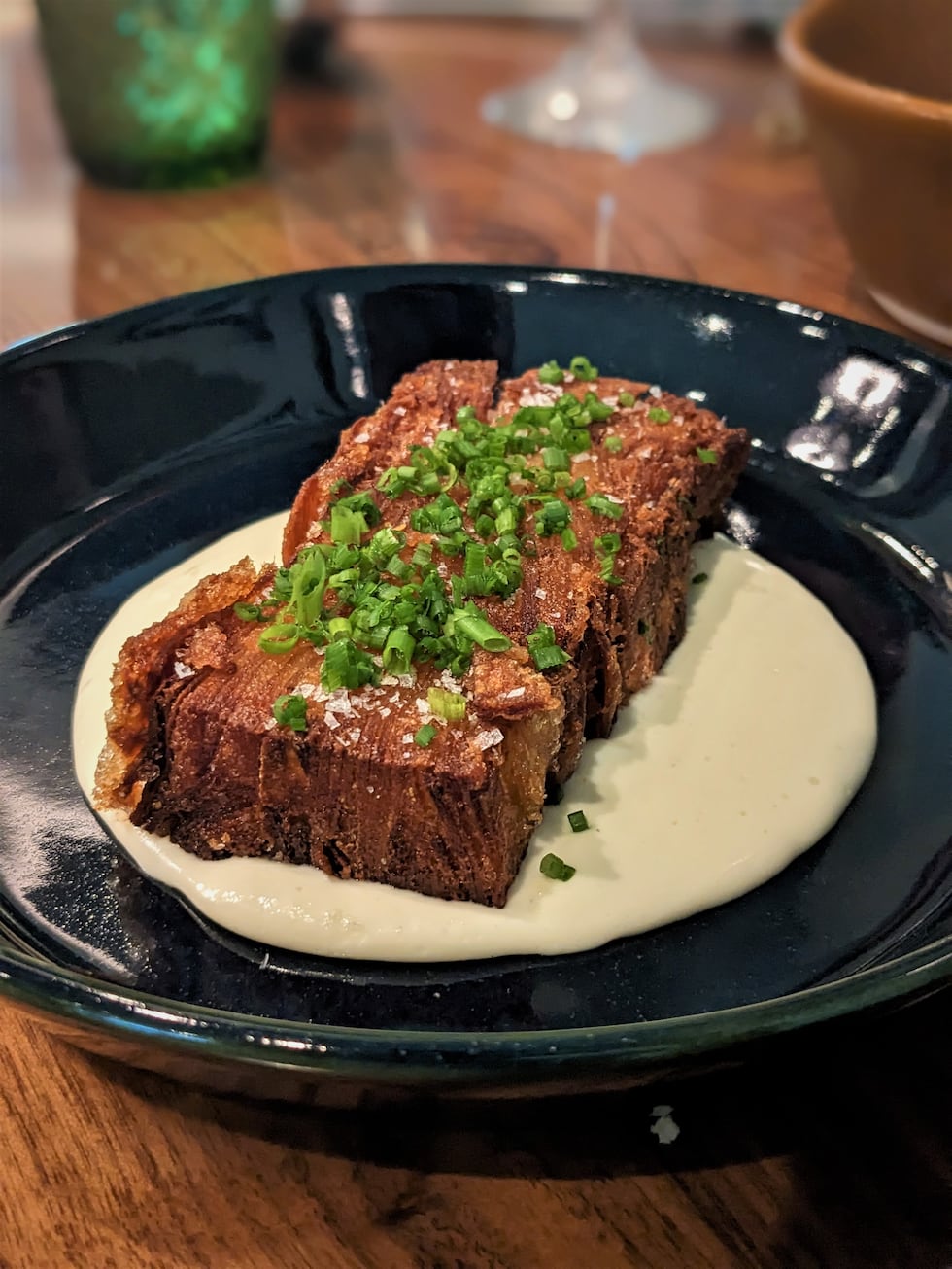 Secondly, we ordered the Tuna Tartare. The colorful bowl consisted of a mixture of fresh tuna cubes, smashed cucumber, smoked ginger, pickled chili peppers, and red onions. It was light, spicy, and savory. The only problem here was I wished there was more of it!
For the entrées, we tried the Butterbean Ravioli. A vegetarian dish, with fennel cream, roasted corn, and pecorino cheese. The ravioli was plentiful and thankfully wasn't drowning in the sauce. It was an interesting summer-oriented dish, but I felt it could have used a dash of salt and cracked pepper.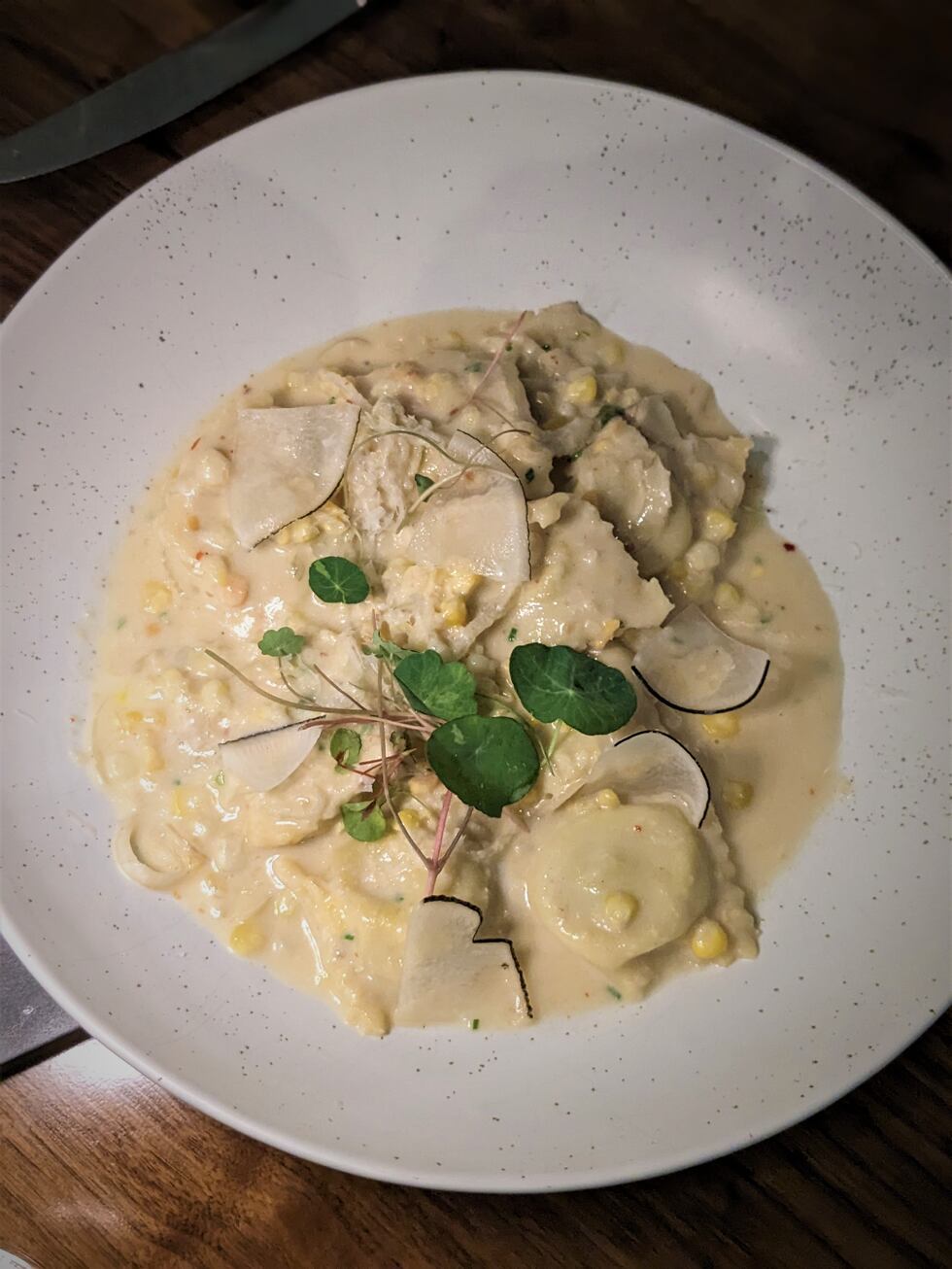 I ordered the Catch of the Day, which was fresh mahi. A perfectly cooked cut of fish was draped in a tasty tomato vinaigrette, and sat atop a collection of black eyed peas, sautéed squash, and eggplant. The entire ensemble played into my unofficial summer culinary guideline: fresh vegetables and seafood. The fish was the star of the show and I really liked the tomato sauce on top, a different take on your typical mahi dish.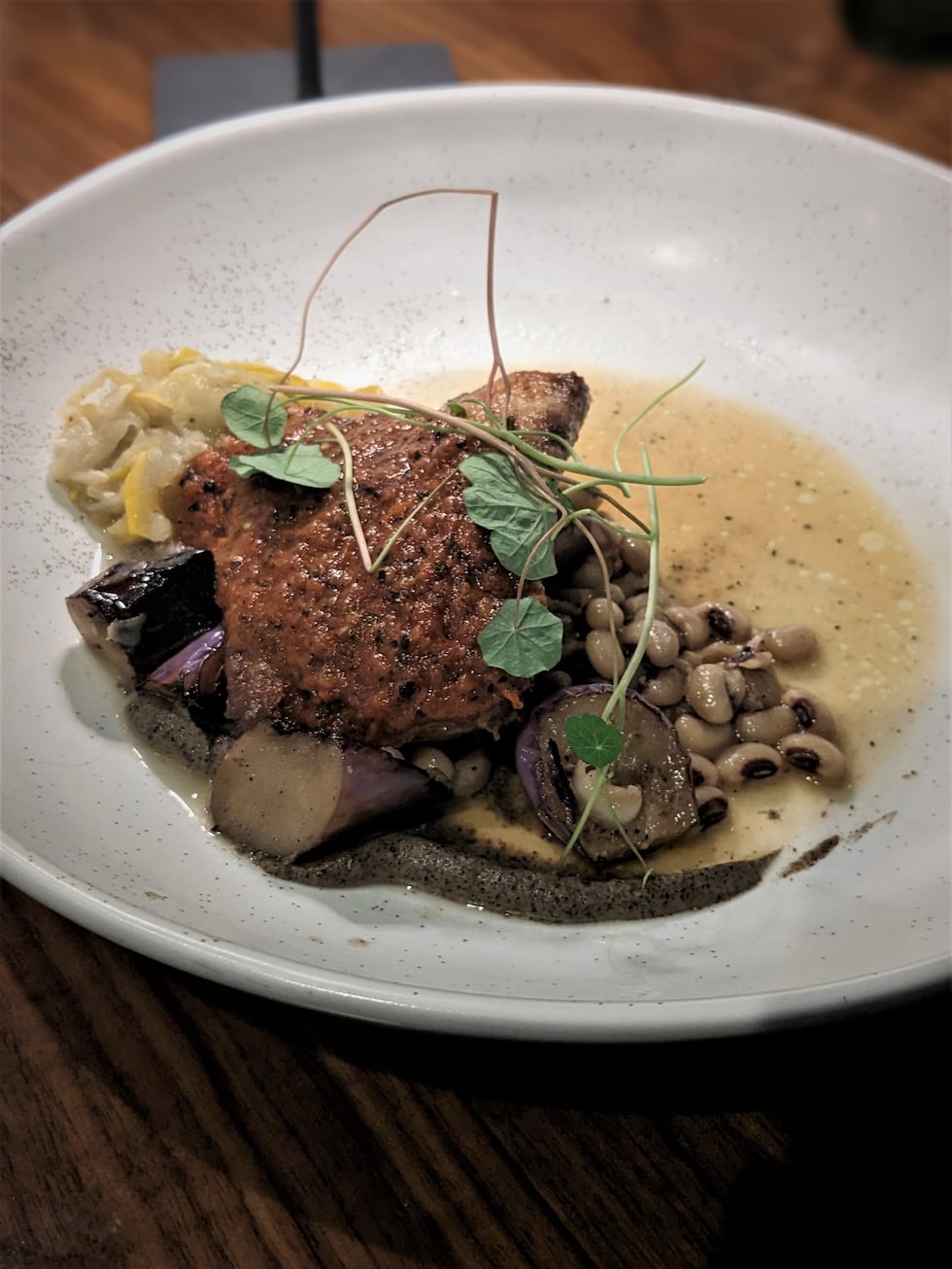 Covey also offers a wide range of other meals. Items like Grilled Swordfish, or the staple North Carolina Shrimp and Grits, are joined by some dishes for the common man, like a smash burger or fried chicken. It's an eclectic menu and one that I look forward to trying again soon.
As for dessert, you know by now that it's not usually my strong suit. However, an order of Brulee Peach Praline Mousse (or something to that effect) was simply blissful. A delicious mousse, laying gently on a delicate bed of scorched cream, that was hiding rich custard, an almond praline, and fresh peaches underneath. I cannot put into words how mouthwatering this dessert was and one of the best sweet treats I have had in a long, long time.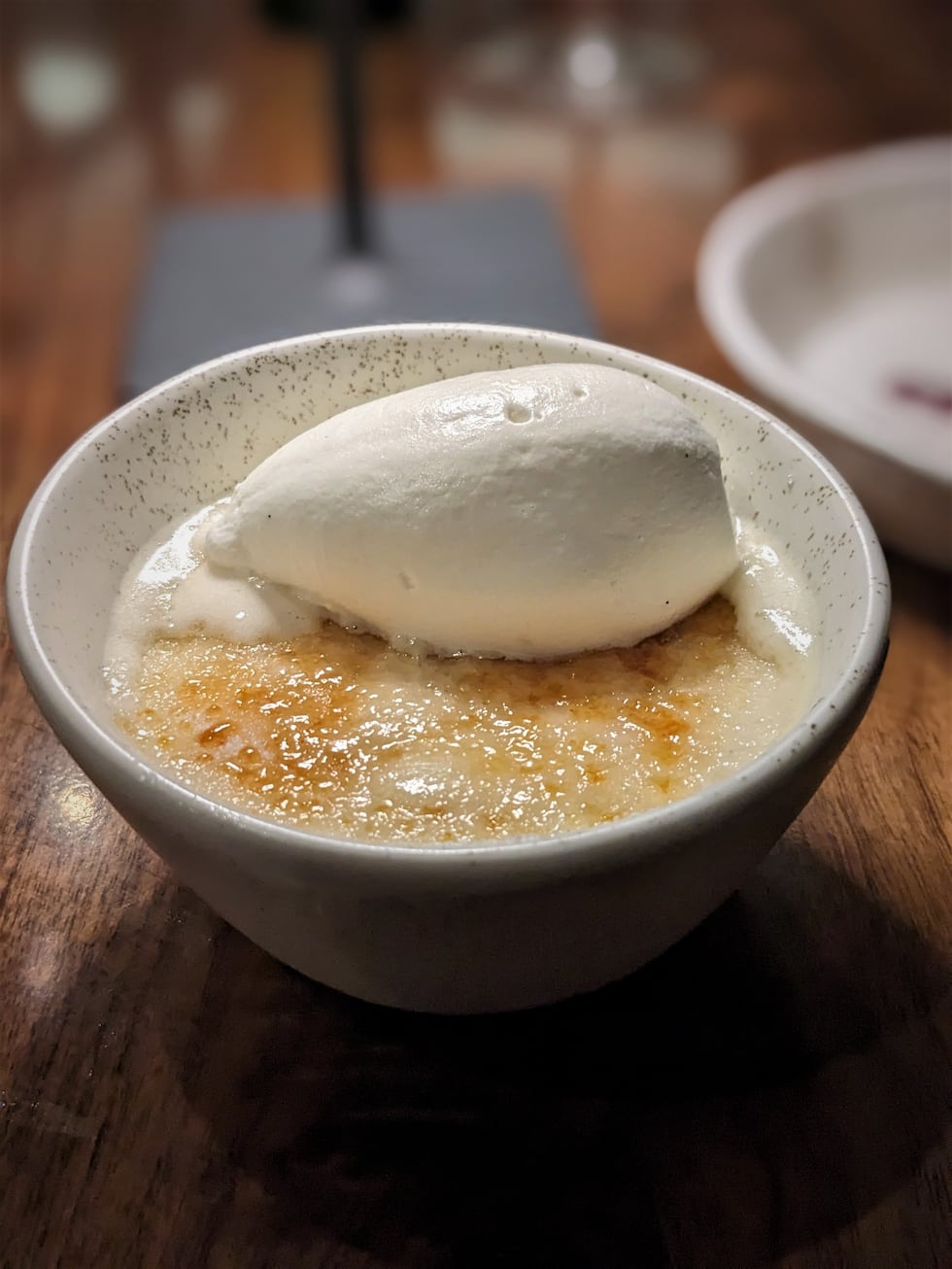 For a new restaurant, Covey has a lot going for it. A stunning new building, that features intimate locations both inside and out. A thoughtful food and drink menu (cocktails, extensive wine list, and craft beers). Plus friendly and attentive staff. It's a nearly perfect trifecta, and one that I hope we will all be able to enjoy for years to come.
IF YOU GO:
Covey is located at 1610 Tiburon Dr, Wilmington, NC 28403
Do you recommend a restaurant? Or know of a best-kept secret that you want the rest of the Cape Fear to know about? Shoot me an email at corey.preece@gray.tv and I would love to feature your selection. Cheers!
Copyright 2023 WECT. All rights reserved.