Cape Fear Foodie: Hot Dog Road Trip Part 3
Updated: Jun. 21, 2023 at 8:00 AM EDT
WILMINGTON, N.C. (WECT) - Today marks the official start of summer, that means pool days, cool drinks and cookouts.
It goes without saying that a cookout staple is the hot dog. This incredibly versatile and simple summer favorite can be topped with whatever your imagination can conjure. It's one of those rare foods that just about everyone has a memory attached to it, and one bite creates instant nostalgia.
Last summer, I posted two different "Hot Dog Road Trip" articles, both of which were hands down my most popular posts of the year. I heard from more than 100 readers about their favorite hot dogs around southeastern North Carolina (and even some across state lines). While I was able to tackle 10 of those, I figured it's time to load up the car once again for another trip to hunt down some of the most cherished and beloved hot dogs around.
If you want to get caught up, you can find the first part here, and the second part here, but now let's go over the groundwork again. First, these are just 4 locations (I plan to visit several more and will post another article later this summer). Second, the rating system is completely subjective, and solely based on whatever I feel like. As a reminder, no chain restaurants are included (that includes Sam's, which is a chain of sorts and was started in my home state of West Virginia). Speaking of West Virginia, I only order my hot dogs one way: chili, slaw, mustard, and onions.
While that style of hot dog is also referred to as a Carolina Dog, that particular combination was originally made famous in the 1920s in West Virginia and then spread throughout the south and Appalachia as travelers passed through and thousands of West Virginians would leave home for pastures new.
Currently, the top three dogs I have tried include Pop's Diner, The Old Salt Works, and Merritt's Burger House. Will any of the new entrants crack into that prestigious listing? Buckle up, throw on your favorite driving song, and let's hit the road to find out.
Island Burgers and Bites
Situated inside a convenient store in the heart of Carolina Beach, Island Burgers and Bites is often lauded for its famous cheeseburger. While I haven't partaken in the hand-pattied burgers, I did snag one of the eatery's quarter pound, all beef hot dog. This thing is massive, the dog is more than bun length, and its loaded with toppings. Nice, crunchy diced onions lay on a bed of meaty chili sauce, with a creamy coleslaw underneath and a good helping of yellow mustard. A critical factor for me is if you can still taste the hot dog with all of the fixins. The answer here is a resounding yes, it's one of the best hot dogs I have ever had. Plus at $5, it's a much better value than many other options on our list. However, I can't give it a full 5 star rating because it is incredibly messy. 4.75/5.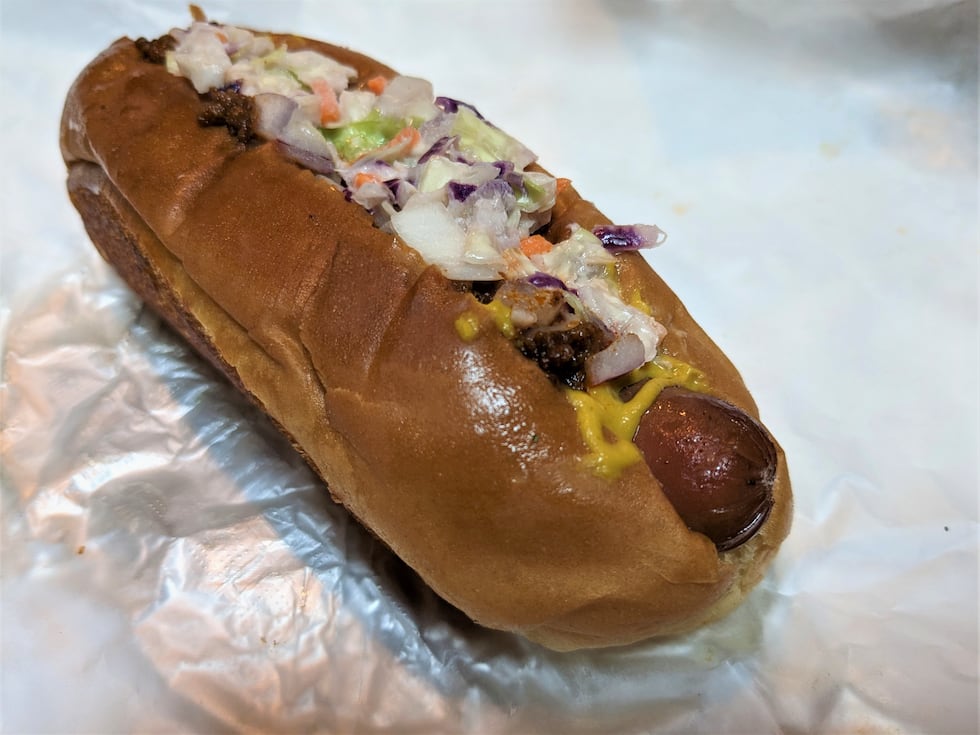 Lane's Ferry Food Truck
Since I posted the first "Hot Dog Road Trip" review last year, I have gotten plenty of emails from readers asking me to visit Lane's Ferry Food Truck. The traveling kitchen started as Lane's Ferry Dock & Grill, but transitioned following the devastation of Hurricane Florence. What the crew may have lost in brick and mortar, they gained in being able to reach a greater audience throughout the region. Lane's Ferry takes pride in its grilled Nathan's hot dogs (they are tasty) and their offering is a worthy contender. The dog is perfectly cooked, the bun is split top, buttered and grilled as well. The toppings here were on point, though I could have used an extra spoonful or two of the coleslaw, there just wasn't enough to put it over the top. You can check their social media to find locations for any given week, and given the quality of this hot dog, it's worth giving them a shot. Let's toss this dog a bone with a hefty 4/5 rating.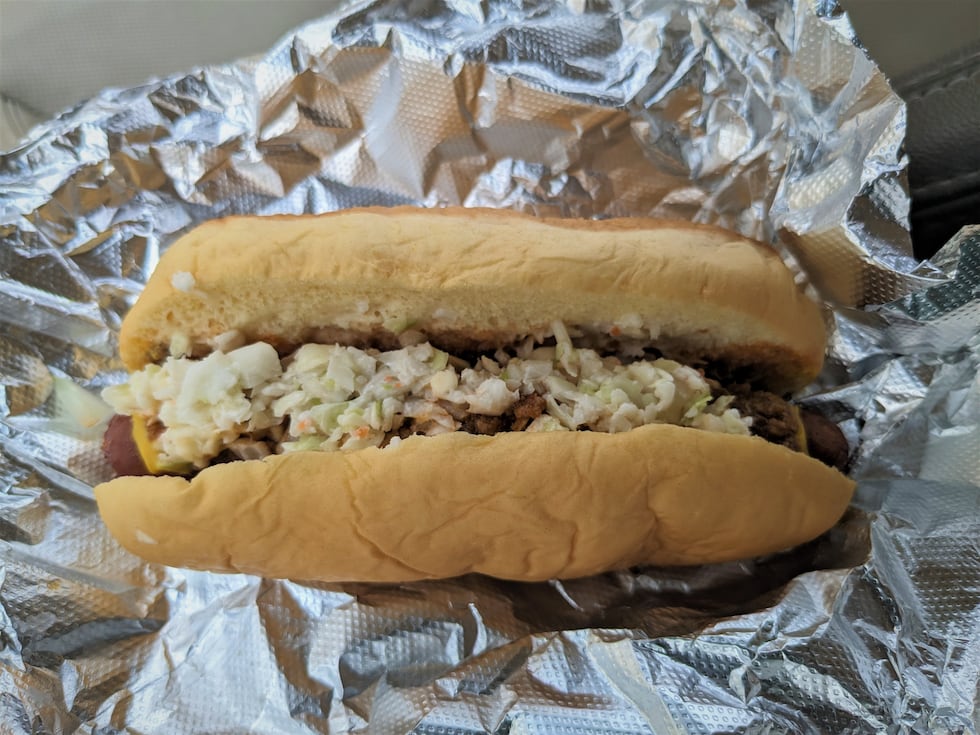 Good Boy Hotdogs
This is certainly the most interesting location I have visited on the "Road Trip." Good Boy is a drive-thru situated in the owner's backyard along 74/76 West in Delco. It's an old school experience, something you would read about in Reminisce Magazine, and one I encourage everyone reading to try out. A unique aspect here is the hot dog is wrapped in aluminum foil, allowing the heat to steam the bun. The softened bun supports a tasty hot dog, finely shredded and creamy slaw, mustard, and beefy chili. The dog had a wonderful, smoky flavor, with the right amount of slaw to add a different flavor dimension. The only drawback I can find is the bread to bun ratio was just a tad off, but this is an exceptional hot dog. 4.5/5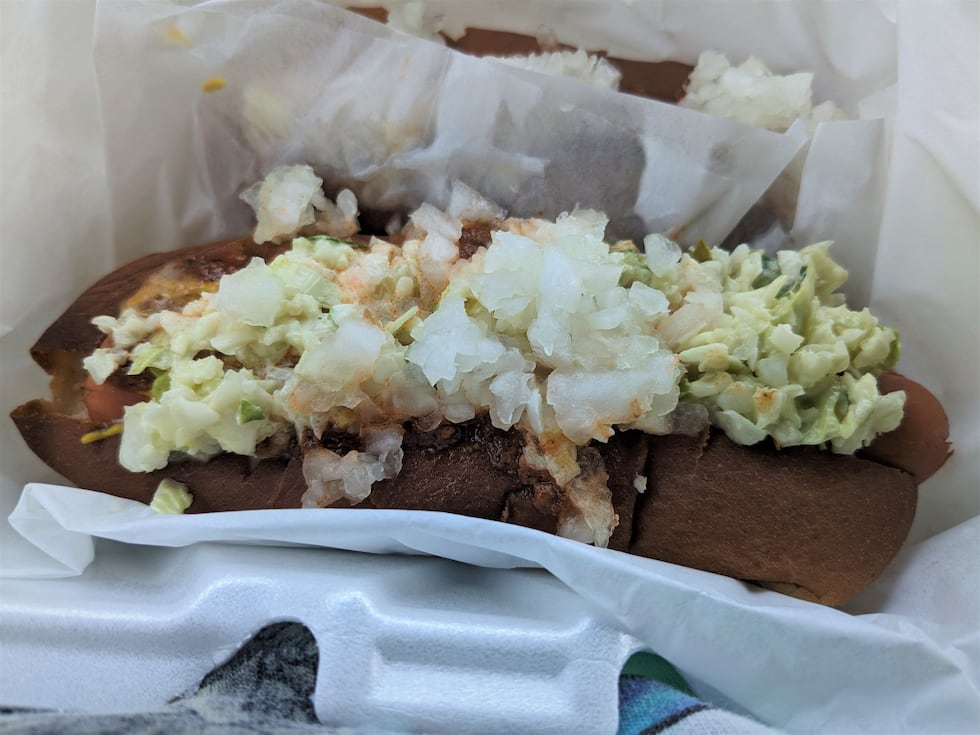 Paul's Place Famous Hotdogs
Easily the most famous hot dog location in southeastern North Carolina, Paul's Place in Rocky Point has been around since 1928. While the restaurant is famous for its sweet and tangy relish that's heaped on their dogs (I had to try one, and yes, it was delicious), I stopped by for its All American vibe. Windows rolled down, Grateful Dead playing, American flags blowing in the wind, it all screamed summer as I pulled into the gravel lot. What awaited me was near hot dog perfection. You don't stay in business for nearly 100 years making subpar food, and Paul's Place is a testament to doing things the right way and getting your just rewards. A steamed bun, finely diced onions, generous allotment of creamy, fresh coleslaw, spicy chili, and just the right amount of mustard. It's one of, if not, the best hot dog I have ever tried (and at this point, the tally is more than I would care to admit). I could have eaten 6 of these in one sitting and not felt an ounce of shame. Paul's Place is not far from downtown Wilmington, and an absolute must-try for anyone remotely interested in hot dogs or taking a trip down memory lane. After all, that's what the hot dog road trip is all about. A new "Best in Show," 4.9/5.
Again, there are several other hot dog locations I have on my short list, but I want to hear from you about who has your favorite hot dogs. While you're at it, I'm going to jaunt around the region for the best BBQ very soon. Have a suggestion? Send me an email (details below). For now, it's your turn to enjoy some of these restaurants on a road trip of your own (hopefully these ratings will keep you from barking up the wrong tree).
IF YOU GO:
Island Burgers and Bites is located at 111 Carl Winner Dr St, Carolina Beach, NC 28428
Good Boy Hotdogs is located at 25985 Andrew Jackson Hwy E, Delco, NC 28436
Paul's Place Famous Hotdogs is located at 11725 US-117, Rocky Point, NC 28457
Lane's Ferry Food Truck posts locations and times here.
Do you recommend a restaurant? Or know of a best kept secret that you want the rest of the Cape Fear to know about? Shoot me an email at corey.preece@gray.tv and I would love to feature your selection. Cheers!
Copyright 2023 WECT. All rights reserved.