Cape Fear Foodie: Café Chinois
Published: Jun. 16, 2023 at 11:42 AM EDT
WILMINGTON, N.C. (WECT) - With the busy tourist season starting to ramp up around Southeastern North Carolina, it will be harder to get a table at some of the famous and most beloved restaurants. Just last week, I tried a handful of spots in Carolina Beach on a Wednesday night. All were either booked, or at least an hour wait was in store. Granted, I had months to try some of these locations, but that speaks to the sheer influx of people.
One restaurant that is seemingly always difficult to land a coveted table at is Indochine. However, if you can't score a seat in the restaurant's lovely outdoor eating space, you can opt for the restaurant's equally as beautiful sister location in Monkey Junction. Café Chinois is the creation of Indochine owner Solange "Niki" Thompson, and boasts a similar menu with the same consistency and excellence.
Located off 17th Street and South College Road, Café Chinois is immaculate inside. Thompson's history with Asian art comes to the forefront, with a variety of paintings, pottery, ornaments, and eclectic seating options adorning the vibrant dining areas. To be located in a strip mall, stepping inside makes you feel as if you have instantly been transported to a different place, a critical aspect of the entire dining experience here.
As for the food, Café Chinois is a French-inspired, Asian restaurant with dishes spanning from Korean and Thai, to Vietnamese and Chinese. The menu is exhaustive, I could write an entire article alone about the variety of options at your fingertips. Put simply, if you love Asian food, there is more than likely something here for you, no matter your taste. It should also be explained, each dish can easily be shared amongst two people (at least) so consider that when ordering.
We started out with a round of drinks from our excellent bartender. I went with the "Naga Knockout," which the menu says is Thompson's creation from her first restaurant in 1975. It's a classic mid-70s style Tiki drink, and is a fun way to start your evening. There is also a variety of craft cocktails, wine, Asian and domestic beers, and Asian-inspired beverages.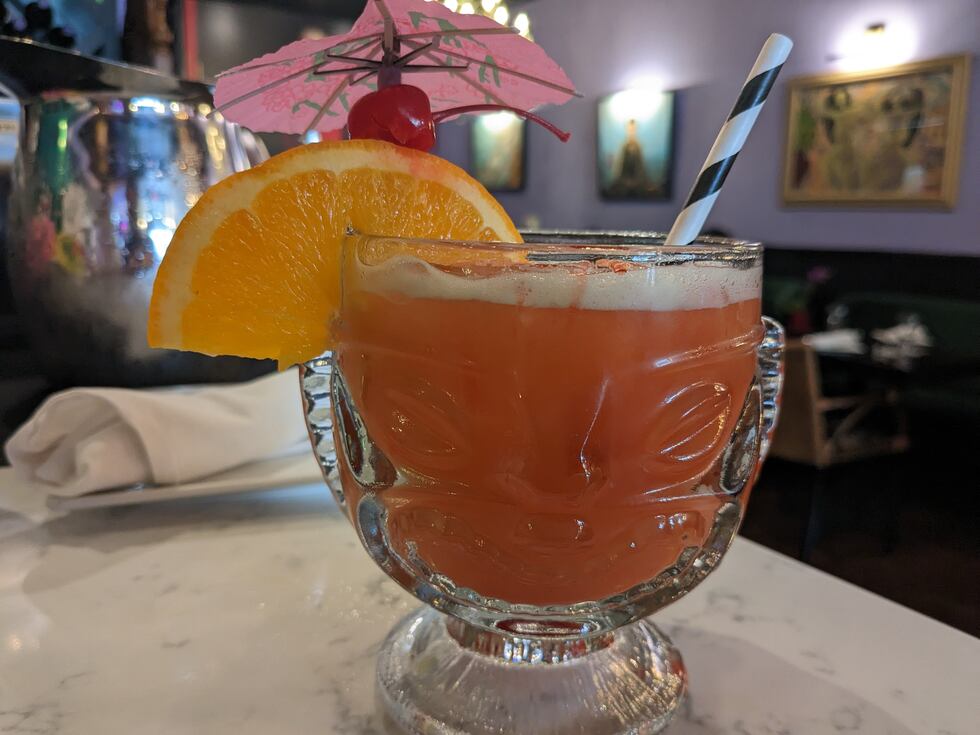 Given the plethora of appetizers available, we started with an order of crab rangoons (a creation of Victor Bergeron, of Trader Vic's fame), chicken satay, and the glorious fried Thai dumplings. Each one is a flavor bomb with a lovely dipping sauce on the side.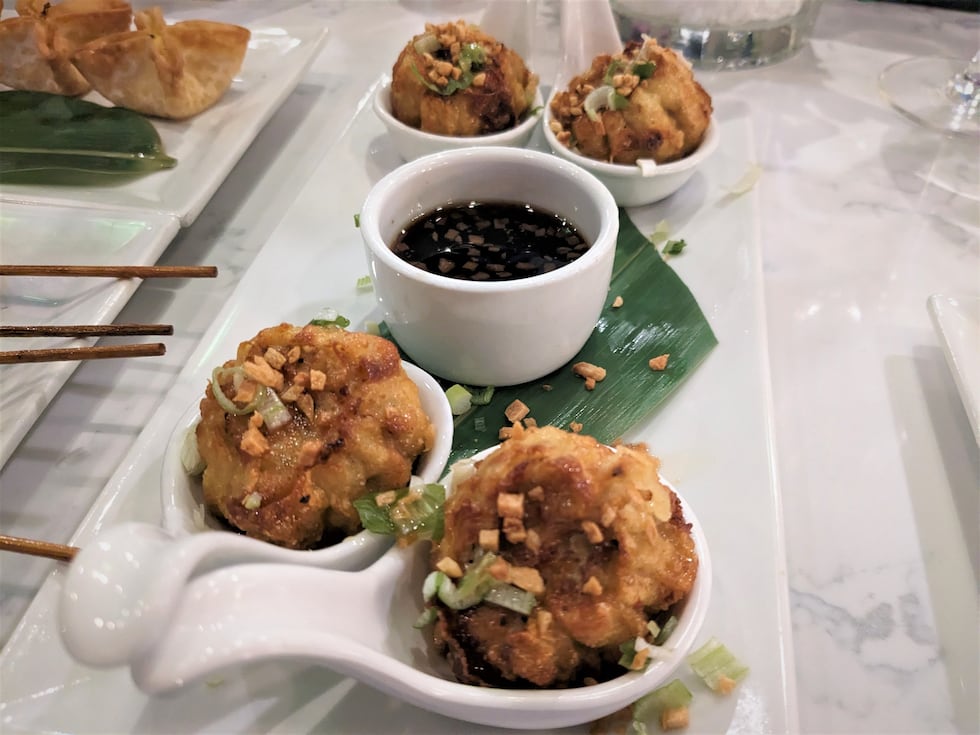 For our entrees, my table chose something different to better explore the menu. Starting with a salade de maison (French for house salad), the Thai Larb Gai was the selection. Think of it as a deconstructed lettuce wrap, the dish consists of ground chicken, red onions, scallions, and cilantro in a spicy lime dressing and served over shredded lettuce with big slices of cucumber.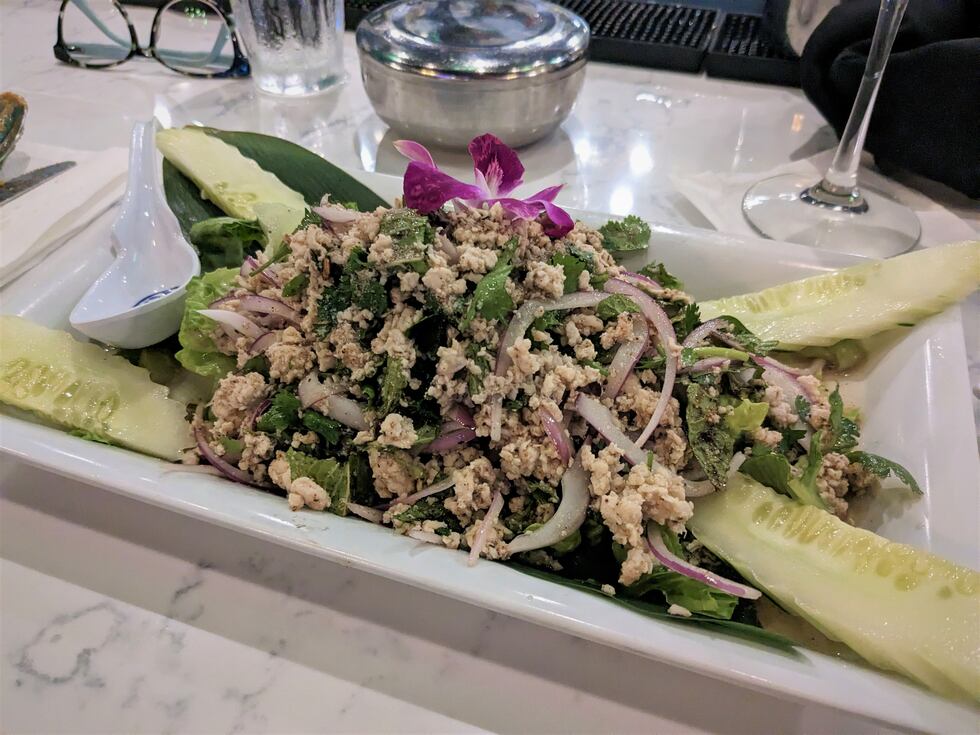 Next was a green curry with scallops. The green curry typically works best with seafood, as it's spicy yet clean flavors lend well to highlight seafood instead of masking it. I love curry for its richness and spice, plus the way it envelops a mound of rice is blissful.
Finally, my entree to share was the "Vietnamese Aubergine a la sauce Chinois." The couple next to me overheard my order, and commented it was their favorite dish ("great minds" as they say). The dish is a mound of sliced, roasted eggplant with ground pork and draped in the "special hot house dragon sauce." I didn't find the plate to be particularly "hot" per se, but the kind of spice where you take a bite, and immediately want another. I thought it was excellent, and there was a reason it was the first to go at our table.
If you can somehow make it through the meal and still have room for dessert, there is one option that you must try. The housemade coconut cake and ice cream is unlike anything I have ever seen before, the slice of cake was the size of my head, and reminded me of Bruce Bogtrotter being forced to eat chocolate cake in Matilda. The portion is massive, and an instant jaw dropper when it arrives.
So the next time you are in the mood for Asian food and want a memorable experience to go along with it (or you can't find a seat at Indochine), I highly recommend Café Chinois, you will not leave disappointed.
IF YOU GO:
Café Chinois is located at 3710 College Rd Unit #123, Wilmington, NC 28412
Do you recommend a restaurant? Or know of a best kept secret that you want the rest of the Cape Fear to know about? Shoot me an email at corey.preece@gray.tv and I would love to feature your selection. Cheers!
Copyright 2023 WECT. All rights reserved.