New Hanover County Schools announces new principal assignments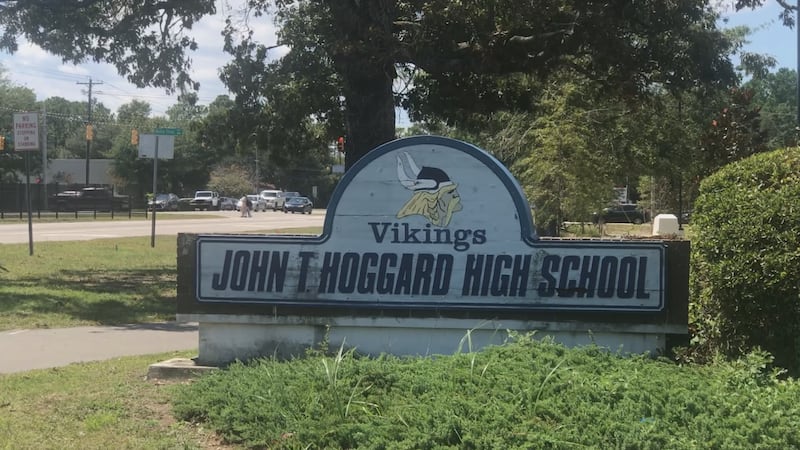 Published: Jun. 8, 2023 at 12:19 PM EDT
WILMINGTON, N.C. (WECT) - On Thursday, June 8, New Hanover County Schools announced the new principal assignments for the upcoming academic year.
Assignments will become effective on July 1, and NHCS provided short biographies of each principal:
Michael Perez at Ashley High School

"Mr. Mike Perez was the Principal of Grassfield High School before coming to NHCS. He spent over 30 years as an educator with Chesapeake Public Schools. Mr. Perez was a teacher for seven years, served as Assistant Principal for eight years, and has spent the last 15 years as a principal ... As a lifelong learner, Mr. Perez is currently continuing his education as a doctoral candidate at Regent University. He is also an avid performing and recording musician."

Charles Broadfoot at Career Readiness Academy at Mosley

"Mr. Broadfoot is a product of NHCS (Ogden, Noble, Laney) and a 1998 UNCW graduate in Middle Grades Education ... His 24-year education career includes four years in Anne Arundel County, MD, and nine years in Portland (Oregon) Public Schools as a middle school science and social studies teacher. For the last 11 years, he has been in administration with NHCS."

Christopher Madden at Hoggard High School

"Originally from New Jersey, Mr. Madden has spent the last two decades in Wilmington. He holds a Bachelor of Arts in History from UNCW, a Master of Science in Teaching from Rowan University, and a Master of School Administration from UNCW ... He has served as a principal in both Pender and New Hanover Counties. He has been recognized as the Principal of the Year in both districts."

Deanna Leake at Murray Middle School

"Mrs. Leake has been the Principal of Carolina Beach Elementary School for the last five years. Before that, she served as an Assistant Principal of Murray Middle School for eight years. ... Before her administrative experience, she taught at Bellamy Elementary School and was accepted into the Principal Fellows Program, through which she was awarded a full scholarship and earned her Master of School Administration with additional licensure in Curriculum, Instruction & Supervision."

Lauren Nozfiger-Nalepa at Roland Grise Middle School

"Mrs. Nalepa has served NHCS since 2002, starting as a Special Education and General Education Teacher. She has served as Assistant Principal for Rachel Freeman School of Engineering, Murray Middle School, and Roland Grise Middle School. Most recently, she has been the Principal at Mary Washington Howe PreK Center and Career Readiness Academy at Mosley."

Joe Pazar at Sunset Park Elementary School

"Mr. Joe Pazar was born and raised in Alaska, earning his Bachelor's Degree in Elementary Education and Teaching before moving to Reno, Nevada ... Mr. Pazar began his teaching career as an elementary school teacher in Soldotna, Alaska, went on to teach secondary mathematics, served as an Assistant Principal, and most recently, as Principal in Washoe County School District in Reno, Nevada."

Michelle Faison at Wrightsboro Elementary School

"Ms. Faison brings with her 23 years of experience working with diverse populations of students. Before moving to Wilmington, NC, in 2006, she worked as a 6th-grade Language Arts teacher in Brunswick County, Charleston County, and Winston-Salem Forsyth County Schools. In 2006 she was hired at Trask Middle School, where she spent 12 years. While at Trask Middle School, she taught Language Arts, was the Instructional Coach, and served as Assistant Principal. She was named the 2011-2012 NHCS Middle School Teacher of the Year. Most recently, Ms. Faison has served as the Assistant Principal at Laney High School."
Copyright 2023 WECT. All rights reserved.