Fan whose car was damaged by flying tire at Indianapolis 500 will receive new ride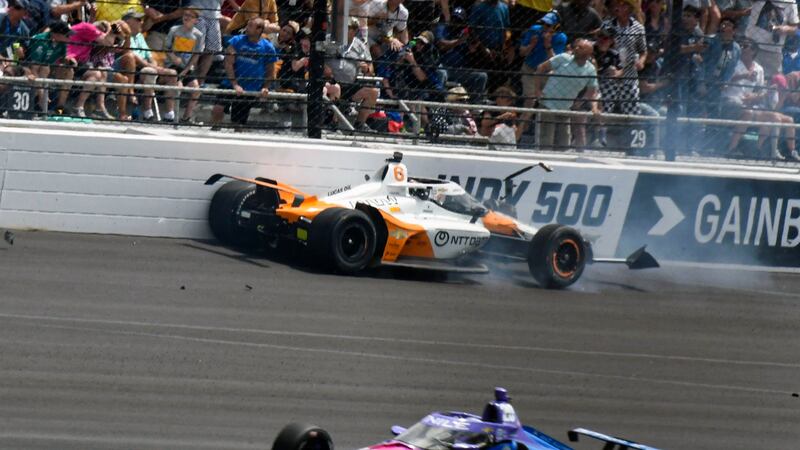 Published: Jun. 1, 2023 at 6:06 PM EDT
INDIANAPOLIS (AP) — An Indianapolis 500 fan whose vehicle was damaged when a tire flew off a racecar and out of the track during the race will receive a new car, an Indianapolis Motor Speedway spokesperson said.
The spokesperson told The Indianapolis Star that Penske Entertainment will provide fan Robin Matthews, who is from Indianapolis, with a new car following the incident.
"I didn't see it come down," she said. "I came down and they said, 'Robin, it's your car!' I thought, 'No.' I thought somebody was pranking me. It's a car. It's fine."
The wheel came off with less than 20 laps to go in Sunday's race when Felix Rosenqvist and Kyle Kirkwood collided. Kirkwood's left rear tire bounced off the track and over the fence and the corner of the grandstand in the second turn before landing in a parking lot. It traveled about 350 yards (320 meters) before crashing into the front of Matthews' parked Chevrolet.
A red flag halted the race after the crash, and two more red flags followed before Josef Newgarden won by beating Marcus Ericsson in a one-lap shootout.
One spectator received treatment at the infield medical center with minor injuries related to debris flying. An IMS spokesman said at the time that there were no injuries related to the tire
IndyCar owner Roger Penske says he is certain series officials will investigate what led to the tire sailing over the catch fence and grandstands.
"We haven't had a wheel come off in a long time," Penske said. "We were very fortunate we didn't have a bad accident."
Copyright 2023 The Associated Press. All rights reserved.