Cape Fear Foodie: Spring Cleaning
Published: May. 4, 2023 at 10:16 AM EDT
WILMINGTON, N.C. (WECT) - Hello fellow foodies, I have returned. In truth I didn't go anywhere, it's just been a busy time around WECT with Hurricane Preparedness Week going on, along with the kickoff to our Highway 6 series where we go on location to highlight fairs and festivals around Southeastern North Carolina. It also doesn't help that I haven't had a big meal at a new restaurant or hot spot recently.
I tell people this all the time, I like to cook, and typically reserve one night a week to dine out. It's a great schedule to be creative in the kitchen while saving money, but not exactly conducive to weekly food blog posts when you need to visit a new place. It makes going back to some of my favorite spots around town even more difficult.
However, with spring here, I figured we could go through some spring cleaning in my Cape Fear Foodie notebook. In this week's post, we will go over two food trucks, a restaurant at The Pointe, and touch on a lovely fundraiser that boasted some bodacious food. Have no fear though my faithful readers, there is plenty on tap for the coming weeks, and I'm looking forward to kicking off Memorial Day weekend with the long-awaited return of the "Hot Dog Road Trip." So shoot me some must-try hot dog spots around the area and I will try my best to swing by in the coming weeks. Without further adieu, it's time to eat.
Shawarma Express
Let's start out with the food trucks. Shawarma Express is based in Wilmington and offers a variety of Halal foods from falafel, to kabobs, sides like handmade hummus and tabouli, and of course, the namesake shawarma.
I grabbed a "Beef Shawarma," which is a wrap packed with thinly sliced, seasoned beef from a rotisserie, red cabbage, fresh vegetables, and a beautiful tahini sauce. Each bite is a flavor explosion. It was so good, I reached out to the owners on Facebook and thanked them for the tasty meal. You can check their social media for dates and times of where they will be, but most weekend evenings you can find them in the parking lot of the Village Market in downtown Wilmington.
Paella Fusion
I caught up with Paella Fusion outside of Flytrap Brewing recently, and one glance at the menu I knew what I was ordering, The food truck specializes in Latin street food, and offers everything from papusas, to tacos, quesadillas, and loaded French fries.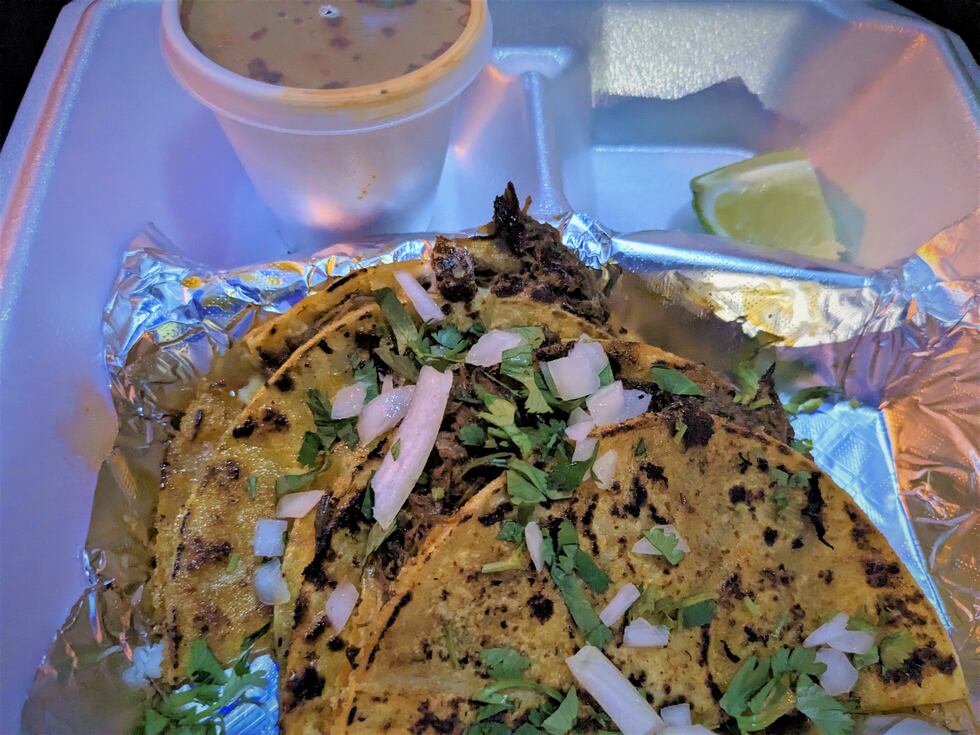 I went with the birria tacos. You can blame Netflix's "Street Food" show for my obsession with the dish, but these three tacos were stuffed with marinated beef, white onions, cilantro, and melted cheese. Plus you get that mouthwatering consommé (the broth the beef is cooked in) to dip the tacos in. It's like a Mexican French Dip sandwich on Mars. Paella Fusion also provides catering services and they update their locations weekly on their social media accounts.
Spindle's Filling Station
A few weeks ago the heavens opened and poured the rain on a Saturday... wait, that's every Saturday! This particular day was an all-day storm so I decided to swing by The Pointe 14 theater to watch a movie and grab some food beforehand. I stopped by Spindle's Filling Station (formerly Tavern on 17th) and ordered a pile of chicken wings.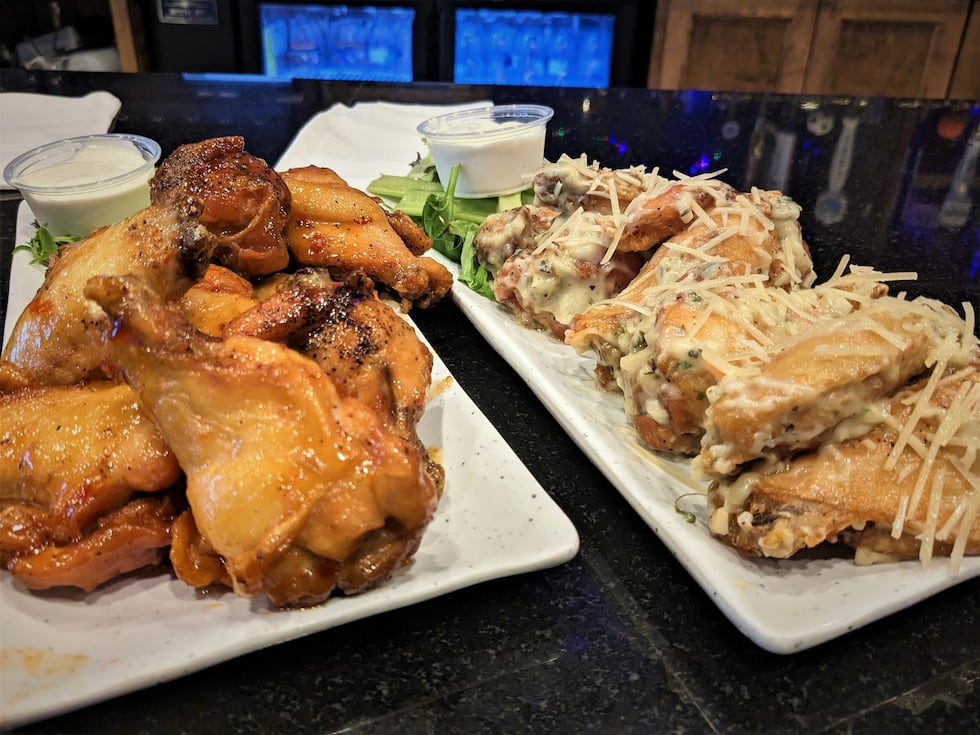 At 50 cents a wing (all day, every day) it's too good a deal to pass up. You can choose from a variety of sauces (I went with the Thai Chili and Garlic & Parmesan) and the wings are big and juicy. While I would have preferred more of a crunch (just ask the kitchen when ordering) these were well worth the money and some of the better wings I have had in town.
WBS Foundation's "Spring Soiree"
Finally, I had to give a nod to the various restaurants that donated their time and effort to help make the WBS Foundation Spring Soiree fundraiser for Wrightsville Beach Elementary School a success. Hosted at MarineMax along the intracoastal waterway in Wrightsville Beach, the Spring Soiree featured food from Nori, Chicken Salad Chick, and Seaside Charcuterie (among others).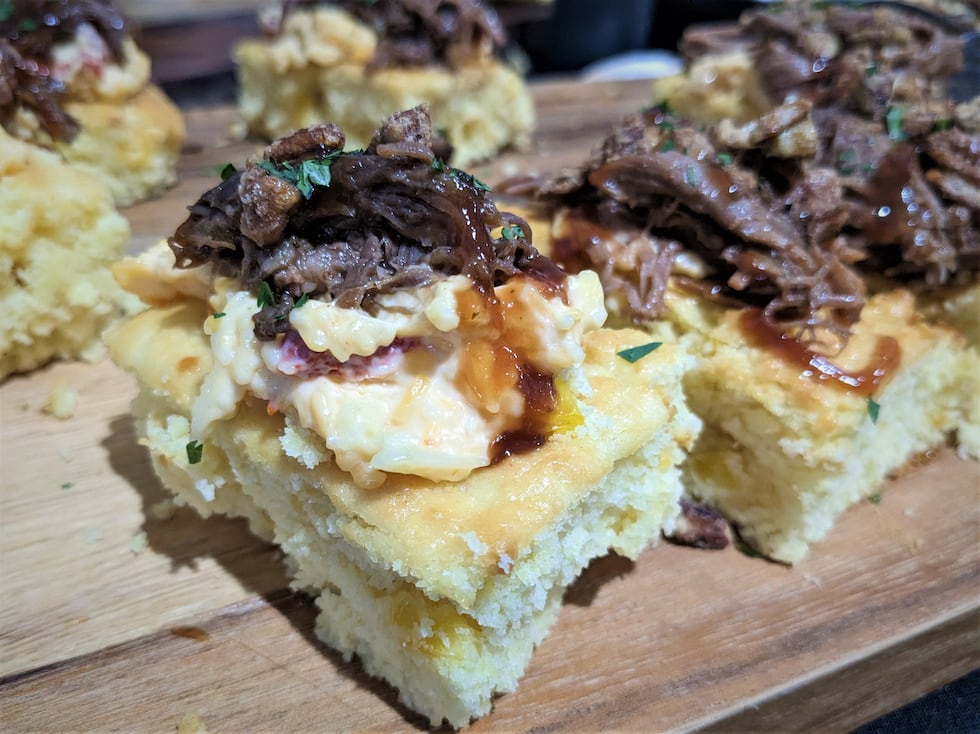 The show stopper was a creation from the cooking crew at MegaCorp Logistics (not a public restaurant). Their "Smoked Brisket Canape" featured a moist piece of cornbread, topped with pimento cheese, smoked brisket, and candied pecans. It was a mouthful of Southern goodness and will live rent free in my head for the foreseeable future. Also, kudos to those who attended, as I hear the school was able to raise more than $100,000.
That will do it for some brief spring cleaning, but again, plenty more to come, and don't forget to send me your hot dog recommendations.
IF YOU GO:
Spindle's Filling Station is located at 1611 Dusty Miller Ln #305, Wilmington, NC 28412
Do you recommend a restaurant? Or know of a best kept secret that you want the rest of the Cape Fear to know about? Shoot me an email at corey.preece@gray.tv and I would love to feature your selection. Cheers!
Copyright 2023 WECT. All rights reserved.