Field airport in Pender County could see $18 million state-funded expansion
Published: Apr. 24, 2023 at 4:51 PM EDT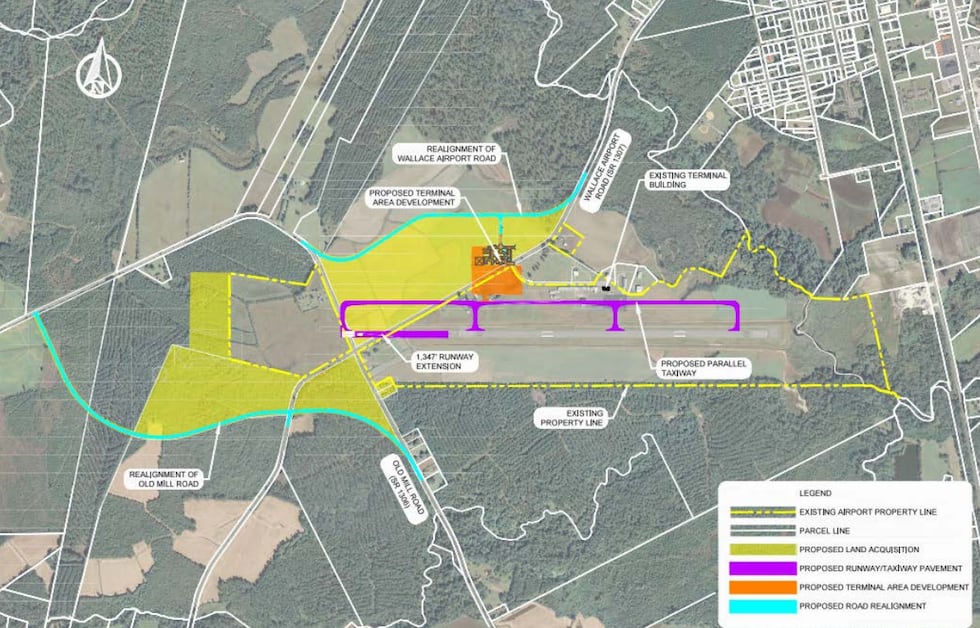 PENDER COUNTY, N.C. (WECT) - The Pender County Board of Commissioners heard about plans for an $18 million expansion to the Henderson Field Airport on Monday, April 17.
The Town of Wallace owns and operates the airport, and the town's airport manager Gage King gave the presentation to commissioners.
On average, there are 28-32 aircraft per year that are based at the airport. The N.C. Department of Transportation estimates the economic contributions of the airport at about $5 million in 2021 and $13 million in 2023, with an increase in jobs from 30 in 2021 to 60 jobs in 2023.
According to King, this airport expansion is fully funded via the NCDOT and would extend the existing runway to 5,500 feet, start the process of moving the terminal building farther from the runway eventually, and add a parallel taxiway. The taxiway would allow planes to move from one end of the runway to the other while not spending time on the runway.
Making the project happen requires the acquisition of 180 acres of land from 11 different people, four of which required people to be relocated. While several sales have closed, negotiations are still ongoing.
Roadway construction is set to be completed between October 2023 and April 2024, while runway and taxiway construction are set to take place from July to September 2024. Acquisitions and roadway relocation designs are set to be completed in May.
Other future projects with cost estimates include:
Runway rehabilitation: $3.75 million with a local match of $375,000

Runway light rehabilitation: $1.1 million with a $110,000 local match

Water infrastructure for $2 million with no local match

Terminal area construction for $8.18 million with no local match

Hangar construction for $1.5 million with a $150,000 local match
The last three projects will cover parts of the relocation of the terminal away from the runway.
King discussed the renaming of the field as well; he says that Henderson isn't particularly marketable and could be confused for the City of Hendersonville.
Work recently wrapped on the Automated Weather Observation System. As King explains, the AWOS gets wind readings, cloud information, visibility, temperature, humidity and other factors. It also features a radio, allowing pilots to tune in and get up-to-date information on the weather at the field. The project cost a total of $774,642 in grant funding and $45,717 in local funds.
King told commissioners that AWOS are commonly requested by businesses, and that most airports in the state already have them.
The presentation and meeting video are available on the Pender County website.
Copyright 2023 WECT. All rights reserved.