Cape Fear Foodie: Prost Biergarten
Published: Feb. 24, 2023 at 11:23 AM EST
WILMINGTON, N.C. (WECT) - As the calendar nears March, my attention nearly always falls on all things Irish and my beloved St. Patrick's Day. So it comes as a welcome surprise that I'm suddenly gushing about German food and drink. While Wilmington has sported a German eatery for years (The German Cafe), a new restaurant is entering the scene and I think it's sure to be a hit.
Prost Biergarten is opening up this weekend on South Front Street in the former home of Tails. That space was always beautiful inside, but what they have done here has taken it to another level. The inside isn't full of German flags, steins, and soccer scarves, but rather a welcoming and fashionable indoor space.
I chose to sit at the outdoor bar, a lovely space that reminded me of some the biergartens I visited while in Germany. I'm told the goal here wasn't to build a like-for-like replica of a German watering hole, but rather create a unique space that blends a variety of ideas.
The same goes for the menu, which boasts typical German fare like pretzels, sausages, and schnitzel, but roasted mushroom soup, charred onion dip, and shrimp and spatzle (German egg noodles). While not for everyone, I enjoyed the hearty nature of potatoes, bread, and sausages that German cuisine offers. But I couldn't pass up a chance to try the Smoked Trout and Horseradish Dip with crostinis and homemade pickled red onions. The dip was so creamy, with perfect hits of smoked fish and a tartness from the pickles, I ate every morsel.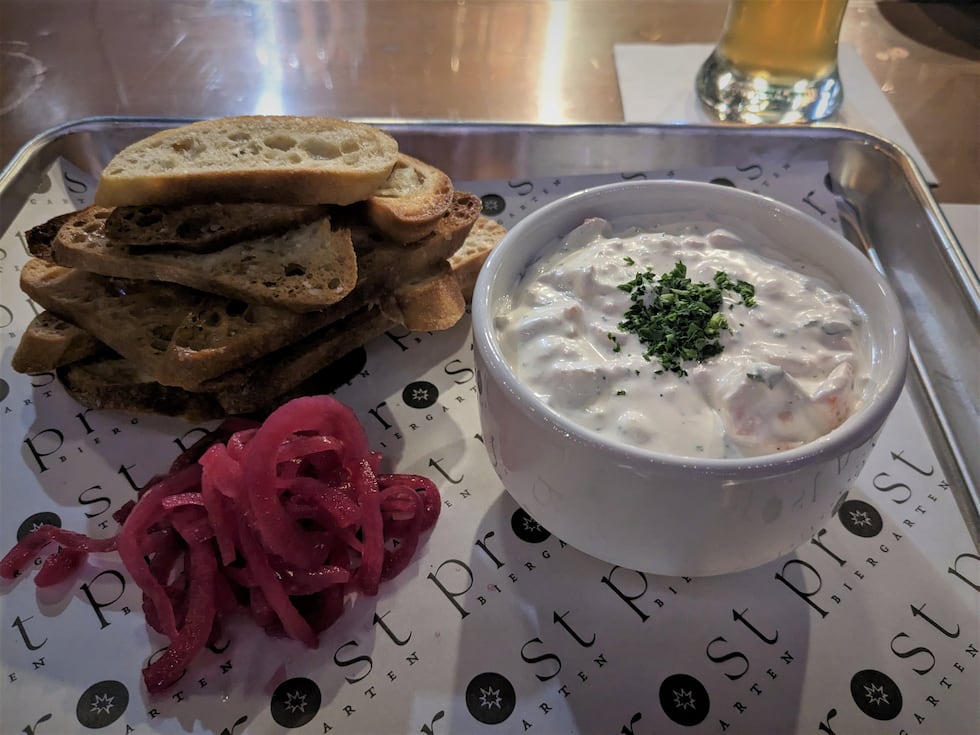 Next was the main course, which had to be pork schnitzel. A large cutlet of fried pork, sprinkled with salt flakes, and sitting on top of braised cabbage and spatzle. The pork was cooked to perfection, crispy and salty, it was delicious. Though I would ask to substitute the normal spatzle for the spatzle mac and cheese (it's loaded with emmental, swiss and butterkase cheese). I was able to put down half of this plate and saved the rest for later.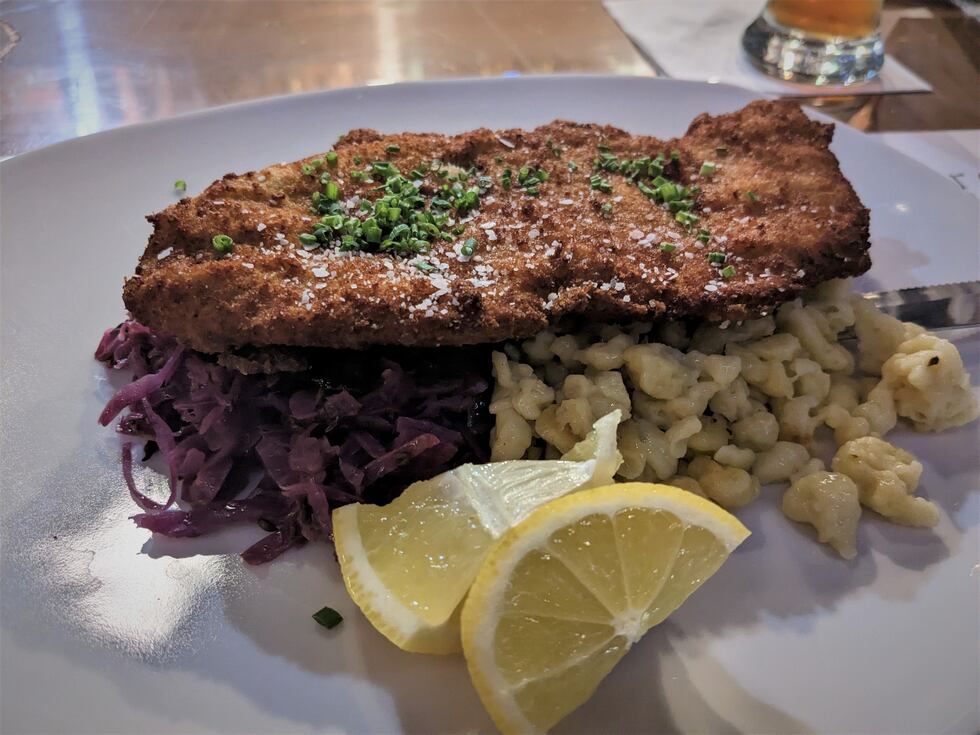 Unlike most visits to restaurants, I did grab some dessert. It was a night to myself so why not? You can choose between an Apple Strudle, German Blueberry Cake, or Black Forest Sundae. I went with the Black Forest Sundae. Through my German travels, I tried a cherry Windbeutel once (a giant German cream puff) and it's lived rent free in my head for years now. While this was nothing like it per se, that first bite of the cherry, chocolate, and ice cream instantly transported me back to Hannover (ironic that I'm now in New Hanover).
Of course you can't visit a German biergarten without a beer, right? Prost (meaning cheers in German) has plenty of wines and cocktails to choose from, plus a number of German, import, domestic, and local beers. I went traditional with a hefeweizen and lager, both of which helped wash down the contents of this delightful meal.
From the tasteful interior, to the outdoor space, fusion menu and endless drink options, Prost Biergarten has a little something for everyone. Give it a try, I'm sure you will be saying "Cheers" err "Prost" in no time.
IF YOU GO:
Prost Biergarten is located in 115 S Front St, Wilmington, NC 28401
Do you recommend a restaurant? Or know of a best kept secret that you want the rest of the Cape Fear to know about? Shoot me an email at corey.preece@gray.tv and I would love to feature your selection. Cheers!
Copyright 2023 WECT. All rights reserved.