Cape Fear Foodie: Pinpoint
Published: Jan. 26, 2023 at 11:14 AM EST
WILMINGTON, N.C. (WECT) - As I mentioned a couple of weeks ago, January is my birth month and along with that came careful consideration of where I would eat dinner. Should I indulge in Italian? Splurge on Seafood? Mingle with Mexican? The possibilities are endless.
However, the shortlist came down to a few restaurants I have never been to, one of which was Pinpoint Restaurant. When I moved here four years ago, it had just been named one of the best restaurants in the South by Southern Living magazine. Yet, it's evaded me ever since then.
That dry spell came to an end though over the weekend, as I gathered some of my closest friends for a night on the town, starting with cocktails in Dram Yard's courtyard (Arrive hotel reopens Feb. 1 and the gazebo bar will reopen throughout the week). After a tasty reposado tequila-laden drink, we marched over to Pinpoint in downtown Wilmington.
The restaurant is beautiful inside with exposed brick walls, artwork, and a lengthy bar situated in the middle. Our group quickly got their drink orders in (the cocktails are delicious) and scoured over the menu to kick off our dining experience.
The table settled on a mix of locally sourced raw oysters, sweet potato hummus, and an exquisite offering of beef tartare.
While small compared to some other oysters you may find, these North Carolina offerings packed quite the punch. Plus the blood orange and Salty Turtle New England IPA mignonette sauce added another layer of flavor.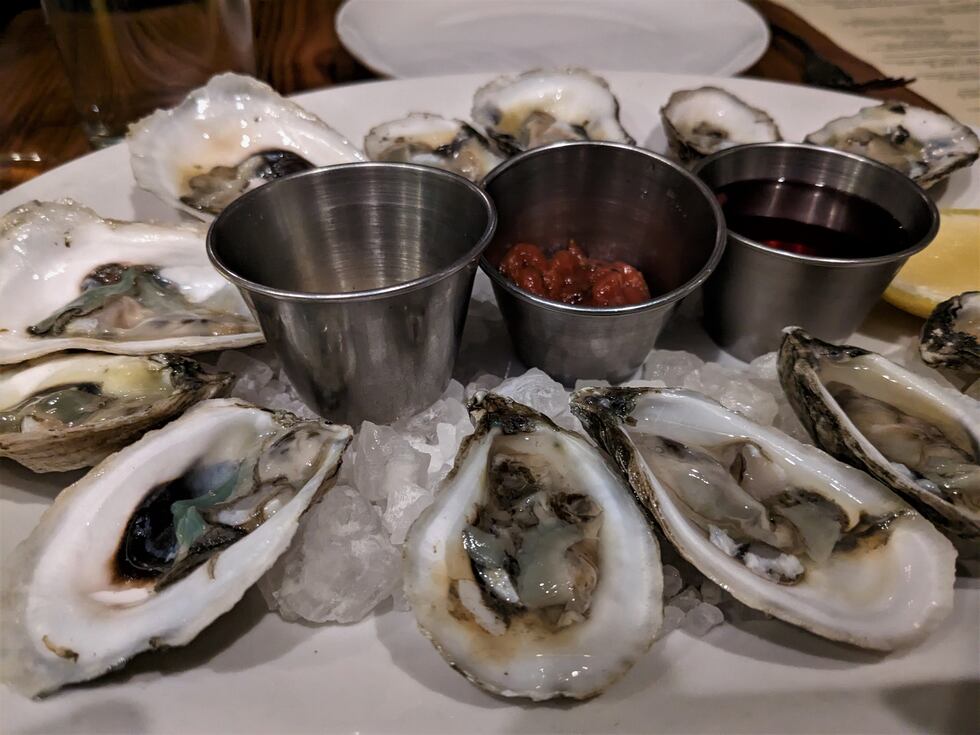 Of course, beef tartare is always a must for me when it's on the menu. A delicious blend of raw ground 1855 beef, topped with housemade dill pickles, and grated gouda cheese. Place it all on a crostini and each bite was an explosion of various flavors. Sweet, sour, savory, and creamy. Simply excellent.
For the main course, Pinpoint offers everything from seafood, to duck, pork, steak, and vegetarian options.
A friend selected the Seared Duck Breast, with a polenta cake, seared greens, and a Vieux Carre gastrique. Since it was my birthday she decided to share, and I must say, the duck was mouthwatering.
Another friend went with the "Local Golden Tilefish," with a beautiful filet of fish, pureed root vegetables, creme fraiche, with a blood orange and mezcal buerre blanc (see the theme of alcohol/cocktail-based sauces?). When she was finished, the plate was nearly licked clean, so it must have been good.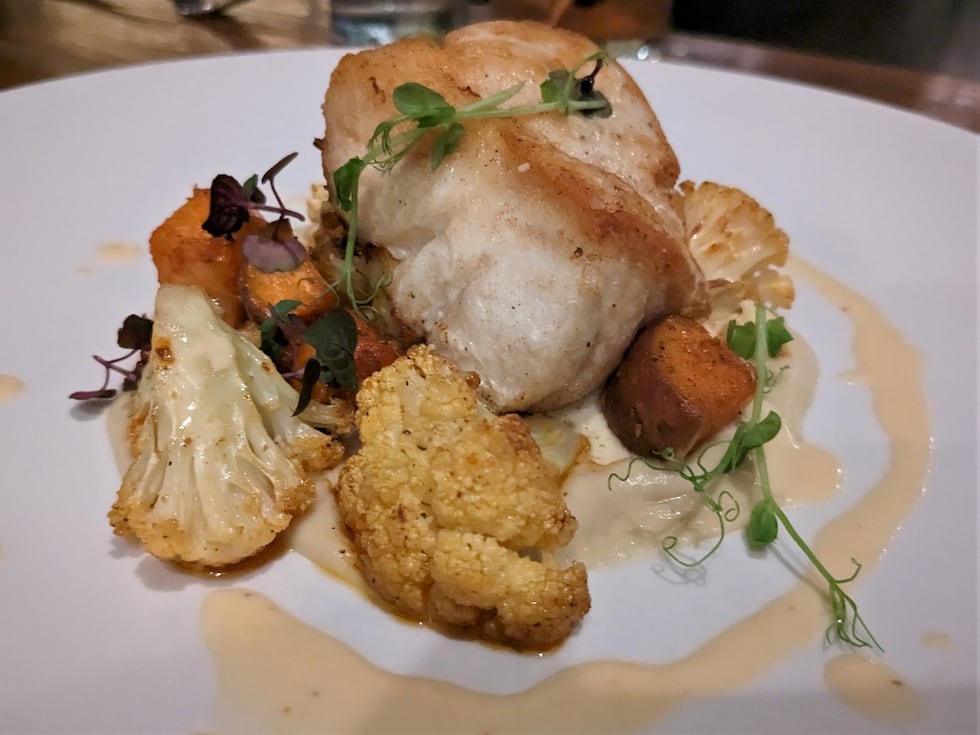 I went with the pan-seared Heritage pork chop (top-grade pork), over a bed of spaetzle, red wine braised cabbage, with brown butter sauce, craft mustard and smoked trout roe. It was essentially an elevated German dish, with a variety of delightful flavors and textures. Every last morsel was devoured, a true birthday treat.
Despite an upper-level price point (the cheapest entree is $29), there is something for everyone. When coming to a restaurant of this esteem, don't let the price bother you. Everything included an assortment of exotic ingredients, created by an expertly trained staff in the kitchen, and plated beautifully. It was worth every penny.
Pinpoint lived up to its lofty reputation, which with a party of eight, that's saying something. Everyone left talking about their meals and it made for one of the better dining experiences I have had over the last few years. I can promise you it won't take another birthday or special event for me to return.
IF YOU GO:
Pinpoint Restaurant is located at 114 Market St, Wilmington, NC 28401
Do you recommend a restaurant? Or know of a best-kept secret that you want the rest of the Cape Fear to know about? Shoot me an email at corey.preece@gray.tv and I would love to feature your selection. Cheers!
Copyright 2023 WECT. All rights reserved.