Cape Fear Foodie: A "Mess" of good eats
Updated: Jun. 11, 2021 at 10:32 AM EDT
WILMINGTON, N.C. (WECT) - Welcome to the first installment of Cape Fear Foodie, a one-stop-shop for all the hippest places to eat and drink from Surf City to Ocean Isle Beach and all points in between.
I've lived in Wilmington for nearly two years, and I'm still blown away by the amount of dining options at our fingertips, especially when you come from small town West Virginia.
I've tried my fair share of amazing restaurants and watering holes around the area, but 2020 put a damper on my ability to eat my way through the Cape Fear (yet somehow I still gained weight).
Now I'm ready to expand my palate and try all the cool eats and drinks and fill you in on where to go and what to order along the way.
With bars and restaurants up and running again, many of them are still searching for staff to fill their ranks and provide the best level of service, so this blog will only highlight and uplift the restaurants I visit. Because after this past year, we all need to feel good about ourselves and our communities...and something that always makes me feel good is cheeseburgers. (Did I mention I put on a few pounds over the last year?)
I put together a shortlist of the must-try burger joints, from classic drive-ins and greasy spoons to a world-famous steakhouse. We'll get our fix on cheeseburgers over the next few weeks...but there was one place I had to visit first to kick off Cape Fear Foodie.
Chances are you've heard of this burger Mecca in the heart of Wilmington's Cargo District.
Over the last year it has quickly gained a reputation for some of the best burgers around. But you might not know it at first glance, to put it kindly, the place is tiny. But like mother always said, don't judge a burger by its cover...or something like that.
Mess Hall is the brainchild of owner Sam Steger, born and raised in Castle Hayne. Years ago, he started off working in fast food, decided to go to school for business but ultimately his passion for flat-top burgers and melted cheese was too strong to ignore any longer.
That's why he opened Mess Hall in the heart of 2020, great choice right? He admits he wanted to start small, but word of mouth (and his social media's mouthwatering posts) transformed this unknown burger spot into a major player in the beef-on-a-bun scene.
In my estimation, not since Ronald McDonald first strapped on his size 22 shoes has a burger place risen to prominence so fast, but the secret is on the grill top.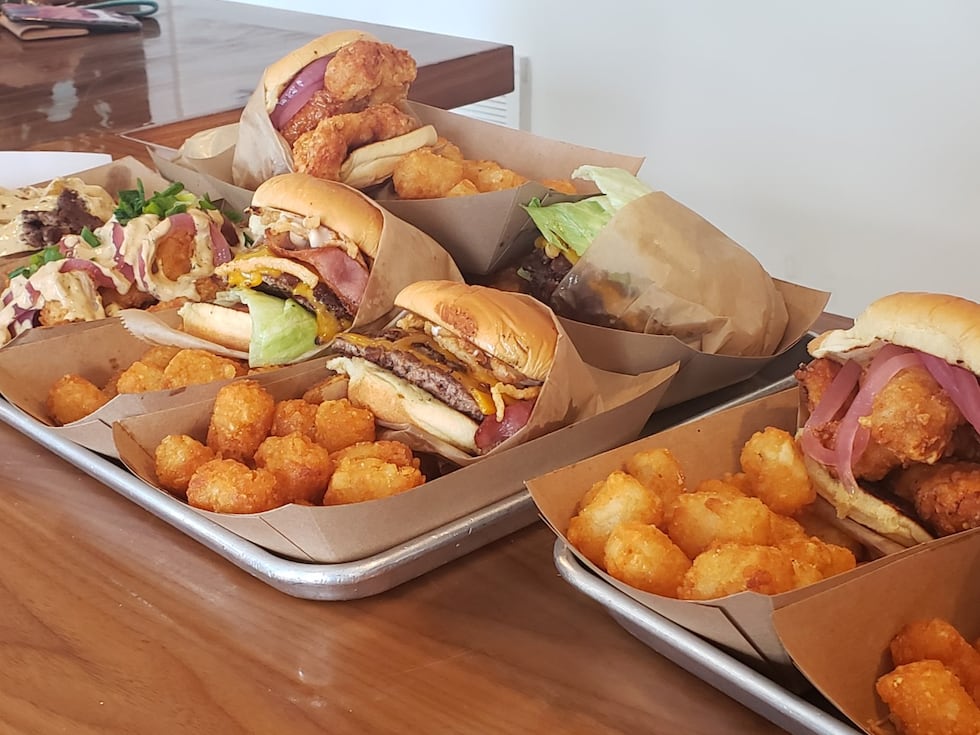 I've eaten here four or five times, and each time is better than the last. Everything on the menu is worth your attention, from fried chicken sandwiches with hot honey, to an "Old Fashioned" burger with all your classic cookout fixings, there's even a burger topped with a fried chicken tender!
Each of the eight menu options burst with flavor...you read that right, only eight menu options, but some of those include vegan selections.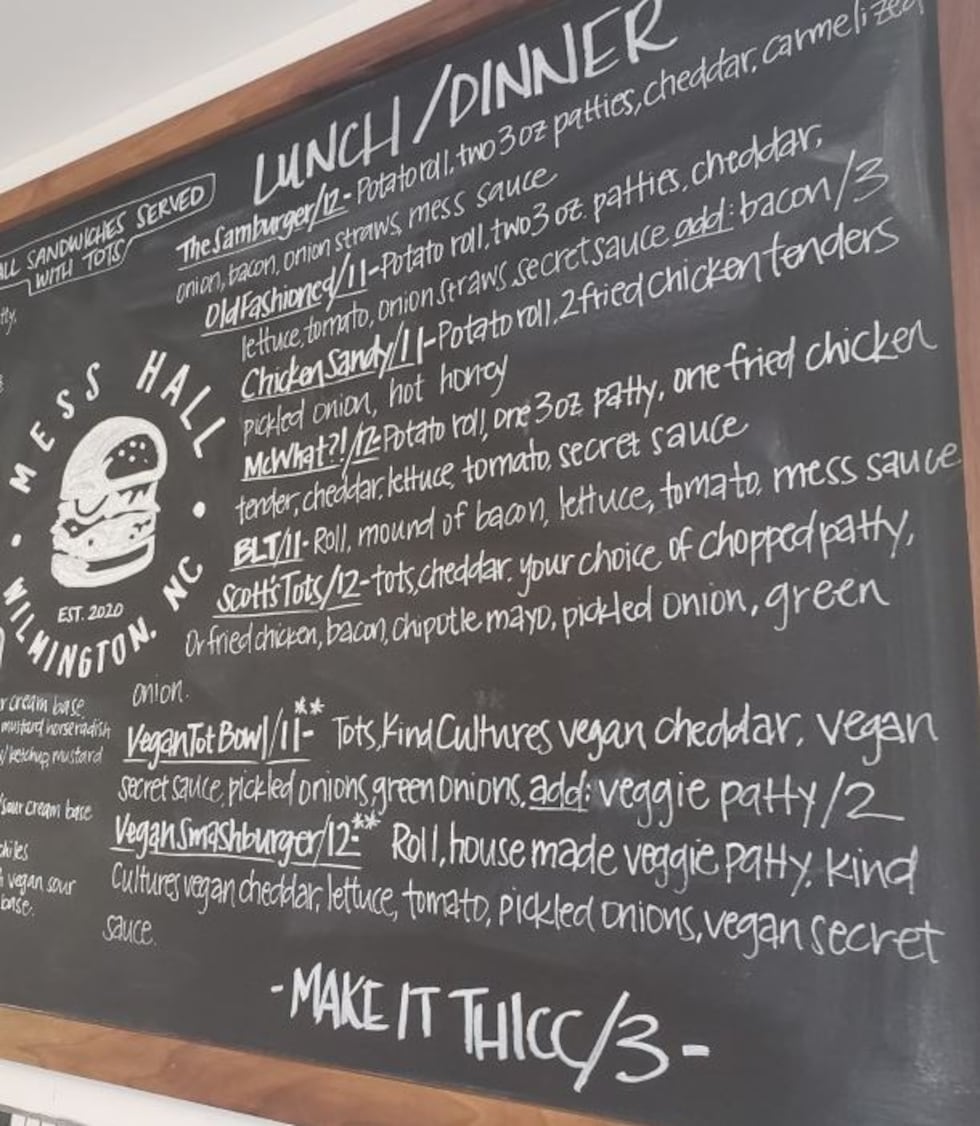 Unlike some kitchens with every topping under the sun, Steger likes to keep his menu thin and his burgers heavy. It's a unique approach that focuses on quality control. However, one thing you won't find on the premises is French fries, a serious red flag for some burger purists, but the tater tots more than make up for it...after all, it's all fried potatoes, right?
Tots over fries isn't the only way Mess Hall has strayed from the norm, Steger's long awaited dream of creating a burger with a donut finally came to fruition, with the help of Carolina Beach's legendary Britt's Donuts. The Britt Mac took the Port City by storm during its brief existence, if you're wondering what it was, think of a Big Mac with a glazed donut for the middle bun. I didn't try it, but those who did said it was life-changing.
As for Steger's go-to burger, he likes "The Samburger" (who didn't see that one coming?).
Until we met for this interview, I had never had one, and while I'm a sucker for the lettuce, tomato, and onions on the "Old Fashioned"...he convinced me to try this salivating creation. And like the Monkees, now I'm a believer...and I couldn't leave her if I tried.
A perfectly soft potato roll houses nearly a half-pound of beef, oozing with melted cheese and stacked high with savory caramelized onions, crunchy onion straws, crispy bacon and mess sauce.
Everything just works on this burger and it really holds to the ethos that each topping needs to serve a purpose. I highly recommend grabbing "The Samburger" so you can get the full Mess Hall experience.
For a man that told me he wants to "make the world a better place through burgers," I would say Steger is well on his way to doing so...one patty at a time.
1) Order each burger with extra sauce, it really gives every bite that extra oomph. You can thank me later.
2) This place is packed on the weekends; you can get takeout or stop by their countertop to place your order but expect a wait. They typically serve up to 500 people on a Friday and Saturday, and even during the week it can be busy. Luckily, Alcove Beer Garden and Outpost Coffee is right next door, so you can grab something to drink and hang out while your mind tries to think of something other than your burger and tots.
Mess Hall is open from 11 a.m. - 9 p.m. every day but closed on Sunday.
It's located at 348 Hutchison Lane, Wilmington, NC 28401. To simplify things, it's on the corner of 16th Street and Queen, inside the big shipping container complex in the Cargo District.
Need another place to satisfy your insatiable hunger for burgers?
I know, I know, Corey, why are you telling me to go to a great steakhouse and order a burger? Because it's really good, that's why!
Ruth's Prime Cheeseburger is made with prime beef, you can get your choice of cheese and the fries are expertly seasoned...plus show up during Happy Hour and you can get it for $12. That's a steal for the quality of the burger, and you'll feel super fancy taking in the ambiance of one of the nicest restaurants in town...even if you don't have the 40 oz. Porterhouse on your plate.
Ruth's Chris Steak House is located inside the Hotel Ballast in downtown Wilmington at 301 North Water Street, Wilmington, NC 28401.
Do you recommend a restaurant? Or know of a best kept secret that you want the rest of the Cape Fear to know about? Shoot me an email at corey.preece@gray.tv and I would love to feature your selection. Cheers!
Copyright 2021 WECT. All rights reserved.