Chris Everett: Filmmaker working on the follow-up to his award-winning 'Wilmington on Fire' documentary ("1on1 with Jon Evans" podcast)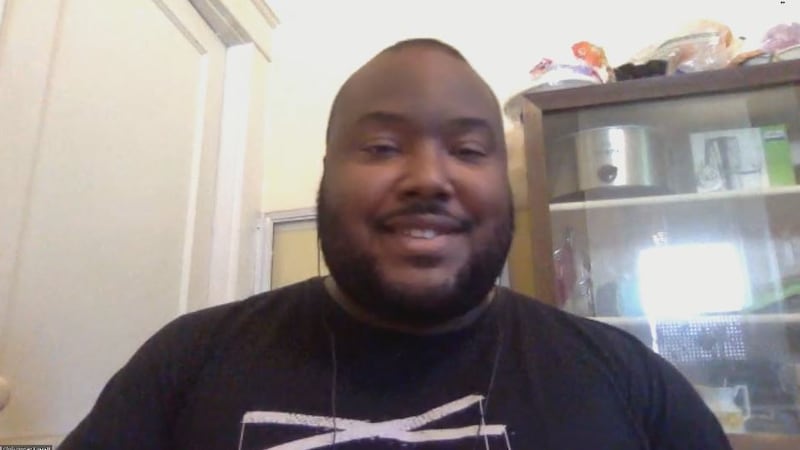 Updated: Dec. 11, 2020 at 5:30 AM EST
WILMINGTON, N.C. (WECT) - 10/10/10. The day that changed Chris Everett's life. He had an itch to do a movie about an event that happened in Wilmington, North Carolina more than a century ago. But living in Atlanta, working full-time in graphic design and doing modeling and acting on the side, Everett never seemed to have time to pursue the project.
"October 10, 2010 was the day I got laid off, and from that day forward I said, 'You know what, I'm going to move back to North Carolina, I have this cool concept of doing this documentary on the Wilmington Massacre called Wilmington on Fire'," Everett remembers. "I had a title and everything. So, I called my grandparents up and said 'Hey, I got laid off from my job, I'm moving back to Laurinburg (his hometown), I'm going to try to tackle this documentary project that I've been dying to do for the past couple years. I'm gonna do this'. That was the day."
More than five years later, Everett's film chronicling the 1898 Wilmington Massacre premiered at the 2015 Cucalorus Film Festival, and garnered instant attention. The screening for Wilmington on Fire sold out Thalian Hall, drawing the largest audience in the festival's history.
It went on to win Best Documentary there, and at both the FilmSPARK and North Carolina Black Film festivals in 2016. At the 2017 Pan American Film Festival, Everett won for Best Director First Feature Documentary category. The bar is set high as Everett begins work on the follow-up, tentatively titled Wilmington on Fire: Chapter II.
"The reason I always wanted to do a follow-up to the first one was because whenever I would show the film outside of Wilmington, folks would make it seem like 'People in Wilmington aren't doing anything. The Massacre happened, and people are not doing anything'," Everett says. "I would say 'No, that's not true at all. There are some great people here that are doing some amazing things. It's just not getting talked about or highlighted'. I said, 'You know what, I think it would be cool to do Chapter II, the final chapter, to really make this story full circle."
Wilmington on Fire has taken on a new importance in 2020 with the rise of the Black Lives Matter movement and nationwide protests calling for racial equity and criminal justice reform. The film's detailing of the well-planned violent uprising by white supremacists in 1898 to overthrow Wilmington's existing government, killing dozens of black leaders and driving others out of the city, is often cited in conversations about America's history of race relations. Everett says he still screens the film a couple times a month, often during discussions about race.
"I wanted this film to really be used as a catalyst to start these types of discussions, regardless of what your background was, what race you were, your age," he says. "I wanted all folks to really watch this film and know the true history of the 1898 Massacre, because we have to learn from these things, we have to learn from our past mistakes. That was the big reason why I wanted to do this film, so we could learn from our mistakes of the past and move forward to a better future."
After getting laid off in 2010, Everett started to build on what he had learned about the 1898 Massacre as a child growing up in Laurinburg, a small community about 100 miles from Wilmington. He had an uncle who lived in the Port City for a short time and studied history. When the family would visit, the uncle's stories about 1898 peaked his young nephew's interest. Everett continued to learn more about what many at the time called Wilmington's 1898 Race Riot through his high school and college years. When he started doing extensive research as the foundation for Wilmington on Fire, he uncovered details not often told in history lessons.
"A lot of times when you are researching stuff, reading books or seeing articles that feature the Wilmington Massacre or Tulsa (Race Massacre of 1921), they make it seem like a small group of individuals and it just happened," Everett said. "But knowing how calculated and organized this was, for years, in the planning of it, was really the 'wow' factor for me. How it was a statewide movement of white supremacy."
Everett says the shooting for Wilmington on Fire began in November 2011 and lasted until the summer of 2014. He had raised some money to finance the project and paid for much of it out of his own pocket, but needed additional funding for editing and post-production work. It appeared the process would be delayed, until a surprise investor appeared in the form of retired pro basketball champion David West.
"He reached out and actually wanted to get a DVD of the film, he thought the film was done," Everett says, remembering the conversation. "He was actually following me for a couple years. I said 'Yeah, the film's not done yet. When it's done, I'll let you know'. He said 'How much do you need to get this thing done? Because I think this story is very important and I want to see the film'. I said, 'It's this amount', and he said, 'Let's talk. I would like to partner with you to get this thing out'."
With the needed funding, the work went on and Everett said he put the finishing touches to Wilmington on Fire in July 2015. He entered it in the Cucalorus Film Festival that November, and notoriety followed. He's taken part in many events since, along with question and answer sessions, on issues of race and on filmmaking. Hilarie Burton Morgan, who spent time in Wilmington as part of the One Tree Hill cast, has signed on as executive producer of Wilmington on Fire: Chapter II. Everett's goal is to have it finished by November of 2021, to submit into the Cucalorus Film Festival.
"We know the history, the past," Everett says about carrying on the story. "Now let's look at the present and see how people are trying to bring Wilmington back to that Fusion Period, to that period of 1897 in the work they're doing to do that. That's the story I want to tell, to give this story in history a complete circle. So people can see this happened in Wilmington, but look how not only the African-American community is rising up, the city of Wilmington as a whole is trying to rise up as well to become that city it was destined to be in 1897.
Although work on Wilmington on Fire: Chapter II did slow down slightly during the pandemic, Everett says they have resumed production and are moving forward once again on telling this important story. He is the founder and president of Speller Street Films, and also works as Communications Manager for Full Frame Documentary Film Festival. I hope you enjoy the interview with this young filmmaker as much as I did.
Please subscribe to the "1on1 with Jon Evans" podcast, and you will immediately receive the new episodes when they are released.
The "1on1 with Jon Evans" podcast is a free download on many of your favorite podcast streaming apps including:
· TuneIn
· YouTube
· Libsyn
Check out past episodes of the "1on1 with Jon Evans" podcast online at wect.com.
Copyright 2020 WECT. All rights reserved.