Three area sheriffs opt not to enforce Gov. Cooper's mask mandate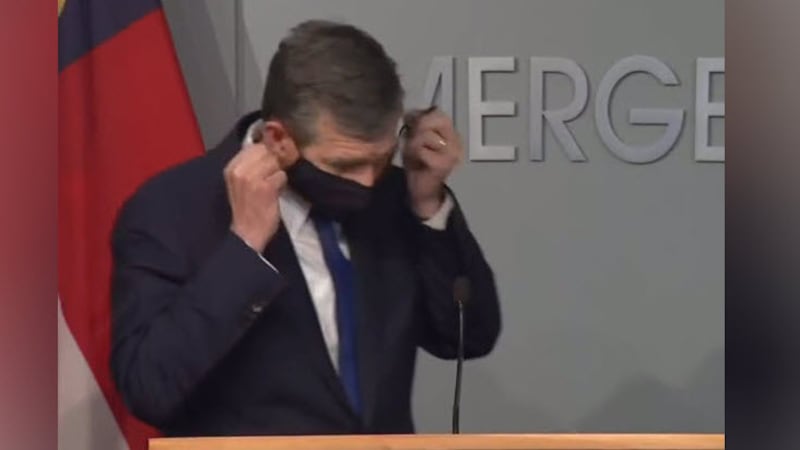 Updated: Jun. 25, 2020 at 2:43 PM EDT
WILMINGTON, N.C. (WECT) - At least three sheriffs in southeastern North Carolina do not plan to enforce Gov. Roy Cooper's new executive order instituting a statewide mask mandate.
Sheriff Jody Greene of Columbus County does not plan to enforce the order when it goes into effect Friday, June 26 at 5:00 p.m. According to Chief Deputy Aaron Herring, he and Sheriff Greene looked over the order and the office will not enforce it.
Sheriff James McVicker of Bladen County said in a news release his office will not enforce the order.
"The order does not authorize law enforcement to arrest for failing to wear a mask," Sheriff McVicker said in a statement. "There are many exceptions to the order and it does not require mask in private workplaces, residences or outside recreation areas. The Bladen County Sheriff's office will not be enforcing the mask order and are relying on our citizens to use good judgment in determining when to wear a mask for their health, safety and well being."
During a news conference Wednesday, Gov. Cooper announced that the state was instituting mandatory face coverings when in public places where physical distancing is not possible, as a way to help stop the spread of COVID-19. You can read the entire executive order here. Businesses could be cited for failing to require employees to wear masks.
Sheriff Jimmy Thornton of Sampson County posted on Facebook late Wednesday night that his office will not enforce the governor's order.
"As Sheriff, it is my sworn duty to enforce laws enacted by our legislature, as well as protect the constitutional rights of all citizens. It is my belief that Governor Cooper's executive order mandating face coverings by all citizens in public is not only unconstitutional, but unenforceable. My deputies will NOT enforce an executive order that I feel violates the constitutional liberties of citizens."
"The number of cases in Sampson County are reflecting higher than other counties in our State. I do encourage and trust that all citizens will take it upon themselves to carry out the necessary precautions to ensure the safety and protection of themselves and those that surround them. I am not encouraging negligence, but I would like to reiterate that it is not the Sheriff's duty to enforce health related mandates unless court ordered by a Judicial Official or the Legislature."
Brunswick County Sheriff John Ingram, who is the president of the North Carolina Sheriffs' Association, released a statement regarding enforcement of the governor's order:
"Governor Cooper's newest Executive Order has spawned a tremendous amount of dialogue and debate. Because the dynamics of each county in North Carolina vary, it would be inappropriate for me to comment on another Sheriff's decision on whether or not to enforce the order on their local businesses. Each Sheriff has to make that determination based on their own county's needs.
It is unfortunate that the order leaves the burden of enforcement on the business owners and puts them in a position to have to make the determination on whether or not a patron is exempt from wearing a face covering or not. The order contains so many exceptions, it makes it extremely difficult. The Brunswick County Sheriff's Office will do what we can to support our citizens and businesses. What we don't want to see is a business that is already suffering due to COVID-19 worry about being criminally charged if they allow patrons without masks to enter their establishment.
It's important we all continue to work together as we continue navigating these unprecedented times."
In a Facebook post, the Brunswick County Sheriff Office said it will not arrest individuals who are not wearing a facemask.
Here is the section of the executive order that covers enforcement of the new statewide mandate:
F. Enforcement of Face Covering Requirements.
1. Citations under this Section shall be written only to businesses or organizations that fail to enforce the requirement to wear Face Coverings. Operators of businesses and organizations are entitled to rely on their customers or patrons' statements about whether or not they are excepted from the Face Covering requirements, and businesses and organizations do not violate this Executive Order if they rely on such statements.
2. Law enforcement personnel are not authorized to criminally enforce the Face Covering requirements of this Executive Order against individual workers, customers, or patrons.
3. However, if a business or organization does not allow entry to a worker, customer, or patron because that person refuses to wear a Face Covering, and if that worker, customer, or patron enters the premises or refuses to leave the premises, law enforcement personnel may enforce the trespassing laws and any other laws (other than N.C. Gen. Stat.§ 14-288.20A) that the worker, customer, or patron may violate.
A spokesman for the New Hanover County Sheriff's office said they will work to educate business owners on the requirements of mask wearing. A spokesman for the Pender County Sheriff's Office says they will work with businesses and organizations to encourage them to require workers and patrons to use the face masks. Any reports of customers refusing to wear a facemask and refusing to leave the business will be handled on a case by case basis.
Copyright 2020 WECT. All rights reserved.