Christina Koch: Her lifelong dream of going to space began along the NC coast ("1on1 with Jon Evans" podcast)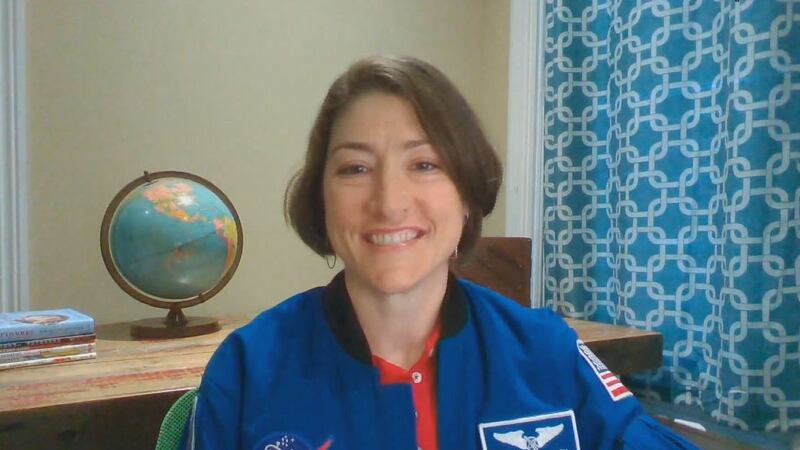 Updated: May. 22, 2020 at 5:26 AM EDT
GALVESTON, TX (WECT) - As a child growing up along the North Carolina coast, Christina Koch used to look up at the stars from her backyard and dream about exploring the heavens.
"For me, the difference was, I just didn't grow out of it," Koch said from her home in Texas, three months after completing the longest spaceflight in history by a woman. "More of the question is, when did it solidify. I think back to family trips to Kennedy Space Center, where I was completely 'wowed'."
Decades later, Koch had the same 'wow' feeling when looking back down at the earth from space, after arriving by Soyuz rocket to the International Space Station in March of 2019. She would go on to spend 328 days on board the station, setting a record for longest spaceflight by a woman, before returning home in February.
"
I'll never, ever forget the moment," Koch says about recognizing the North Carolina coastline for the first time while aboard the ISS. 'Looking at the horizon of the earth, and as things come into focus in the direction that we're flying over, things are so far away when they come over the horizon you can't make them out. As they slowly come closer to being directly below you, you start to be able to make them out. There was a moment were I was just looking at some coastline and trying to determine where the land started, where the clouds were, where the ocean was and then, in an instant, I just saw it clear as day. The Outer Banks. I will never forget that moment."
Koch says her dreams of becoming an astronaut started so early, she can't really remember not wanting to pursue it as a career. She joined the Rocket Club at Hunter's Creek Middle School in Jacksonville, and even now credits teachers there and at White Oak High School for encouraging her to 'dream big'. Koch went to work for NASA after earning her Master's Degree in electrical engineering at North Carolina State University, but left to begin a series of career opportunities that would take her to some of the most remote locations on earth, including the South Pole, Antarctica, Greenland and Barrow, Alaska. They proved to be good training for spending eleven months in space.
"I will never forget the first moment I stepped off the military aircraft that brought us all down to the South Pole (where she worked doing research for the U.S. Antarctic Program)," Koch says with a smile. "I basically just did a 360 looking around in all directions. I couldn't believe I had landed somewhere so remote, so foreign to everything I had ever known, and was actually there. Then I realized I couldn't feel my hands, and it was very cold."
The trajectory of Koch's career changed in June 2013, when she was selected as one of eight members for NASA's 21st Astronaut Class. At the time, Koch was working as Station Chief at the NOAA Global Monitoring Division's observatory in American Samoa, a small island in the South Pacific. Because of the time difference, she nearly missed the call.
"The phone call I got from the lead of the interview committee came at 6:00 a.m. and I was still asleep," Koch remembers. "I got this call and I was completely rendered speechless when the voice on the other end said to me 'We want you to come join our team in Houston'. I really couldn't speak. I was processing what really happened, and because it was so early in the morning and I was just waking up, the person had to prompt me and say 'Hello!' again a couple times to make sure I was still there."
That began nearly six years of hard work getting ready for her long duration mission into space, which included simulated spacewalks, flight training, robotics, water and wilderness survival, and more. She talks about the toughest parts of the training at 10:20 of the podcast. No amount of training, though, could prepare her for the final few seconds before, and the eight minutes after the rocket left the launchpad in Kazakhstan on March 14, 2019.
"If I could liken it to anything, it's the bumpy sensation of a roller coaster, but the difference is that you know you're going up, and you're going straight up," Koch says describing the liftoff. "You can feel the G-forces on your chest. Like I've said before, you realize that after going up and up for so long and you can tell you're going so fast, the only place you can be is space. Sure enough, that's exactly where you end up after eight minutes of the rocket launching you straight up into the air."
Koch arrived at the ISS along with fellow NASA astronaut Nick Hague and Russian cosmonaut Alexey Ovchinin, starting her 328-day stint as Flight Engineer on Expeditions 59, 60 & 61. According to Koch's bio page on NASA.gov, 'the crew took part in hundreds of experiments in biology, earth science, human research, physical sciences and technology development, including improvements to the Alpha Magnetic Spectrometer in an effort to extend its life and support its mission of looking for evidence of dark matter and testing 3D biological printers to print organ-like tissues in microgravity'. Koch also learned to play a musical instrument on board the ISS, to surprise her husband on their wedding anniversary. She also became the first astronaut 'slimed' in space, as part of an effort in conjunction with Nickelodeon, the children's cable television channel. She talks more about those experiences starting at 16:10 of the podcast. Koch also ventured out of the station for six spacewalks, including the first all-women spacewalk with fellow astronaut Jessica Meir on October 18, 2019.
"Afterwards, and I think a few moments during the spacewalk itself, we had a chance to just pause and take it all in," Koch said about the magnitude of the accomplishment shared with Meir. "I'll never forget the moment when we first both came out of the hatch. We caught each other's eyes and we knew at that point we were out on a spacewalk together and it had happened. So that was a really special moment."
I asked the now 41-year-old record-holder if she has a desire to be the next astronaut, and first woman, to walk on the moon or make the trip to Mars. Koch said if she were selected 'it would be a huge honor'. I'm hoping she gets the chance.
To listen to my entire interview with NASA astronaut Christina Koch, click on any of the links below.
Please subscribe to the "1on1 with Jon Evans" podcast, and you will immediately receive the new episodes when they are released.
The "1on1 with Jon Evans" podcast is a free download on many of your favorite podcast streaming apps including:
· TuneIn
· YouTube
· Libsyn
Check out past episodes of the "1on1 with Jon Evans" podcast online at wect.com.
Copyright 2020 WECT. All rights reserved.