Attorney for deputy accused in Pender 'mob' incident: 'A colossal misunderstanding'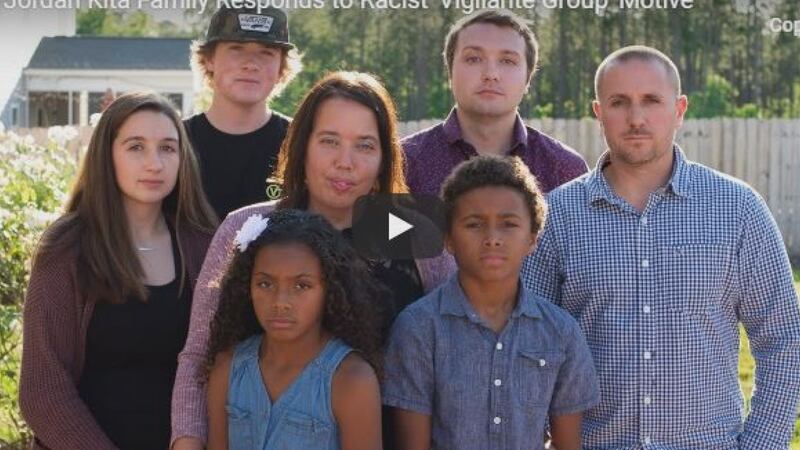 Updated: May. 14, 2020 at 5:18 PM EDT
ROCKY POINT, N.C. (WECT) - New details are beginning to emerge in a situation out of Pender County that cost a New Hanover County deputy his job, and many feared could have cost an African American teenager his life.
Deputy Jordan Kita was fired on May 8 after news broke that he'd been part of an armed group of people that showed up at the wrong house on May 3, looking for a missing girl and terrifying the homeowners who answered the door. Dameon and Monica Shepard had no connection to the girl's disappearance, and the armed search party had been sent to their house by a tipster with the wrong address.
While Kita was in uniform at the time of his allegedly unlawful actions, WECT has now learned that he left his shift as a jailer to join the search for his younger sister, and he was simply wearing the clothes he had on. We've also learned that the family of the missing girl was mixed-race, adding new questions about whether race was a factor in the ugly scene that developed on the Shepard's doorstep.
The armed "mob," as the group looking for the girl has been termed, was entirely white. The Shepards are black. In light of ongoing incidents across the nation where unarmed, innocent black men have been killed by white gunmen, some assumed race played a role in the way the Shepards were harassed.
Dameon, an 18-year-old high school senior, said he was terrified by the people with guns who began knocking on his door at 10 PM, demanding entry to his house. He repeatedly told them his name was Dameon, not Josiah, the man the group believed was with the missing girl. When Dameon tried to close the door, the Shepards say Kita stuck his foot in the way. Monica said she fears her son may have been shot if she had not woken up to deescalate the situation and protect her child.
WECT knew that Kita had a "familial relation" to the missing girl (who was later found), but has now learned she was his younger sister in a blended family. While Jordan Kita is white, his little sister is biracial. The Kita family says there was no racist motivation in the events that transpired on May 3, they were simply searching frantically for their missing loved one. They have asked to sit down with the Shepard family to discuss what happened.
When interviewed on CNN this week, Monica Shepard told Don Lemon that she was not ready to accept that invitation.
"I can't really say that I'm in a place to sit down [with them], and I never said anything about there being racism issues. You just don't come to people homes with guns and try to force your way into their house," Monica Shepard told CNN's Don Lemon.
The Kita family also wants people to understand that Kita was not wearing his sheriff's uniform to intimidate anyone or to give the impression he was working in his capacity as a law enforcement officer, it's just what he was wearing on the day his sister disappeared.
The Kitas said they were working in conjunction with the Pender County Sheriff's Office on the search, and the PCSO was about to send out a helicopter to assist in the search when the situation unfolded at the Shepard's house.
In addition to losing his job, Jordan Kita has now been charged with forcible trespass, breaking and entering, and willful failure to discharge duties. The last charge is related to duties as being a sworn officer of the sheriff's office.
James Rutherford, the attorney representing Jordan Kita, said his family has received death threats because of the false narrative that they are racists.
"The reason this has become a national issue is [the Shepard's attorney] Mr. Lea recklessly put out that defamatory narrative. The Kita family is anything but racist," Rutherford told WECT.
He released the following statement regarding the situation which he describes as a "colossal misunderstanding."
Racism has no place in any society.
This Story is NOT about Racism.
This story is about a family searching for a troubled teenager, whom they love very much and was in immediate danger on the evening of May 3rd. The family set in search of her and time was against them.
Race should have no part in this story, and it is disgusting that it does. It is difficult for Jordan and his family to reconcile why they have been placed into this national narrative when the teen the family has had guardianship over for more than 10 years, is biracial. It is even more difficult to reconcile when considering the fact that this is not the only biracial child in the home. The Kita's have fought and spent countless time, emotional and economic equity to have a racially diverse family. This is a loving blended family. Statements made by Mr. Lea are wrong, slanderous, and disgusting. This narrative must stop today.
Jordan considers the teen to be his sister, she has lived with his family for more than ten years. He loves her very much, just as he loves all his siblings, biological or otherwise. When his mother called him frantically on the night of May 3rd, Jordan was working at the New Hanover County Detention Facility. His shift did not end for several more hours. Understanding the emergent circumstances, he left work and rushed to help find the sister he loves so much.
He did not lead any mob as has been reported. He was not a leader of anything this evening. He was a brother searching for his sister.
The search party, consisting of children, teenagers and adults, was a disorganized hodgepodge of people receiving rapidly changing information through social media, text and phone calls. Many doors were knocked upon that evening on multiple streets. Upon hearing the plight, several people joined to help search for the missing teen.
Hours into the search a tip was received from a youngster that this missing teen was seen with Josiah. Eventually another youngster gave an address. This address was broadcasted via phone calls and text. At this point the hodgepodge of individuals and small groups that were independently searching for this missing teen came to what later is known as the Shepard's address. It is true the name given is Josiah. However, at no time did anyone mistake Dameon for Josiah. There was zero description of Josiah. This house was not chosen because of a mistaken identity this house was chosen because of an erroneous address. At no time did anyone ask nor know the color of Josiah's skin. The individuals were only told that Josiah was with the missing teen and he lived at this address.
This case is nothing more than a colossal misunderstanding.
There was no criminal intent in any of Jordan's actions let alone a racist element behind it.
It is not lost on Jordan and his family how the Shepard's must feel. Instead of fighting in the court of public opinion this family wishes to do what they have always done, and that is to put race aside and do what is right. They would love nothing more than to sit down with the Shepard family and express how sorry they are that they were a part of leaving them feeling as they felt.
Instead of continuing the narrative that this is a racist occurrence, let's have the parties come together and talk. Let us be a model for not only Pender County but the Nation. Let us say no to the divisive politics of racism and yes to the unification of humanity.
Copyright 2020 WECT. All rights reserved.