HEARTFELT MOMENT: Woman shares news of her engagement at grandfather's window
Carly Boyd, who can't go into her grandfather's care facility due to the coronavirus, showed off her engagement ring through his window
Updated: Mar. 16, 2020 at 5:38 PM EDT
LAKE WACCAMAW, N.C. (WECT) - Visitor restrictions at healthcare facilities across the country are in place to stop the spread of the coronavirus and keep vulnerable age groups safe.
For Carly Boyd, who got engaged over the weekend, that meant sharing her news with her grandfather through the window of his room at Premier Living and Rehab Center in Lake Waccamaw.
The facility's administrator, Gennie Parnell, took pictures of the moment when Boyd showed off her engagement ring and she and her grandfather touched their hands on the window.
"It was magical, I can't even explain it. I was in tears, my administrator was in tears, even the roommate of the resident, he was even crying. It was very magical and it was very heartfelt and Carly started crying and her grandfather even started crying. It was beautiful and heartbreaking at the same time," said April Bass, the Community Activity Coordinator at the facility.
A post on Facebook with pictures of the touching moment has been shared thousands of times.
Boyd attends Southeastern Community College where she is studying to become a Registered Nurse (RN).
This weekend, Trevor Sellers, a contractor with the Department of Transportation, asked for her hand in marriage.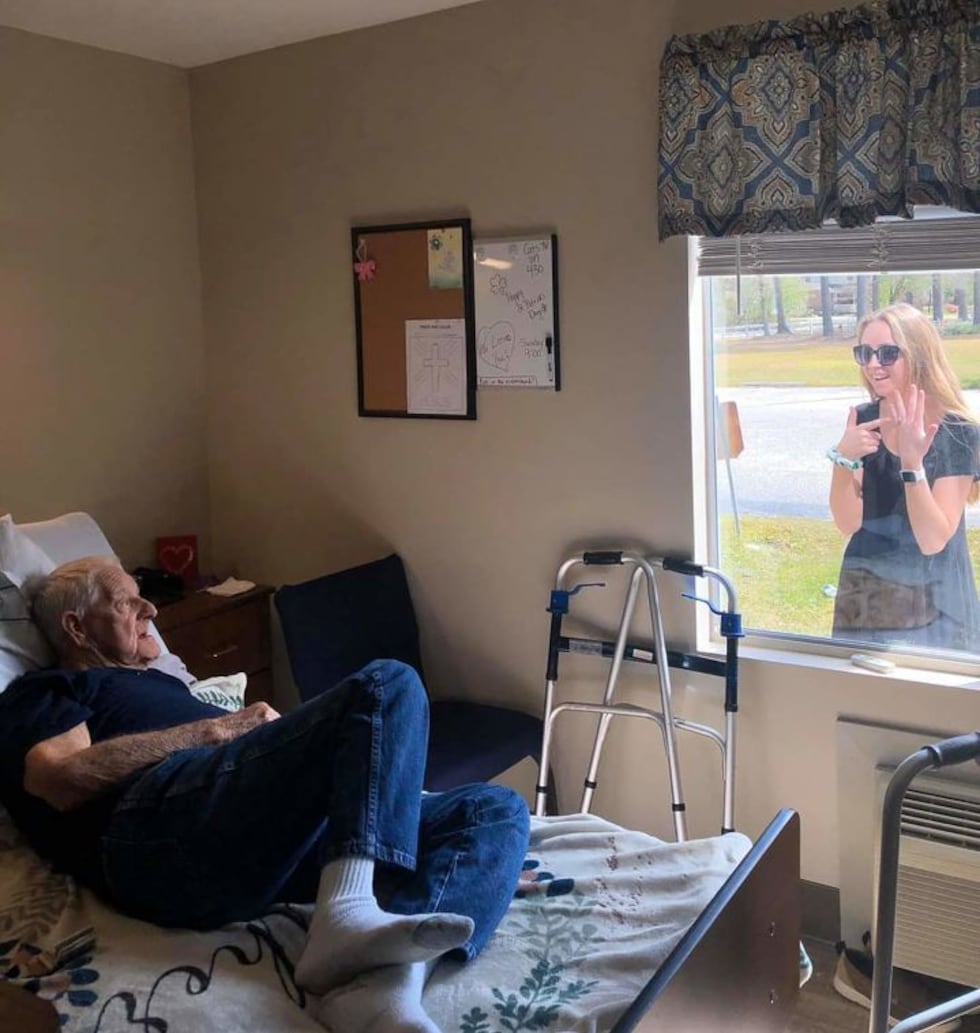 According to Bass, the Community Activity Coordinator at the facility, the coronavirus outbreak forced the facility to put restrictions on visitors.
"Coronavirus didn't stop this granddaughter and grandfather from sharing this happy moment," wrote Bass.
Bass said the facility is working to make sure its residents still have contact with family and friends through phone calls, video calls, email and visits at the windows.
During this uncertain time, Bass said talking through the windows has provided a bit of comic relief for residents and their family members.
"It's actually kind of funny because the family members are laughing and the residents are laughing and it's not a bad situation. I see a lot of laughter and a lot of happiness even during this bad time," Bass said.
Bass said the facility administrator has worked to clear grass from near the windows and has even set up chairs for family to visit, noting how important it is for residents to have interactions with loved ones.
"It's something they look forward to. They look forward to their family coming to see them, they look forward to even staff, seeing staff. That interaction, the love that is shown to them. We're humans and we need that love and we long to have affection and they're the same way."
Bass said the staff members at Premiere Living Facility are worried and stressed, but that they are like family and being able to help their residents makes it worthwhile.
"It makes all this panic and all this scare working in healthcare that's what makes my job important. That's what gives me that feeling of wholeness that I'm doing exactly what God wanted me to do," she said.
Copyright 2020 WECT. All rights reserved.