Sign spinning isn't just about advertising, it's a sport too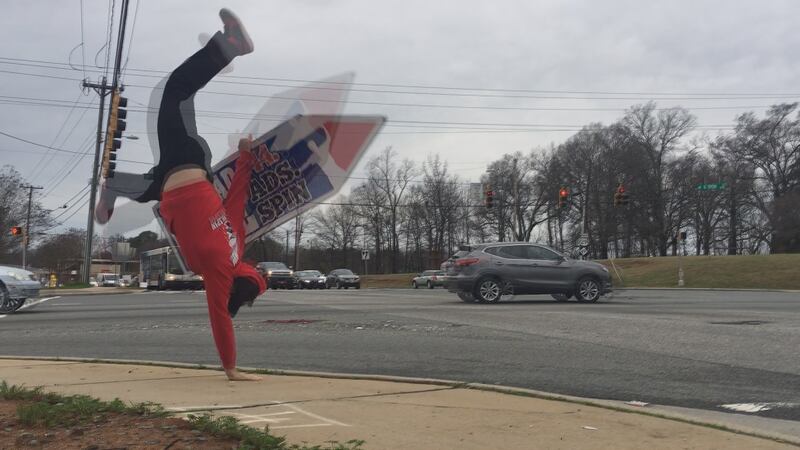 Updated: Jan. 15, 2020 at 10:24 PM EST
CHARLOTTE, N.C. (WBTV) - Sometimes stories happen in our city that would go under the radar if we didn't take a minute to highlight their uniqueness.
Charlotte men and women are heading to Las Vegas to compete in a sport called "sign spinning". It's the people you see on the sides of the road waving and spinning advertisement signs, trying to pull you into businesses.
A special kind of art goes into this type of advertising.
"It's good for businesses, we're usually the first impression to the world," said Kyle Blalock.
Blalock has been at it for more than 10 years. Sign spinning was a job he first took while in school just to keep extra cash in his pocket.
"Well that's way more than minimum wage. That was the hook," he joked.
He still loves it, so it makes sense why he hasn't tried to find another job. To be successful, he says it's more than just having the skillset to spin signs flawlessly; you must have a great attitude while doing each trick.
"Very jolly, very happy," Blalock confirmed.
These are examples online of other sign spinners around the country.
Many of them will be meeting in a two-day tournament this Thursday and Friday to find the person who has the best technical ability, execution and style.
"It's like skateboarding and figure skating. That's kind of how it's judge," Blalock said.
Blalock is one of the hundreds headed to Sin City with coworkers to compete. He's been to the tournament before and in his experience, it gets REALLY competitive.
"Somebody once did a cartwheel with a sign in their teeth. I wouldn't recommend that because that's kind of gross," he added.
If Blalock wins, he'll walk away with thousands of dollars in cash. He's hoping to do just that, so more people in Charlotte can realize sign spinning can be a sport too and join the team.
If you're interested in finding out more, click here.
Copyright 2020 WBTV. All rights reserved.