COMMUNITY SPOTLIGHT: Food Bank of CENC in Wilmington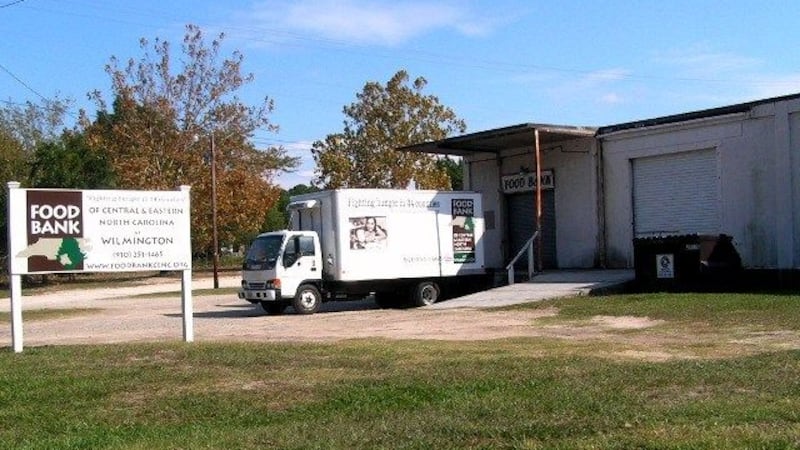 Updated: Jan. 9, 2020 at 7:30 AM EST
WILMINGTON, N.C. (WECT) - From the outside, the Food Bank at 1314 Marstellar St. looks like just another warehouse. Step inside, though, and its clear it's so much more than meets the eye.
There are dozens of pallets stacked high with canned goods — hundreds of crates filled with non-perishable foods. It's donated food that will feed thousands of people in New Hanover, Pender, Brunswick and Columbus counties.
"We have about 65,000 individuals who are what we call, 'food insecure,' so that means anytime during the year these individuals don't know where their next meal is going to come from," explained Emily Kraft, Benefits Outreach Manager at the Food Bank in Wilmington.
Kraft said the non-profit organization gets plenty of donations during Thanksgiving and Christmas, but the attention fades following the holidays.
"For example, our summer food service program for when kids get out of school and they're no longer receiving those free meals that they might get during the school year. That is something we see spike in the summertime but doesn't really get the same publicity as the holiday season," she said.
The Food Bank operates on financial donations from the community and food donations from places such as grocery stores, federal and state government programs and corporations including Amazon.
The agency works with agencies to provide food for the area's hungry. Churches, schools and homeless shelters are the biggest beneficiaries.
While much of the food on the warehouse floor consist of non-perishable items, most of the donated items are perishable and are stored in large refrigerators until the recipient agencies pick them up.
"We have manufacturers and farmers and growers who donate to us. Even though you look around and what you see on the floor of course are the non-perishable goods, over 60 percent of what we distribute is actually perishable, like your frozen meats and your produce," Kraft said.
Some of that food is edible but not sellable.
"So when you go to the store everything looks perfect because stores only want to put the best out there because that's what people buy. They don't want the bruised tomato or a bruised apple, but for people who eat tomatoes and apples, they know that those bruised ones taste just as good if not more flavorful so that's what we get and are able to distribute that and it still makes a great meal for a family," Kraft said.
Kraft said financial donations give them the ability to go out and purchase what's needed most. Only a small percentage covers the overhead.
"When people donate a dollar to us, 97 cents of that dollar is going back into the community and back toward the food. We only have a three-cent overheard for our fundraising," Kraft explained.
The non-profit organization that provides food in 34 counties in Central and Eastern North Carolina is celebrating a special anniversary this year.
"Our organization is celebrating 40 years this year—in 2020 and we started as a card table in Cary and with one phone and now we're an organization with about 130 employees in six locations across eastern North Carolina," Kraft said. "It's just been an amazing journey and we're so grateful to be the steward of all the resources and relationships that the community has given and trusted us with."
If you would like to donate to the Food Bank in Wilmington, click here to help.
If you would like to recommend a non-profit organization that does big work but gets little attention, send it to newsroom@wect.com. The charity organizations that will be featured the first Thursday of each month on WECT News at 6 will receive a $500 donation from our sponsors at Rose Brothers Furniture.
Copyright 2020 WECT. All rights reserved.