The facts and figures on fuel you need to know about when a hurricane hits
Updated: Jul. 23, 2019 at 6:16 AM EDT
(WECT) - Hurricane season is in full effect and there are many things that play a role when preparing for a hurricane, one being gas.
GasBuddy recently did a study that reveals how quickly gas stations run out of fuel and get replenished during a major storm.
The study focuses on the highest impacted areas of Hurricane Irma in 2017, Hurricane Florence, and Hurricane Michael in 2018. Those areas include Gainesville and Panama City, Florida and Wilmington. The report examines the percentage of fuel outages reported in each area.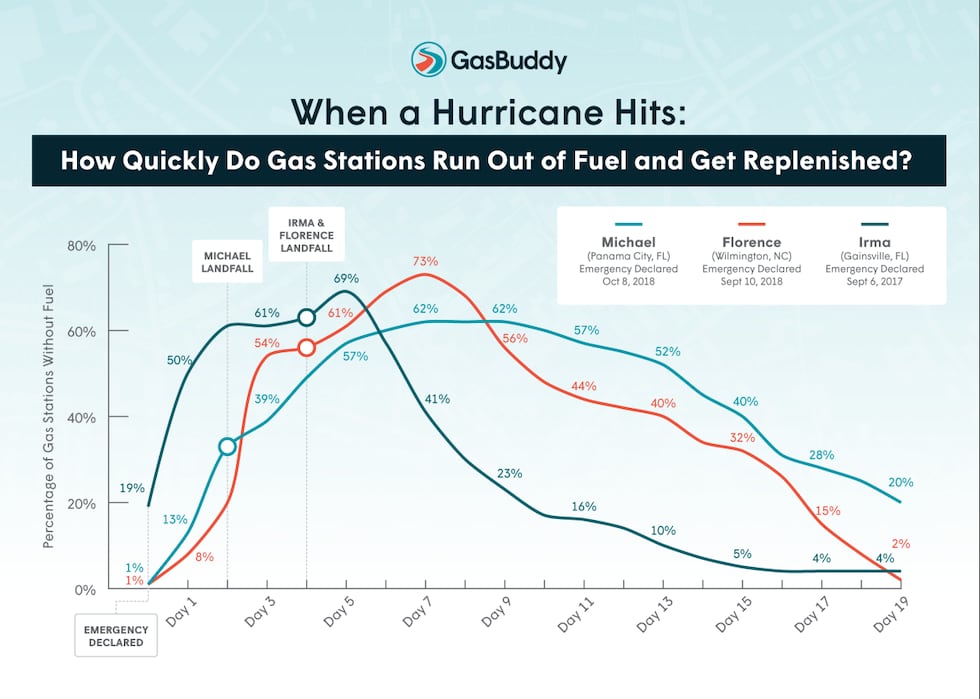 Before the storms
During Hurricane Florence, gas stations in Wilmington reported without fuel shortly after officials made emergency declarations. That's the same for Panama City ahead of Hurricane Michael. Nearly 20% of gas stations in Gainesville were already reported as having no gas before the an emergency was announced in the wake of Hurricane Irma.
"Hurricanes can have a profound impact on gasoline supply, but it's typically the fear of running low on gasoline that has an impact on supply before the storm does. Even so, retailers have been quick to respond once an area sees intense demand, and most areas begin to see improvement within a week of landfall of a major hurricane," said Patrick DeHaan, head of petroleum analysis at GasBuddy, in a press release. "So many factors go into supply and demand before and after a major storm - things like location, infrastructure, expected path, refinery location, power supply- that make it impossible to predict the exact moment when fuel networks are in the clear or begin to recover, but we definitely have seen fuel supply becoming a larger focus for government during hurricane season."
During the storms
During Hurricane Florence, and Hurricane Irma, gas stations were reporting outages 1-3 days after the storm hit. For Hurricane Michael, the number of gas station outages continues to increase five days after the storm.
Refueling efforts made significant impacts almost immediately following both Hurricane Florence and Irma. During Michael, the refueling efforts took longer because of the devastation in Panama City.
Preparation for future storms
Avoid hoarding gas. Whether you are evacuating or staying, get enough gas to fill your tank and leave it at that. Except in extreme situations, has station fuel outages are noticeably replenished 4 days after a hurricane makes landfall.

Report fuel outages. Reporting the outage helps other drivers evacuate safely and it also informs the government on where to send fuel trucks before and after the storm.
GasBuddy works to help users find the best gas prices in their area via a smartphone app. The app also offers information on fuel outages and fuel replenishment efforts during major hurricanes in the past three years based on millions of real-time fuel outage reports.
Copyright 2019 WECT. All rights reserved.