WWII vet discusses D-Day, aftermath of war with Wilmington students
Updated: May. 29, 2019 at 5:15 PM EDT
WILMINGTON, N.C. (WECT) - It has been nearly 75 years since D-Day, but for Arthur Kenan, the sometimes traumatic memories haven't completely faded away.
Luckily, with the help of some attentive, interested students at the Wilmington Academy of Arts and Sciences, Kenan, 92, created a new, more pleasant memory on Wednesday.
"I'll remember this as long as I live," Kenan said after speaking to the students for nearly two hours about his experience during and after World War II.
Kenan was a teenage paratrooper during the Normandy invasion on June 6, 1944. It was the largest seaborne invasion in history with 160,000 Allied troops landing along a 50-mile stretch of French coastline to fight Nazi Germany.
There were many harrowing moments during his almost two-year stint in WWII, Kenan said.
He saw his best friend get shot and killed. He witnessed a regiment of 120 men go into battle, and only 11 came back.
"And they looked more dead than alive," Kenan said of the survivors.
Soldiers rarely slept or ate on a normal schedule and the cold of winter was relentless.
To communicate with each other at night, Kenan said Allied soldiers used clickers. If a soldier clicked and got a click back, they knew they were friendly. If they didn't click back, that was an enemy and they were often shot.
"I really can't believe what he's seen," student Ava Rineer said. "He really wasn't that older than I am now and he's going through war and fighting in battles. He's made so many sacrifices."
The clicker was one of the items Kenan brought to show the students Wednesday, along with some of his medals — including a purple heart that was passed around the room — and a scrapbook of his WWII belongings.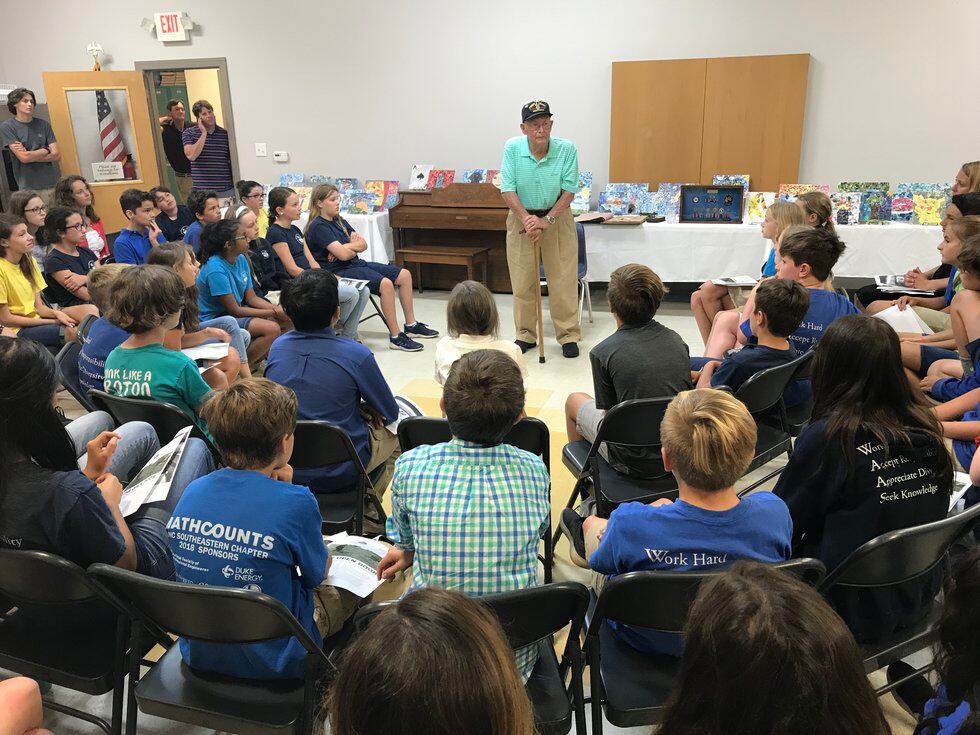 Kenan said it took 10 years after the war to straighten himself out mentally and he admits there are some emotional wounds from war that may never heal.
"There were many worse than me," he said.
Painting a complete picture of his wartime experience was beneficial for all those in attendance, according to Anna Cubbage, a social studies teacher at the academy.
"To see how much it still affected him, I think, really stood out to the students and allowed them to realize that those opportunities [to hear from WWII vets] are becoming more and more rare," Cubbage said. "Many veterans, especially of wars past, did not speak about those things."
It wasn't all wartime carnage and post traumatic stress though. Kenan cracked a couple of well-delivered jokes and shared messages of hope with the students, who applauded Kenan at the conclusion of a question and answer session and his speech.
Then, after a couple of tries and with a little help from his cane, Kenan successfully stood up from his chair and turned to look at the medals and mementos he invited the students to examine, and hopefully appreciate.
Copyright 2019 WECT. All rights reserved.