Health care facility damaged by hurricane gets donation from NC Medical Society Foundation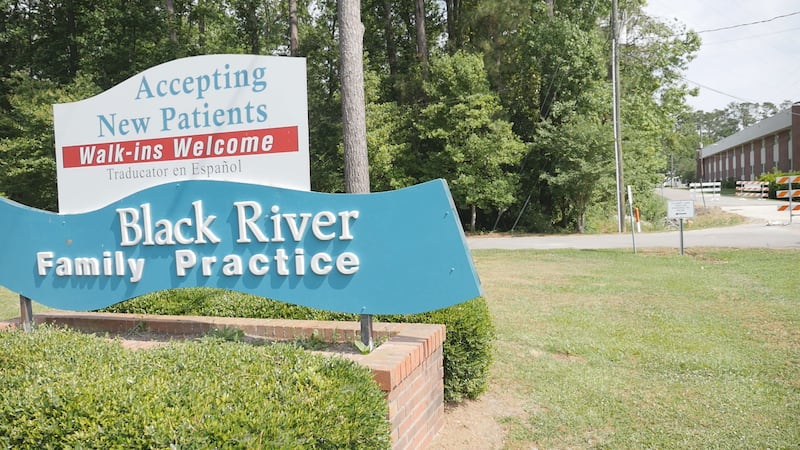 Published: May. 23, 2019 at 2:10 PM EDT
PENDER COUNTY, N.C. (WECT) - Like most natural disasters, Hurricane Florence hit vulnerable populations particularly hard when it made landfall in southeastern North Carolina last year.
In Burgaw, storm damage forced a vital Pender County health care facility to close for eight days, and even after Black River Family Practice reopened, it took a while before it was able to be 100 percent operational.
"Talking to Lee Ann, she was panicked because she couldn't even get here," said Leslie Wolcott of the NC Community Health Center Association, recalling a conversation she had with Lee Ann Amann, CEO of Black River Health Services. "She didn't even know if her providers would be able to come back. ... If the providers aren't there, the patients aren't getting taken care of and it's very hard, I think, to recruit and retain providers in places like this."
Black River provides medical services to people with no income and no ability to pay right away. Patients pay on a sliding fee scale as they're able.
The NC Medical Society Foundation stepped in Thursday to help alleviate some financial concerns for the facility by donating a check for $23,000. Dr. Walker Ray, a physician with 40 years of experience and a trustee on the NCMS Foundation board, presented the check.
Most of the money will go toward reimbursing workers who repaired the roof, which suffered significant damage, to the point that it breached during Florence.
"We're trying very hard to keep this facility open," Black River Family Practice Medical Director Linda Greenspan said. "It's really needed by the folks in Burgaw and Pender County. If we had to close down, which we did during the hurricane, that was a hardship for the patients. We need to continue to be open so fixing our roof helps us to do that."
Money was raised through donations from physicians, Blue Cross/Blue Shield of North Carolina, the Physicians Foundation and other donors. Funds are steered toward disaster relief.
The NCMS Foundation's Disaster Relief Fund has distributed more than $150,000 to help ensure practices in eastern North Carolina can recover from the lingering effects of the hurricane. At least another eight practices are in line for funds in the coming months.
"It's very much an honor," Ray said of handing the check to Black River Family Practice staff. "I have taken care of a vulnerable population, that is, children for my 40 years in practice. We know that, in this area, there are vulnerable populations in North Carolina. They're everywhere.
"(Those populations) have difficulty when there is a natural disaster because it puts tremendous stress on the resources and on the community. We are happy to be able to assist, in a small way, with the recovery."
Applications for these grants are still being accepted as some practices continue to assess the total financial impact of the storm.
To learn more about the NC Medical Society, click here.
Copyright 2019 WECT. All rights reserved.