Drain on the system: Stormwater infrastructure in focus in the wake of Florence
Updated: Apr. 22, 2019 at 5:52 PM EDT
WILMINGTON, NC (WECT) - Putting the meteorological events of the Cape Fear region in 2018 into one statement is easy: It rained.
Wilmington saw 102.47 inches of rain — somewhere in the neighborhood of 75 billion gallons — over those 12 months, and a large portion of that amount came down in just three days during Hurricane Florence.
All of that water eventually made its way into the various waterways that flow through the area, including the Cape Fear River, Intracoastal Waterway and Atlantic Ocean, and it did so through roughly 400 miles of pipes, ditches and drains that make up Wilmington's stormwater infrastructure.
Much of that infrastructure has been around for decades, and maintaining it costs the city millions every year.
As development continues, the stormwater system will be subjected to greater and greater pressure, and experts say the importance of intentional management will have long-term effects on both the environment and quality of life for city residents.
The amount of stormwater runoff generated by Florence was something Wilmington Public Services Director Dave Mayes said was eye-opening.
"It's certainly a reality check," he said.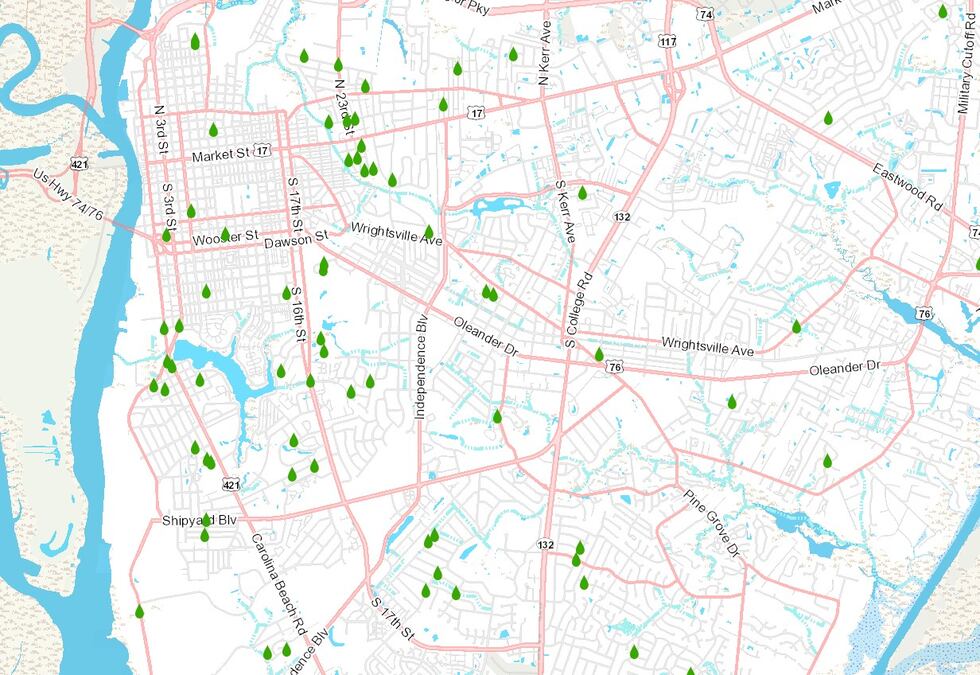 When the city last updated its stormwater ordinance, developers were forced to plan for 25-year storms.
Mayes said Florence was obviously far-beyond what the city or developers ever anticipated, and juxtaposed with an already wet year, much of the infrastructure simply didn't stand a chance.
"As a result of the hurricane, and all the rain, over 100-plus inches of rain we had last year, it really stressed the drainage system," he said, "and when you have that much water flowing through the system, it actually creates conditions that can cause failures."
Since the storm, officials have put together an interactive map of the areas that saw issues during Florence.
Still, he said, his staff does do preventative maintenance, and over the last few years has successfully cleaned out and repaired drainage systems that otherwise would have flooded during Florence, but did not.
Wilmington real estate agent Laurie Smith has lived in her home off Station Road for nine years, and said she never considered her home to be at risk of flooding, as she isn't in a flood zone and doesn't recall having an issue.
However, when Florence arrived, she says her home and the homes of her neighbors were inundated by water as the drainage system backed up.
"It was horrific," she said.
More than seven months later, Smith said someone with the city told her and neighbors there might be a blocked pipe.
That matches with what Mayes said was a common occurrence throughout the city during the storm, because on top of the volume of water, Florence also had an inordinate amount of debris that washed into the stormwater system.
"One of the things that occurred during this hurricane, was there was a tremendous amount of debris that came out of trees and whatnot, and once it hits the ground and it starts moving around, it gets picked up by runoff, it's going to get carried to the system," he said.
Mayes said his staff is still cleaning out that debris more than seven months later.
It's that combination of factors, Mayes said, that likely led to the flooding residents such as Smith experienced.
For some, Florence merely exacerbated problems they've been experiencing for years.
Matt Krise, who has lived in his home off Wrightsville Avenue for the last four years, says he ran into trouble with the stormwater system almost daily after the road was re-paved due to utility upgrades.
The slope of the road, he says, doesn't allow for water to properly drain, creating a "lake" in front of his driveway.
"We called it the lake, because once they repaved, it created this huge lake out in front of my front step," Krise said. "So, every morning as I bring the kids out and down the walkway to the car for school, I would have to lift them over this two or three foot 'lake' so they're not walking through it and that sort of thing."
In the days immediately after Florence, Krise said the situation became more dire when a two or three-feet-wide and six feet deep sinkhole opened.
"I actually took a long broomstick and tried to get to the bottom, and just couldn't. It just seemed to keep going and going," he said.
Where worrying about his children getting their feet wet before school was a nuisance, Krise said: "Of course that's an issue, but 'I don't want my one and a half year old falling in a six-foot hole,' is a bit larger issue to me, so we took it a bit more seriously."
Krise said he reached out to the Wilmington City Council, and emails obtained by WECT show his email was passed on to the City Manager's office.
Still, Krise said, it took a while for someone to come out and fill the hole.
Mayes said the city continues to find cave in situations like the one in front of the Krise home, and he thinks there will likely be more over the next few months.
In the meantime, Mayes said his office is working to at least make things passable.
"We've got staff that go out there and regularly visit these sites to make sure they are back-filled, so you can at least get your car past and safe," he said.
Beyond flooding and damage to streets, stormwater runoff can have a significant effect on the environment.
"All of this water does not go to a treatment plant, it drains to either the intracoastal waterway to the east, or to the Cape Fear River toward the west," Mayes said.
That's something the Cape Fear River Watch (CFRW) is acutely aware of.
"Stormwater pollutants are a major issue concerning water quality, and also wildlife, and also human health," said Kay Lynn Plummer-Hernandez, a wildlife biologist with CFRW.
Those pollutants, known as nonpoint source pollutants, commonly include trash, fertilizers and pesticides, oil and grease from automobiles, sediment from poorly-maintained construction sites and bacteria and nutrients from animal waste.
"The stormwater system is set up to where these non-point source pollutants are actually guided to the nearest waterway, and they go into our nearest waterways completely untreated," Hernandez said. "So things like pesticides and fertilizers can have a big impact on water quality and also on the wildlife that live in the lakes and streams and other waterways."
During Florence, she said, that process was amplified on a massive scale.
"When you have an event like a hurricane, you have more stormwater bringing more of those non-source point pollutants, into the water way," she said.
A prime example was at Greenfield Lake, where sediment and other pollutants washed into the lake and decimated the fish population.
Another sobering reminder was the endangered Sei whale that beached itself earlier this year. While it was unlikely to have caused the whale's death, plastic bags were found lodged in the animal's throat.
Mayes said when the city evaluates its stormwater regulations, it does keep the environment in mind.
"We try to make sure that we're looking at it comprehensively," he said. "So, while we're trying to fix a flooding issue, we're not ignoring the fact that just fixing the flooding issue might have a detrimental impact for water quality. We don't want to pursue projects in that manner, we want to pursue projects that take into account both."
Smith said as she watches the construction of a new apartment complex on Station Road, her concerns of the development's effect on stormwater runoff weigh heavily on her mind.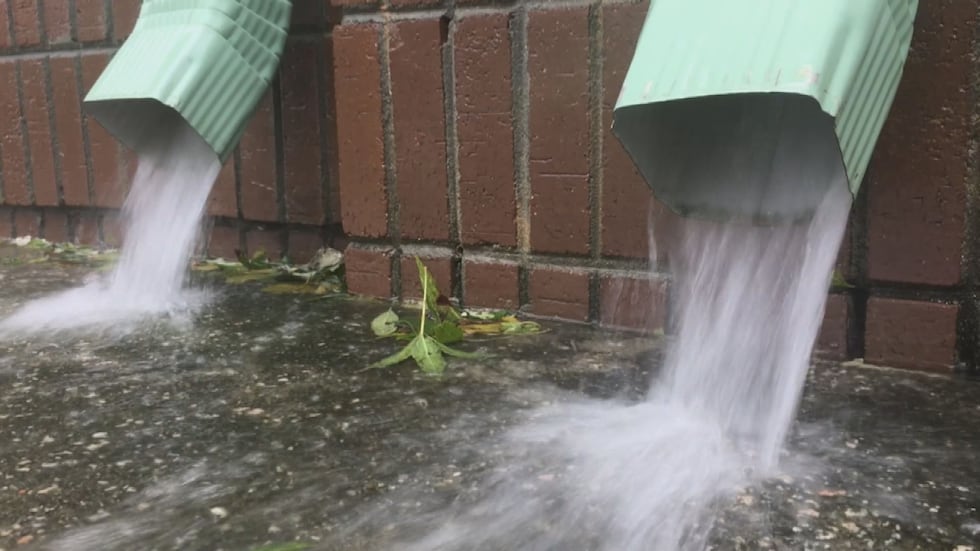 "I don't know where all the water's going to go," she said. "It's going to be all concrete and asphalt over there, and a lot of apartments, and it's just going to be — where's all the water going to go if we flood again?"
Mayes said while his staff works to mitigate runoff by implementing the city's stormwater code, the fact of the matter is simple: more development means more stormwater runoff.
The biggest issue with increased development is the increase in "impervious cover," or a human-made surface that doesn't absorb rainfall.
"The more development you see, the more impervious surfaces we have," Hernandez explained. "Those are surfaces that don't allow rainwater to soak into the ground, so the more rooftops, the more driveways, the more parking lots that we have, the more infrastructure like that we have, and development, the more runoff we see associated with stormwater and all of these pollutants."
Mayes said regulations aimed at controlling runoff to prevent flooding and improve the quality of water that eventually makes its way into waterways have improved, but reiterated that in a city like Wilmington, where some of the infrastructure is 80 to 100 years old, it isn't a perfect system.
Given that most of Wilmington was developed long before stormwater regulations existed, mitigating those issues is a serious challenge.
"There's a lot of the older parts of the city that were developed prior to any of those requirements being in place, so anything we can do to not make it worse because of new development, that's what we should do," he said.
At the same time, the city is re-evaluating its stormwater regulations.
Last year, the city staff proposed changes to the stormwater rules that would reduce the burden on developers looking to re-develop sites like the old K-Mart on College Road.
A law passed at the end of December 2018 effectively made those changes for the city, but Mayes said his staff is still working to make adjustments as the city begins the process of re-writing the entire code.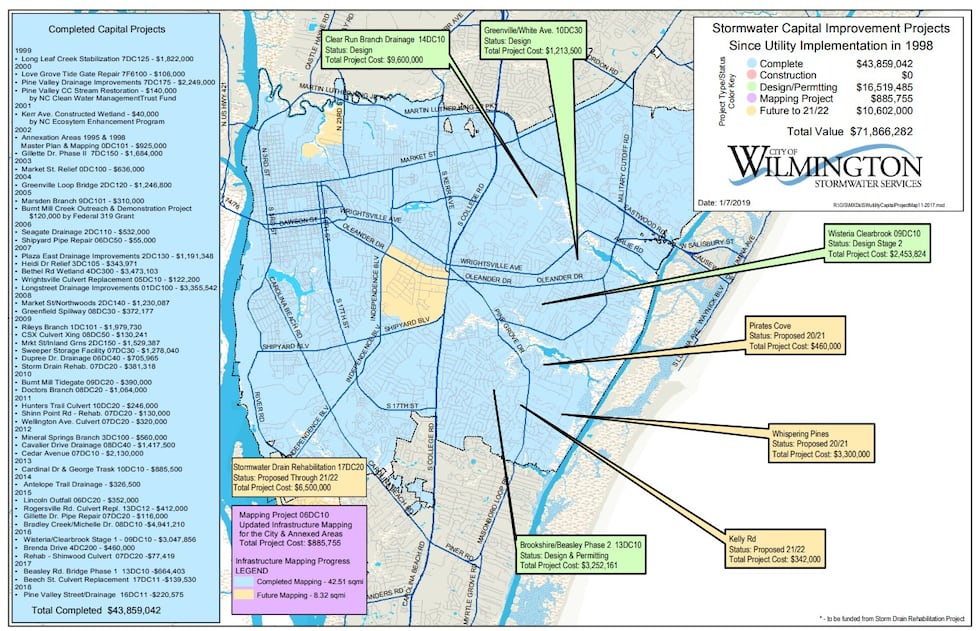 Meeting the challenge to control stormwater and both prevent flooding and protect the environment is not only difficult, it's expensive.
Since 1998, Wilmington has spent almost $45 million on stormwater rehabilitation projects, with another $27 million in the works.
Additionally, the city budgets around $1.5 million each year for annual storm drain rehabilitation.
Then, there's Florence.
Damage caused by the storm to the city's stormwater infrastructure clocked in at $2.93 million when the city submitted its requests for reimbursement to FEMA. There were 83 separate locations throughout the city that sustained damage covered by FEMA.
However, Mayes informed the city council at a March budget hearing that issues related to Florence continue to pop up around town, and because the time period for getting reimbursement from FEMA is long over, those costs will have to come from the stormwater budget.
In making those repairs, Mayes said his department has had to juggle fiscal responsibility, the urgency of the situation and the need to make repairs that will hold up over the next several decades.
"One of the things that we absolutely, positively need to make sure of is that our standards are rock solid, because we want to be putting in infrastructure that is reliable and will last," he said.
While the average resident may not be able to speed up stormwater infrastructure repairs or mitigate the effect of development, Hernandez and Mayes said there are ways everyone can have a positive effect on the quality of the water that makes its way into our waterways.
"They have an impact," Mayes said. "How they go about their daily activities on their property, how they do maintenance on their own property, all that has an impact on the water resources that we live around, choose to be here for, and enjoy as a Wilmington resident."
Hernandez suggested a handful of tips:
Don't litter, and try to reduce your use of single-use plastics

Pick up your pet waste

Plant native plants that don't need harsh fertilizers or pesticides

Keep your car maintained so it doesn't leak oil or fuel onto roads
Ultimately, both Mayes and Hernandez said just keeping in mind where the water seen rushing down the street after a rainstorm goes can have a positive effect.
"In a way, we all have waterfront property, because everything we do is going to end-up impacting the nearest water way," Hernandez said.
Copyright 2019 WECT. All rights reserved.