Woman charged with DWI after crashing into cemetery, damaging tombstones
Updated: Feb. 28, 2019 at 6:24 PM EST
BLADEN COUNTY, NC (WECT) - The Bladen County Sheriff's Office said an Elizabethtown woman was driving drunk when she slammed her car into several tombstones at the Garden of Memories Cemetery on Highway 53 in Kelly on Monday evening.
Chief Deputy Larry Guyton says 66-year-old Allanda Parrish was arrested after she caused more than $4,000 worth of damage to five tombstones at the cemetery.
"There was a man living near the cemetery that told deputies that he heard a loud noise, and saw a car inside the cemetery that concerned him," Guyton said.
According to Guyton, Parrish left the scene in her car and was later stopped and detained by the White Lake Police Department.
Jeff Huff, the supervisor at the cemetery, is waiting to see if Parrish has insurance that could pay for the damage. Otherwise, Garden of Memories will have to ask families of those buried there to foot the bill.
"Oh Lord, how are we going to pay for it? That was my first thought, is that it's a shame that somebody would do something like that," Huff said. "There's plenty of room here to park. It's not like she had to drive right through the cemetery, and it's bad that she didn't stop when she hit the first one."
Huff said about 10 smaller stones were also damaged. He called it a community cemetery where neighbors chip in so families don't have to pay for plots.
"It's not just a church cemetery. It's for anybody here in the community that passes away and needs a place to be buried and like we said, we have a lot of families here," Huff said. "It's just a shame that somebody would do this, especially a grave and why would you continue to keep driving and cause more damage?"
Parrish was charged with five counts of disturbing a grave, one count of reckless driving to endanger the public, and one count of driving while impaired. She was released from the Bladen County Detention Center after posting a $4,000 bond.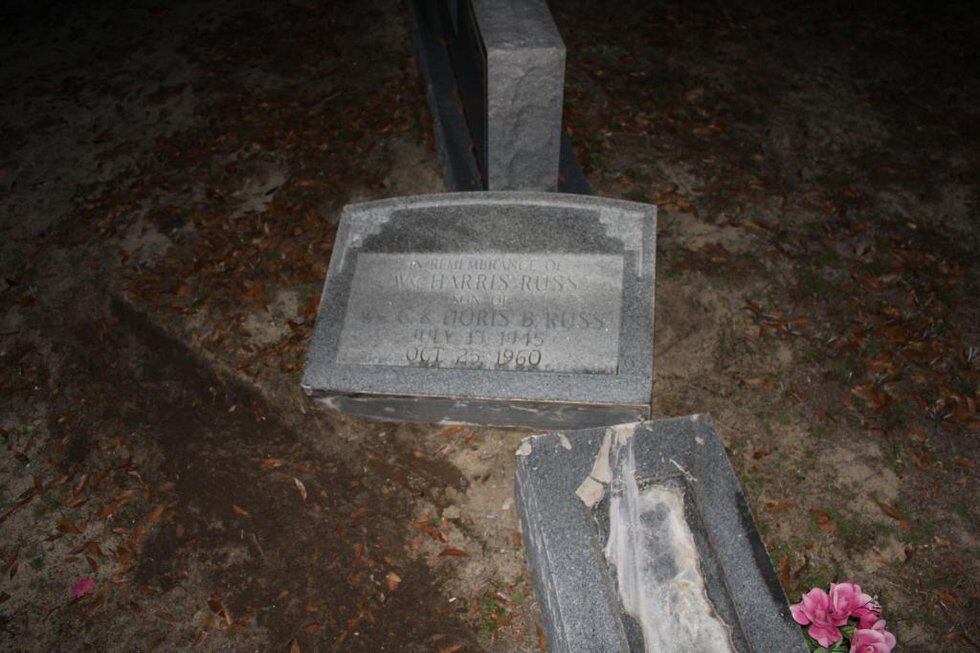 Copyright 2019 WECT. All rights reserved.