NC9 hearing day 2: Witness indicates early vote totals leaked, Red Dome leader testifies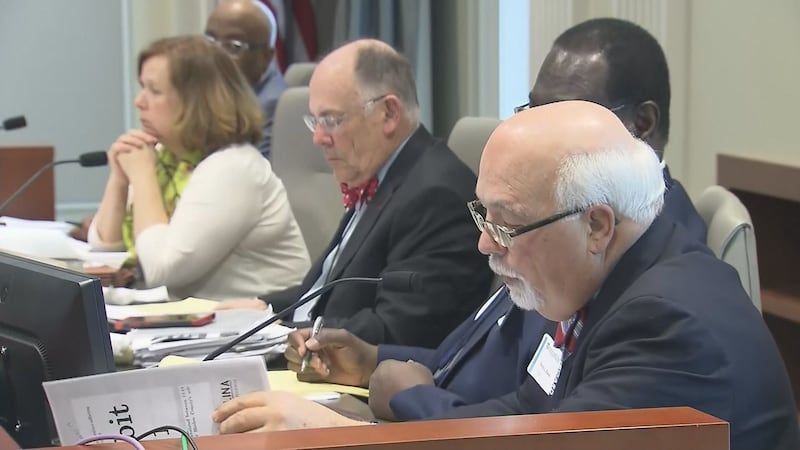 Updated: Feb. 19, 2019 at 3:30 PM EST
RALEIGH, NC (WECT) - Tuesday's continuation of the North Carolina State Board of Elections' hearing into alleged election fraud was again filled with dramatic testimony as the state board continues digging into what happened in Bladen and Robeson counties.
The first half of the second day focused on a single day: Nov. 3, 2018.
The question was based on the second leg of the NCSBE's evidentiary footstool: the possibility early voting results were leaked ahead of Election Day.
That Saturday was the last day of the early voting period for the 2018 general election, and at the one-stop voting location in Bladen County, an irregular thing occurred.
After the polls closed at 1 p.m., the ballots for early voting were tabulated and the "tape" detailing the results was printed — neither of which should have been done according to state election protocol.
NCSBE Executive Director Kim Strach began the day by interviewing Michele Maultsby, a poll worker and the chief judge at the one-stop location.
Maultsby confirmed the ballots were tabulated and the tape was printed at the end of voting on Nov. 3, but said she was unaware that was improper until state board staff told her.
Maultsby said she did not see anyone handle or look at the tape, but signed it and brought it back to the Bladen County Board of Elections office.
While there, Maultsby said executive director Cynthia Shaw "fired her up" because Shaw had heard the results had been leaked.
Maultsby testified she had no idea why Shaw asked her, and said she wouldn't have let that happen.
"Not on my watch," she said, more than once.
Strach also interviewed Mitch Edwards and Agnes Willis, the other two judges at the early voting site, and the other two people who signed the improperly-printed tape.
Edwards said he accidentally noticed the results of the Bladen County Sheriff race between Jim McVicker and Hakeem Brown. He said his eyes fell on the results when he was looking for the signature line, and saying he didn't see them would be a lie, but that he wasn't looking for them.
Willis, however, gave a different story.
She said that while she and the other poll workers were working to close-down the early voting site, she saw Edwards begin the process of printing the tape, but then turned around.
Then, she said, she heard a male voice say "Oh my god," so she turned around.
What she saw, she said, was Tojie King pointing to the middle of the results tape, to the Bladen County Sheriff race, and expressing surprise that McVicker was in the lead.
Then, Willis said, Edwards walked over and glanced at the tape briefly before walking away.
Willis said she and others looked at what King was pointing at, but that she did not divulge the results to anyone, and she was unaware of anyone else doing so.
However, Willis said the incident unnerved her, because the race between McVicker and Brown was so intense. So, she said, she called her daughter to express her concern.
During cross examination, NCSBE member David Black asked about a memo in the board's packet. The memo, he said, was from one of the state investigators, and it indicated that Willis had worked with Wanda Monroe and illegally picked up an absentee ballot.
After taking a brief recess to discuss whether or not that memo could be public — it was determined it could not, as it is part of a criminal investigation — Strach questioned Willis about her activity.
Willis said she told Wanda Monroe, who is her niece, that she thought several of her neighbors should be approached about absentee voting.
The ballot in question, she said, was for a neighbor she described as "challenged," who was even unable to produce the ballot at first.
She said she did not take his ballot, but told him to mail it after she witnessed it.
One of the key figures in the state's investigation took the stand Tuesday afternoon.
Andy Yates, president and CEO of Red Dome Group, took the stand for nearly four hours, answering questions from Strach and attorneys. When the hearing recessed at 5:30 p.m., Yates was still being questioned by Dan McCready's attorney Marc Elias, who said he still had several questions to go, and Mark Harris' attorney David Freedman had yet to begin his cross-examination.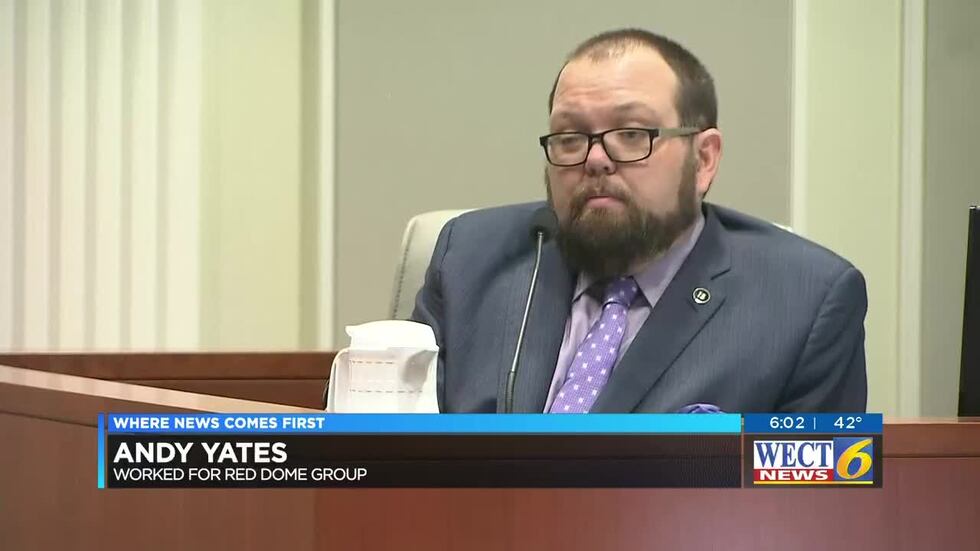 Yates said he first heard about McCrae Dowless in the summer of 2017. At that time, he said, Mark Harris had already hired Dowless to work for his campaign, but decided it would be "easier" for Dowless and other campaign workers to be paid through Red Dome Group once the consulting firm came aboard.
Strach — and later Elias — asked specific questions about the relationship between Yates, Dowless and Harris, and how Dowless was paid.
During the primary campaign, Yates said Dowless was paid $4 per absentee ballot request form, and then $5 per form during the general election. Yates said it was his understanding that Dowless was using that money to pay his workers.
On top of that, he said, Dowless was given a monthly fee of $1,200 during the primary and $1,650 during the general election. Additionally, he said, Dowless was reimbursed for expenses such as office rent, supplies and transportation.
All of those payments, Yates said, were based on verbal agreements. He said there was not a written contract between Dowless and Red Dome Group, and that he didn't require Dowless to submit receipts for his expenses.
When asked, Yates said he couldn't speculate how much of the more than $132,000 paid to Dowless was for absentee ballot request forms, nor could he speculate the difference in the number of forms brought in from Robeson County.
In addition to thinking Dowless knew election law and was operating legitimately, Yates said he was unaware of Dowless' felony fraud conviction.
Yates said he searched for Dowless on the internet when Harris said he wanted to hire him, but admitted he spelled Dowless' first name "McRae" rather than "McCrae," and that he did not know his first name is actually "Leslie."
All he found, he said, were charges related to a divorce incident that were only misdemeanors. If he had known about the fraud conviction, Yates said, he wouldn't have hired Dowless.
Several times Yates said he had no idea until after the NCSBE refused to certify the race that anyone suspected Dowless of illegal ballot activity.
Yates said he understood Dowless to have been successful in helping candidates through Get Out the Vote efforts, but that he had no inclination that anything Dowless was doing was illegal.
"No red flags," he said.
Yates said he asked Dowless directly about the legality of his operation. At that time, Yates said, Dowless was clear that he understood it is illegal for campaign workers to handle or mail ballots, and that he instructed his workers as such.
Yates said he believed him — until yesterday's hearing where Lisa Britt testified otherwise.
"I was shocked and disturbed to learn that that was not the case," he said. "If that had ever become evident to me during the campaign I would immediately have cut off all contact with Mr. Dowless, he would have never been paid by Red Dome again."
Yates said he would have told Harris to fire Dowless immediately, and if that did not happen he would have resigned from the campaign.
"I work too hard to build my business to let one person lie to me and do something wrong that they specifically told me they weren't doing and ruin me and ruin my business," he said, "and if I had known that, it would have been over at that moment."
Yates also discussed his company's involvement with Sheriff Jim McVicker's campaign.
He said it was his understanding Dowless had worked with McVicker before in an absentee ballot capacity, but that until 2018 Red Dome had only done some robo-calls for him.
After the primary, Yates said he, Dowless and Harris openly discussed the idea of combining their efforts for Harris with those of McVicker.
"It made sense," Yates said.
On Monday, the NCSBE said Red Dome paid Dowless around $5,000 for his work for McVicker. The sheriff paid Red Dome Group $8,000 during the campaign cycle, and paid Dowless directly another $8,800.
Yates said it wasn't his idea to bring McVicker into the mix, but rather the idea of Dowless and Landon Bordeaux.
Bordeaux was McVicker's campaign manager — but he has also been accused of encouraging Jeff Smith to pay Dowless off the books for McVicker, and was involved in the 2016 election protest that Dowless brought before the board.
Yates said it was understood that when Dowless' workers went out to campaign on Harris' behalf, they would also promote McVicker.
Additionally, Yates confirmed that Dowless was also working in Columbus County.
He said Dowless was running an absentee operation for Red Dome on behalf of Jody Greene, who is currently not serving as sheriff due to an outstanding election protest which kept the county board from issuing a certificate of election.
When the hearing went into recess Tuesday night, NCSBE Chair Bob Cordle said the North Carolina State Bar had informed him that the NCSBE could in fact use the facility on Thursday, unlike originally planned.
He said the goal would still be to finish things up by Wednesday night, but that "it's looking like" the hearing will continue into Thursday.
Copyright 2019 WECT. All rights reserved.