Businesses decide which CBD products might come off shelves after NC regulators announce warning letter campaign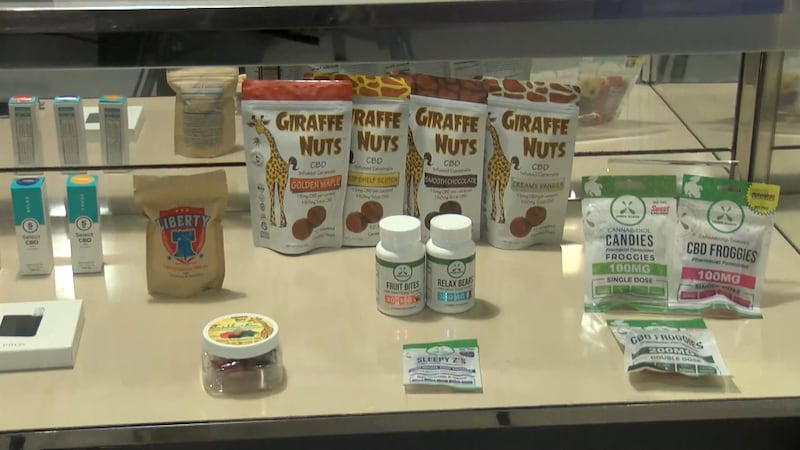 Updated: Feb. 7, 2019 at 8:33 PM EST
NORTH CAROLINA, NC (WECT) - One day after North Carolina officials revealed an upcoming crackdown on unregulated CBD products, businesses are working to learn more about what is allowed and what is not.
Joe Reardon, assistant commissioner for consumer protection with the NC Department of Agriculture and Consumer Services, provided more details Thursday about the educational letters that will be mailed out to some businesses.
"We are concerned," Reardon said. "We have seen and heard about CBD being infused in ice cream. We know that's a product that is a lot of times consumed by children. We have also seen gummy bears, lollipops. Those products that are traditionally marketed to children that have CBD in it are especially concerning to us."
Pet food or treats containing CBD are also not allowed to be sold to consumers in North Carolina under current Food and Drug Administration and state law, said Reardon.
Next week, state regulators plan to start sending warning letters to businesses selling CBD-infused food and beverages, making unapproved health claims about CBD, or selling CBD in nutritional supplements in violation of FDA rules about the compound.
WECT obtained a copy of the draft letter on Thursday. The letter will be addressed to a store or business, and it outlines FDA and state laws.
No fine or punishment is listed, but the last paragraph states: "Failure to comply could result in legal action being taken against you, including without limitation, embargo, seizure and injunction."
"We think the right approach is to educate (businesses and stores) on what the foundation of the law is, not only the federal law, but the state law," Reardon said. "We will initiate that compliance strategy early next week."
Tinctures of CBD oil remain legal because they fall outside existing laws and regulations, but Reardon said consumers should still be wary that what's inside the bottle might not reflect what the label lists.
Researchers in 2017 tested 84 CBD products purchased online, including oils, tinctures, and vaporization liquid, finding only 26 (31 percent) contained the amount of CBD listed on the label. A CBD amount was considered accurate if it was within 10 percent of the labeled value.
"It is an unregulated industry," Reardon said. "Consumers need to make sure who provided that product, who processed it, who distributed it, and where were those products grown? The consumer should know as much information is available to make good choices."
Field inspectors with the NC Department of Agriculture will be on the lookout for CBD products that are in violation of the law.
"If we come across them, we will follow that up with letters and correspondence," Reardon said. "We will answer any questions that they have about the legality of these products. We hope the industry will respond to the letters that we send out."
Chelsea Wetherell, marketing director of Hemp Farmacy in Wilmington, said the news about warning letters from the state is not surprising.
"My reaction first was, 'I saw it coming,' I guess," Wetherell said. "I knew that a lot of changes were going to be coming with the 2018 farm bill. That's how this industry has operated from the beginning. Every few months there's a new hurdle in front of us so we are just going to monitor the situation and take it in stride."
In addition to tinctures of CBD, the Hemp Farmacy storefront on College Road in Wilmington currently sells CBD gummies, candies, and cookies. These are products that Reardon said are currently prohibited to be sold in N.C. under state and federal law.
When asked if the current crackdown on CBD products would impact what the Hemp Farmacy sells, Wetherell replied, "It most likely will. We are going to gather all of the information that is available to us, and then from that information, make decisions on what's appropriate to continue caring and providing for our customers and what items need to be removed from our shelves."
Wetherell said company officials are in constant communication with the state agriculture board.
"We are just really hopeful that the FDA does reevaluate their stance on CBD as they said they would, and we are allowed to keep providing the products to the customers that they want," said Wetherell.
Grow N.C., a shop in downtown Wilmington, sent a statement to WECT Thursday with information that it will no longer sell one of its CBD products after learning about the upcoming state campaign.
"We at Grow are here to help, not hinder, the process of regulating and protecting our patrons. For this reason, we will no longer offer our CBDevia product, as it may fall into a regulated portion of the new rules regarding CBD products. Our other CBD lines will be on sale until further notice," the statement said.
Grow N.C. said they hope to create an inviting, friendly and safe environment for patrons. The business also stands for educational reform and hopes to bring clarity to the public and be an example to others in the industry. The statement said the company is planning an educational symposium too.
"In the coming days, our company will be reaching out to local and state officials, as well as representatives from various aspects of the farming, production, and retail end of the hemp industry. We would like to educate the public interested in learning more about CBD beyond the generalizations portrayed in the mainstream media," the statement reads.
Reardon said consumers can contact the N.C. Department of Agriculture and Consumer Services if they have a question, concern, or complaint about CBD products being sold.
"If there are complaints with these products being sold, we will investigate those complaints. What we don't want to see is any illness associated with the consumption and sale of those products in the marketplace," said Reardon.
Copyright 2019 WECT. All rights reserved.