CFCC hosts forum on human trafficking, safety of young people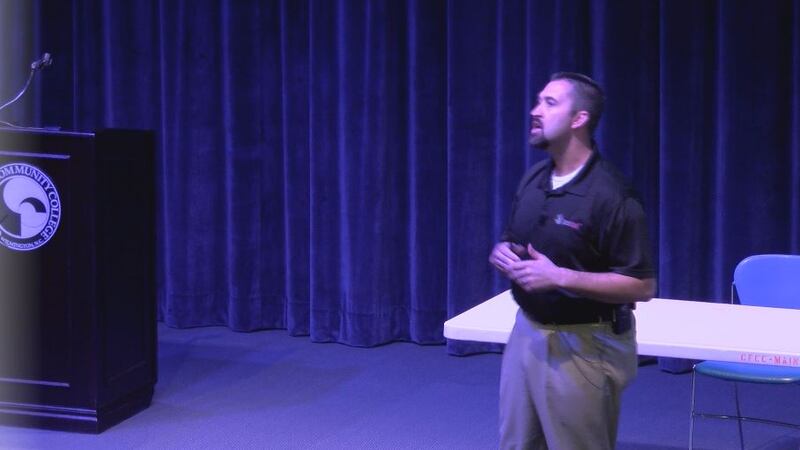 Updated: Feb. 5, 2019 at 3:43 PM EST
WILMINGTON, NC (WECT) - Cape Fear Community College hosted a forum Tuesday to educate students and the public on human trafficking and safety of young people.
The Not4$ale Human Trafficking Awareness Initiative, Community Involvement and Service-Learning Alliance, Phi Theta Kappa International Honors Society, and the Honors Program at CFCC presented the event for high school and college students, parents, faculty, and staff. It was called Just Ask: Safeguarding our Children and Community from Human Trafficking.
"Human trafficking is something that affects all of us," said Bill Woolf, executive director of Just Ask and a former detective. "Wilmington is not immune to the effects of trafficking."
Woolf led four 75-minute forums on the topic Tuesday.
"The life-altering effects are really traumatic," said Woolf. "It is very, very difficult for victims to recover from these cases and so I am passionate about prevention. If we can prevent it from happening, we will literally be saving lives. "
Woolf partnered with A Safe Place in Wilmington for the event. A Safe Place is a local nonprofit that focuses on prevention, advocacy and restoration to assist victims of commercial sexual exploitation and domestic trafficking.
"Last year alone we worked with 129 different members in our community. Seventy-seven percent of the women were from the area. Eighty-five percent of them had prior sexual abuse," said Cary Ramsay, community partnership coordinator with A Safe Place. "The youngest woman we worked with last year was 15. The oldest woman was 59. As you can see, it's quite a spread."
Woolf and Ramsay hope the forum leaves people with a better understanding of the issue, and prompts them to take it upon themselves to learn more about prevention.
"I think people have a misconception of what it looks like for women being prostituted in our city," said Ramsay. "We often think they are there by choice, but they aren't seeing all the things happening behind the scenes about why a woman is forced to be in a trafficking situation."
Thursday is Shine a Light on Slavery Day, part of the #EndIt movement. People are encouraged to wear a red X to spark conversation about human trafficking.
Sometimes it's hard to know when or if someone is a victim of human trafficking, but there are some things to look out for:
Signs of domestic abuse like bruising, scars, etc.

Covering their face

Becoming withdrawn

Not going to class/work

Associating with a different group of people or pulling away from friends
If you or somebody you know is involved with human trafficking, contact a local social worker, police, or call the human trafficking hotline number at 1-888-373-7888.
Copyright 2019 WECT. All rights reserved.