Health benefits of CBD earn high praise from a veteran, businessman, and doctor. But what does the research show?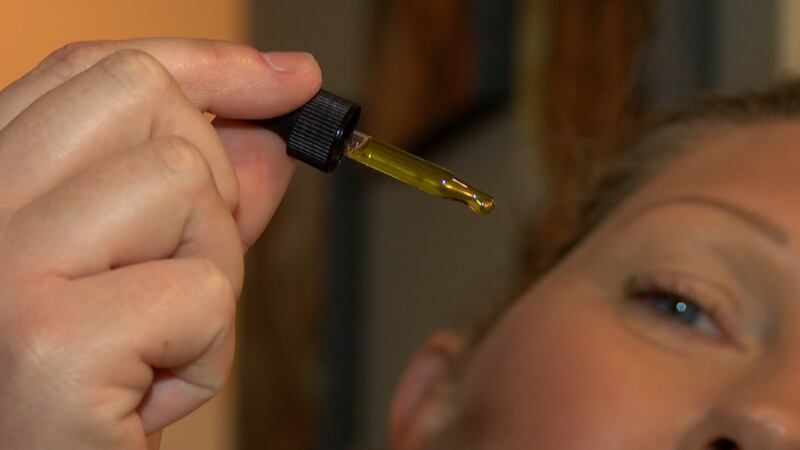 Updated: Jan. 8, 2019 at 1:46 PM EST
NORTH CAROLINA (WECT) - Chris Livingston, 48, has been sober for seven years and will do whatever he can to guard that achievement.
"I'm very protective of my sobriety. That's the number one thing in my life. Without that, I don't have anything else," Livingston said.
Every day he takes two droppers of cannabidiol (CBD), a substance made from the cannabis plant.
"It's God, Alcoholics Anonymous, my family, and the CBD oil. Those are the main components of my life," said Livingston.
CBD is a chemical compound found in the plant Cannabis sativa. Unlike THC, which makes the user feel "high," CBD does not have any conscious-altering effects. The industrial hemp plant, which by definition contains less than 0.3 percent THC, is a rich source of CBD that is manufactured into edible oils, creams, and other products.
Livingston was first introduced to CBD oil about two years ago by a friend, but it wasn't until he evacuated during Hurricane Florence that he tried the supplement.
"I had a depression hit me, and it scared the death out of me. I mean, it terrified me," said Livingston, who says he lives with anxiety, PTSD, ADHD, and depression.
After purchasing a bottle at a local store, Livingston took his first dropper of CBD, placing it under his tongue and waiting to see what happened.
"I took it. And about 5-10 minutes later, we're talking, and we're looking at each other. And we just stop talking, and I say, 'It's gone.' And she said, 'What?' And I said, 'It's gone. I feel completely normal.' The best way I can describe it is a peace, just a peace. Calm," Livingston explained.
Fast forward to today, and Livingston starts and ends every day with one dropper-full of CBD oil.
"This CBD comes along, and it has completely changed my life," said Livingston. "In four months now, I have not had one depression, not one anxiety, not one bout with the PTSD. And ADHD has gone from 30 things in my mind .... down to about three or four things."
Livingston said if you want to talk to him about CBD, you can reach him on his personal Facebook page.
Dr. James Taylor, MD, is a board-certified anesthesiologist based in Southern Pines, NC. He specializes in pain management and started a company called Integrated Hemp Solutions that manufactured hemp-based CBD medicines.
"I'm very excited for the future of this and how it's going to impact medicine," Taylor said about CBD.
He first became involved with CBD in 2016 and is currently treating more than 1000 patients in his clinic with the compound, "having wonderful results in reversing their chronic pain."
Taylor said his clinic conducted a study on 100 of his patients last year, and found that CBD helped improve sleep length and quality, decrease anxiety, and increase self-perceived hope.
"(Hope) is a little hard for physicians to put a number on, from a scale of 0 to 10, how hopeful you, but what we realized is that patients are getting kind of a mild antidepressant effect," said Taylor.
Taylor explained that compounds in cannabis acts on the body's built-in endocannabinoid system, which has receptors in the brain, spinal cord, and nerves.
Unlike other medicines that treat mental health conditions, CBD does not have a lethal dose or any serious complications, which was a "godsend" for helping patients deal with pain, said Taylor.
But how do you pick the right CBD product?
"Navigating the landscape of finding a good CBD product is difficult. It's almost buyer beware, it's the wild west out there," said Taylor.
He recommends you ask for evidence of third-party testing and shop at reliable stores that specialize in CBD products.
As for the dosage, Taylor advises that you, "Go low and go slow," and speak with a physician before introducing it into your regimen.
"Right now all aspects of the medicine need more research," said Taylor.
While the hype around CBD has exploded over the last couple of years, scientific research is still relatively young. But studies that have been conducted show promising results for a variety of conditions, including anxiety, PTSD, insomnia, and chronic pain.
A lot of people know about CBD's benefits for people with seizure disorders. The FDA approved the first cannabis-based medicine Epidiolex in June 2018.
Most of the research on CBD and anxiety has only been conducted in the last decade or so. A PubMed search for CBD and anxiety shows that research first started to increase in 2008, with the most number of studies published just last year in 2018.
One reason there is a limited amount of U.S. medical research on CBD is that the U.S. Drug Enforcement Agency (DEA) relaxed research restrictions only recently in December 2015.
A 2015 scientific review of 49 CBD and anxiety research studies found it has major potential as a treatment for multiple anxiety disorders, with oral doses ranging from 300 to 600 mg. However, the researchers caution that most of the studies they considered involved short-term CBD use for anxiety, and that long-term human studies are needed.
Another 2018 review found that "current evidence suggests that CBD has the ability to reduce psychotic, anxiety and withdrawal symptoms."
One study in 2011 tested if CBD would help people with social anxiety disorder (SAD) speak in front of a large audience. Compared to 12 people who took a placebo, 12 people who took a dose of CBD 1.5 hours before public speaking had lower levels of anxiety, cognitive impairment, and discomfort during the speech.
Ongoing research at the NYU School of Medicine is investigating whether CBD is effective at treating people with both alcoholism and PTSD. This study is estimated to be completed in the fall of 2019. Another ongoing research study at McMaster University is testing whether CBD oil can effectively help 50 adults with anxiety disorders.
A 2018 case study of 11 adults in Colorado with PTSD found that all but one experienced a decrease in PTSD symptoms after eight weeks of taking CBD. Some of the patients had also suffered from frequent nightmares, and researchers say CBD helped control these too.
A 2017 review of research studies found that "cannabidiol (CBD) may have therapeutic potential for the treatment of insomnia," but more research is needed and current studies have given mixed results.
According to a blog post written by a doctor from the Harvard Medical School, "We need more research but CBD may be prove to be an option for managing anxiety, insomnia, and chronic pain."
Kristin Thomas comes from a military family, and joined the U.S. Air Force right after graduating from high school, eventually choosing to specialize in aerospace medicine.
"I went into the Air Force when I was 18, right out of high school, and the only thing I wanted to do was something medical," said Thomas.
Thomas found that she loved aerospace medicine, especially participating in training exercises like water rescues. But she was forced to leave the military when her life-long struggle with migraines started to interfere with work.
"[The migraines] were getting more frequent, and I was unable to continue to perform my job reliably," said Thomas. "I was medically discharged after 10 years. It was very sad for me, heartbreaking. I wanted to stay in. It was not my choice."
Thomas' health struggles didn't stop there. As time passed, she battled night terrors, nausea, and migraines. These problems sometimes forced her to stay inside her house for days, causing her to miss work, cancel social engagements, and go weeks without calling her mom.
"I am a disabled veteran," said Thomas.
Relief finally came Thanksgiving 2018 when a friend literally forced her to try CBD oil after cancelling plans to hang out.
"All of the sudden, she's knocking on my door, she comes in with her bottle of CBD oil," said Thomas. "She comes in with her bottle and she says, 'Open your mouth.' and she puts a dropper full of this stuff, she's like, 'Lift up your tongue, stick this under your tongue,' OK fine, I do that."
Within five minutes, Thomas said her nausea began to fade away.
"The cool thing about it is you don't feel anything. You just don't feel bad," said Thomas.
Now Thomas has added the CBD oil to her daily routine, taking two droppers every day, morning and night.
"After a week of using (CBD), when I was at my husband's family's house, I just felt like me again. I was able to smile and hang out with people, and I didn't feel like I needed to go lay down," said Thomas.
Thomas said using CBD has nearly eliminated her night terrors, decreased the frequency of her migraines, and helped treat her nausea.
"It's not a miracle drug.... I had reasonable expectations. I'm able to get out of bed in the morning," said Thomas. "Talk to your doctor. Don't stop taking your current medication. I didn't do that. I did not just come off of anything I was already prescribed."
Copyright 2019 WECT. All rights reserved.