15,000 untested rape kits sit on shelves across the state. What will leaders do to get them processed?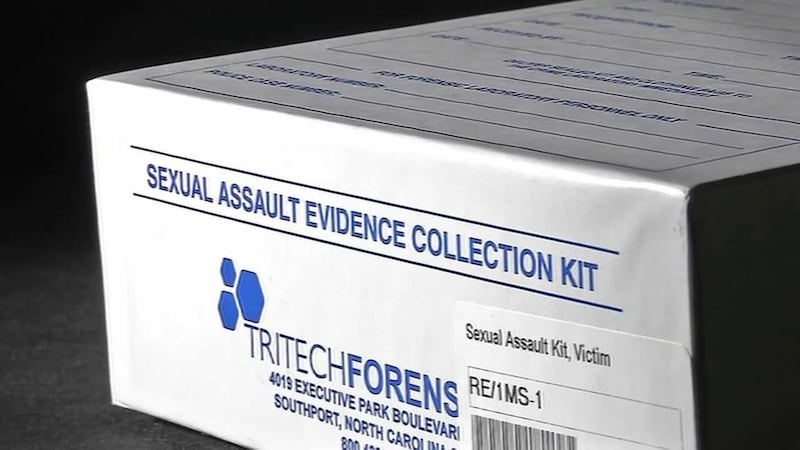 Updated: Oct. 25, 2018 at 4:57 PM EDT
RALEIGH, NC (WBTV) – More than 15,000 rape kits—some decades old—are sitting on shelves at law enforcement agencies across the state.
That's what the North Carolina Attorney General's Office found in an audit released in the spring of this year that was the result of legislation passed by the North Carolina General Assembly in 2017.
The state-wide audit was the first time all law enforcement agencies across the state were required to report the number of untested rape kits held as evidence by their agency.
In total, the audit found 15,160 untested rape kits. Law enforcement agencies couldn't provide a specific reason as to why roughly half of the kits weren't tested. Other kits went untested because the victim wished to remain anonymous (390), the kit was tied to a case that was resolved in court without the evidence (2,741), the suspect admitted to the sexual act in question (1,054) or the allegations were determined to be unfounded (3,820).
The number took state leaders and advocates by surprise.
"15,000 victims have not gotten any kind of answers," Deanne Gerdes, executive director of the Rape Crisis Volunteers of Cumberland County, said. "That's astonishing."
Gerdes was among those who helped pass the legislation to require the audit.
"Our community deserves to have these kits tested," she said.
"This isn't political. This isn't Republican or Democratic. This is about the 15,160 victims that we asked to have a rape kit done, they did it and then nothing. That's what this is about," Gerdes said.
Gerdes said one reason it's important to test the rape kits now–even those from cases that were solved by other means—is so that the DNA evidence can be added to the database that helps identify perpetrators.
"If we can get that DNA into CODIS and upload that DNA, I believe that a lot of crimes will be solved because of it," Gerdes said. "A lot of victims will get justice because of it."
North Carolina Attorney General Josh Stein said one recently-tested rape kit that had been shelved for years led to roughly a half-dozen cases being solved.
"It's actually working and we have the potential here to solve these cases and put rapists who've been doing this for who knows how long behind bars," Stein said in an interview with WBTV.
In its report outlining the audit findings in March, Stein's office recommended the following steps to address the untested rape kit problem moving forward: implement a tracking system to track all future kits collected in the state; test all kits in law enforcement custody; and develop a protocol to test all kits reporting to law enforcement going forward.
Stein's office recently announced a new system to track new rape kits collected by agencies across the state. A state taskforce is currently studying what to do with the 15,000 untested rape kits and is expected to have a report with recommendations in December.
Earlier this month, Stein announced his office had received a $2 million federal grant to begin processing some of the untested kits.
But that is only a fraction of what it will take to process all of them. The report from Stein's office estimates it will cost more than $10 million to process all untested kits across the state.
Stein said he is hopeful lawmakers will begin to appropriate money to pay for the testing when the legislature reconvenes for its long session in January.
"At some point, the state is really going to have to become an active partner. Otherwise, these kits are going to just sit on the shelf and the cases are just going to remain unsolved," Stein said.
Stein said he envisioned the legislature allocating between $4 million and $5 million in each of the next two budget cycles to address the untested kits.
One reason the cost to process these untested kits is so high is because the kits have to be sent to private labs, otherwise, the state crime lab—which cleared a massive backlog of current kits just a few years ago—would be bogged down again.
That's not lost on lawmakers like Representative Mary Belk (D-Mecklenburg), who has been a vocal advocate on matters related to testing rape kits.
"Even if we had 10 million dollars we don't have the capacity to test all those because we're testing now for the ones that are coming in since October 1st," Belk said. "You have to start getting these to the crime lab. Those 15,000 are going to stay where they are right now and prioritize."
Even though Belk said she has been encouraged to see legislation to quantify the number of untested kits and adopting Stein's recommendations related to tracking rape kits and forming the taskforce to come up with a strategy for processing untested kits, she said the lack of funding to address the problem must be addressed when lawmakers go back to work in January.
"What we didn't do is we didn't fund (the rape kits), so we had no funding whatsoever for those rape kits," Belk said. "And testing those 15,000 that we still have that we have to do and that's kind of frustrating."
In Charlotte, where CMPD reported 499 untested kits, work has already begun to process that evidence.
CMPD is the only agency in the state that has its own crime lab. Every other law enforcement agency sends its evidence to the state crime lab for processing.
CMPD Crime Lab Director Matt Mathis said his agency has already process more than half of the previously untested kits. The number currently sits at just 154.
"This is a challenge that's not unique to Charlotte, that's not unique to North Carolina," Mathis said. "There are states and agencies all across the country that are dealing with this issue of untested sexual assault kits."
Copyright 2018 WBTV. All rights reserved.