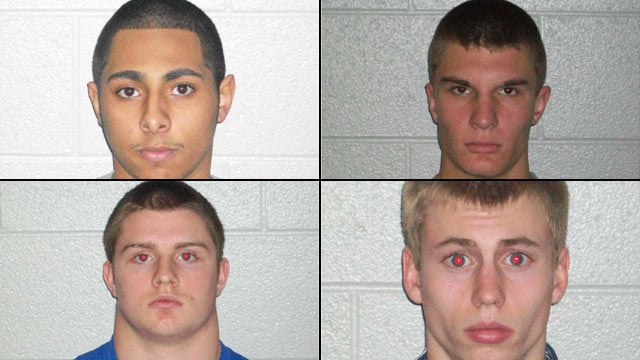 From top-left to bottom-right: Vincent Curto, Tyler Garren, Matthew Bishop and Justin Ponder. (Henderson Co. Sheriff's Office)
HENDERSONVILLE, NC (FOX Carolina) -
Four former East Henderson High School students charged with raping a classmate will head to trial Monday.
James Bishop, Vincent Curto, Tyler Garren, and Justin Ponder were all charged with second-degree rape following a sexual assault on a 16-year-old girl that was reported after at a party on December 8, 2012.
Warrants stated that the victim passed out during the party, and awoke to find herself naked and being sexually assaulted by a male.
Warrants stated that the four teens "did carnally know and abuse (the victim), who was at the time mentally incapacitated and physically helpless."
One of the teens charged was the son of a Henderson County deputy. The Sheriff's Office reported that the party and attack happened inside the deputy's home while parents were away.
All the suspects except Curto were members of the East Henderson High football team at the time of their arrests.
Copyright 2014 FOX Carolina (Meredith Corporation). All rights reserved.