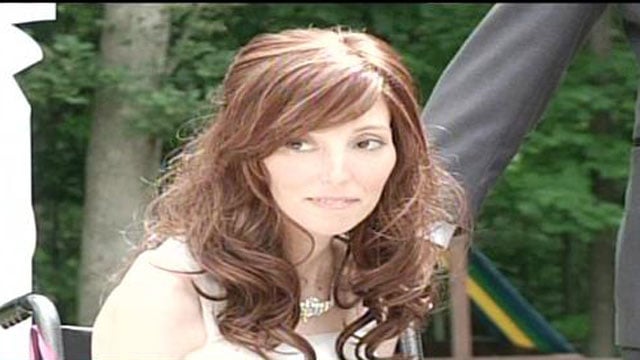 25-year-old Jennifer Hutcheson
FLINT, MI (WNEM) -
Residents and business owners in a local community joined forces to make a young woman's dream a reality.

Jennifer Hutcheson, 30, of Flint has been battling cancer for years. Issues related to her illness has put her wedding on hold but thanks to the generosity of others, Jennifer became a bride on Sunday.

Hutcheson was diagnosed with esophageal cancer at age 25. The cancer eventually spread throughout Jennifer's entire body. Jennifer and her then fiance, Allen Korth wanted to marry five years ago. But that didn't happen.

If they would've married at that point when they originally wanted to, she would've lost her coverage.

After delaying the wedding five years for fear that Jennifer would no longer have health insurance, the couple managed to cut through the red tape.

Several organizations showed up in a big way for Jennifer and Allen's big day.

But don't think this bride let everyone else do all the work. Jennifer went to Pinterest and planned.

The couple's big day was complete with signature drinks named after Jennifer's two dogs. One of the dogs is a little more active. That's why that drink has a little wine in it.

To Laura Allis, the president of Michigan's 'Wish Upon A Wedding, this moment grabs her attention.

"She's the age of my youngest daughter, so it brings it home," says Allis.
Wish Upon A Wedding has 12 chapters across the United States.
Organizers invited TV5 to the event but asked that we not interview the bride or groom. We wanted to be respectful by honoring their request.
Copyright 2014 WNEM (Meredith Corporation). All rights reserved.