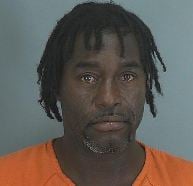 Michael Miller (Courtesy:County Detention Center)
SPARTANBURG, SC (FOX Carolina) -
Spartanburg Police said a man was arrested after attempting to shove an officer who was questioning him about a possible assault.
Police said they were called to an address on North Dean Street on Saturday night where a man claimed he was assaulted by Michael Miller and wanted Miller trespassed from the residence.
Officers said Miller was aggressive and uncooperative when they questioned him and attempted to shove an officer, prompting the officer to use physical force to wrestle Miller to the ground.
Officers said Miller was transported to the Spartanburg County Detention Center where he was charged with simple assault.
Incident reports state Miller had to be placed in a solitary holding cell at the jail due to his "belligerent and combative state."
Miller remains in jail on a $1,000 bond.
Copyright 2014 FOX Carolina (Meredith Corporation). All rights reserved.