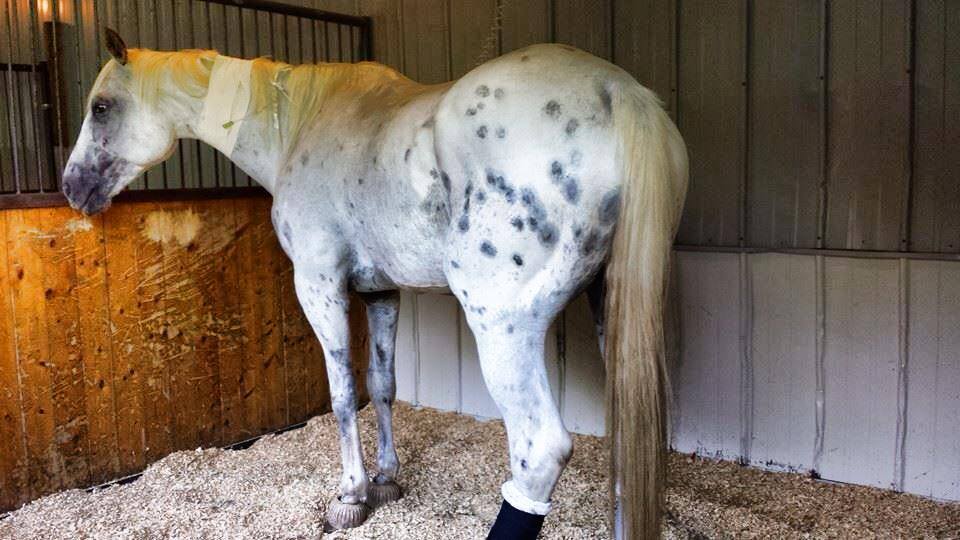 Odie the horse at Tryon Equine Hospital (Courtesy: Sassy Stables/ Facebook)
WOODRUFF, SC (FOX Carolina) -
A horse that was stolen from an Upstate stable has been found and is getting medical attention.
Odie, a 1,100-pound Appaloosa gelding horse was reported stolen from Sassy Stables in Woodruff on Thursday.
The horse was taken from a locked fenced area, the stable owner told deputies.
On Friday afternoon, Odie was found at an address in Laurens County, according to Debi Metcalfe with Stolen Horse International, a national group based in Shelby, NC that helps track down stolen and missing horses.
Metcalfe said she was at the scene when the horse was located, and said she used a microchip scanner to help the horse's owner prove ownership to deputies.
Odie was severely dehydrated, had leg injuries, and was sore from harsh riding, Metcalfe said. The horse was taken to the Tryon Equine Hospital, where he was still being treated Saturday morning.
Metcalfe said deputies are still investigating the case.
Copyright 2014 FOX Carolina (Meredith Corporation). All rights reserved.