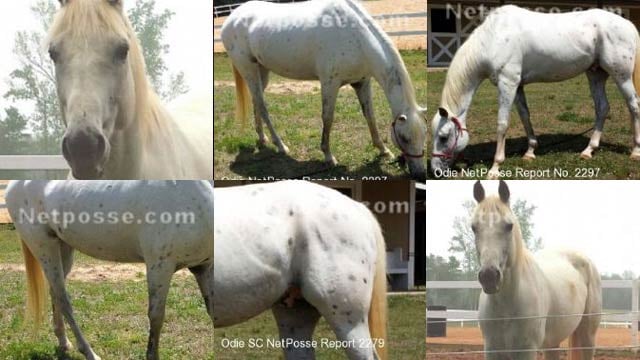 Odie went missing between Wednesday and Thursday from Sassy Stables in Woodruff. (Source: netposse.com)
WOODRUFF, SC (FOX Carolina) -
A local stable owner is pleading for help after a 1,100-pound Appaloosa gelding horse was reported stolen from her Woodruff area stable earlier this week.
The horse, named Odie, went missing between 4 p.m. on Wednesday and 10:30 a.m. on Thursday, according to the Spartanburg County Sheriff's Office incident report.
The 7-year-old horse is described as white/gray with brown spots.
The horse was reported stolen from a field at Sassy Stables on Davis Road off Highway 101 in Woodruff.
The owner of the stable Kristin Hiller told deputies the fence was locked and intact.
Hiller told FOX Carolina the horse's halter and lead line was taken with him. She was unsure how the horse was taken off the property.
She said the horse is microchipped.
Copyright 2014 FOX Carolina (Meredith Corporation). All rights reserved.