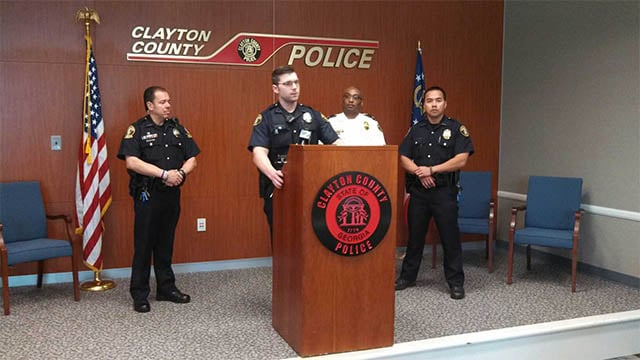 CLAYTON COUNTY, GA (CBS46) -
A Clayton County police officer is being hailed as a hero after he ran into a burning home to pull a man to safety.

Around 1:05 a.m. Sunday, Clayton County officers responded to the 6500 block of Charles Drive in Morrow in reference to a house fire.
Upon the arrival, Cassandra Jones, 32, ran towards officers screaming and telling them her husband, Fabian Jones, 37, was still inside and was not responsive.
Clayton County police officer Rocky Lee kicked in the home's side door which led to the kitchen area.
Even though it was difficult to breathe, Lee quickly dropped down to the floor and started crawling while calling out Jones' name.
Lee found Fabian Jones laying on the floor unconscious and struggling to breathe. The officer pulled the resident from the burning house outside to safety where Clayton County paramedics treated him.
Jones suffered non-life-threatening burns and was taken to an area hospital for treatment.

Copyright 2014 WGCL-TV (Meredith Corporation). All rights reserved.