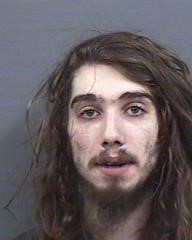 NEWBERG, OR (KPTV) -
A 19-year-old Newberg man shot off his mother's finger using a crossbow Sunday night, according to Newberg-Dundee police.
Randall Bracken lives with his mother in the second story of a two-story duplex on North Harrison Street. Police didn't elaborate on what led up to the crossbow attack, but they said Bracken shot his mother in the hand, so she ran downstairs to ask a neighbor to call 911.
Officers responded to the home at 5:37 p.m. and they immediately started a search of the house and immediate area.
Police said Bracken had fled the home before they arrived and they began to set up a containment area. They also requested the help of the Yamhill County Sheriff's Office.
Sheriff's deputies soon found Bracken walking on Chehalem Drive. He was carrying a loaded compound bow in a low ready position and refused to follow the deputies' orders, police said.
Bracken eventually complied and was arrested by police at 6:04 p.m. They booked him into jail on charges of second-degree assault, unlawful use of a weapon and menacing.
His mother was taken to a Portland-area hospital, where doctors amputated her finger.
Copyright 2014 KPTV-KPDX Broadcasting Corporation. All rights reserved.