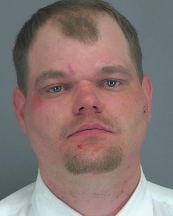 Edward Guy II (Courtesy: Spartanburg Co. Detention Center)
WELLFORD, SC (FOX Carolina) -
A Wellford man faces a list of charges after he assaulted two deputies who were trying to take him into custody, according to an incident report.
Spartanburg County deputies said Edward Guy II is charged with two counts of resisting arrest with assault and one count of resisting arrest no assault.
Deputies said they were called to a home on Norris Road Saturday where other people at the address told deputies Guy was acting strangely.
Deputies said Guy attempted to run from the scene when they arrived, and when deputies chased him down, he reportedly backhanded two of them in the face.
While wrestling with Guy, deputies said they threatened to use a stun gun on Guy if he did not stand down.
Deputies said Guy did not heed the warning and one of the deputies used a stun gun on him.
Guy was then taken into custody and transported to Spartanburg Regional Hospital, deputies said.
Guy is being held in the Spartanburg County Detention Center on a $5,500 bond.
Copyright 2014 FOX Carolina (Meredith Corporation). All rights reserved.