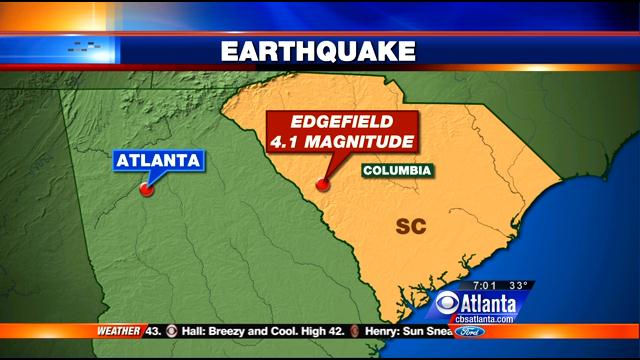 Friday's earthquake
ATLANTA (CBS ATLANTA/AP) -
An aftershock (3.2) was confirmed at 3:23 PM in South Carolina, near the site of Friday's earthquake.
An earthquake previously shook Georgia and South Carolina late Friday night, startling thousands of people.
The U.S. Geological Survey's website said the quake happened at 10:23 p.m. with a preliminary magnitude of 4.1. It was centered near Edgefield, South Carolina. That's near Augusta, Georgia. People reported feeling it as far west at Atlanta and as far north as Hickory, North Carolina.
"It was not 'heart attack' scary, but more like 'definitely got my attention' scary….What's coming next?" Jacquelyn Berry wrote on CBS Atlanta's Facebook page.
"I felt it in Kennesaw, my dining table made a noise and I was wondering what happened. I didn't know it was an earthquake though!" added Rekik Mulugeta.
The quake follows an unusually harsh winter, including an ice storm in Georgia just this past week.
Officials planned to start assessing damage once daylight arrived Saturday. No damages or injuries were immediately reported.
Copyright 2014 WGCL-TV (Meredith Corporation). The Associated Press also contributed. All rights reserved.