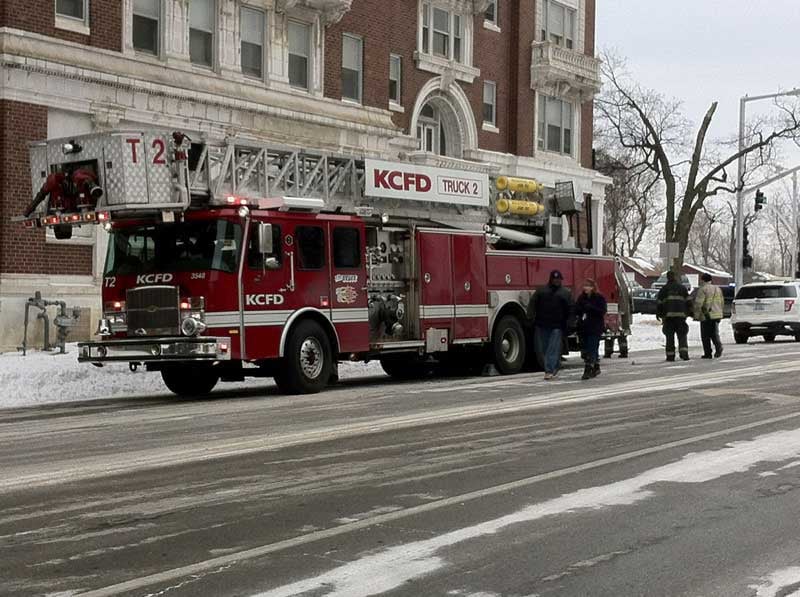 Fire truck involved in crash (Bill Lindsay/KCTV5)
KANSAS CITY, MO (KCTV) -
One person was injured when a fire truck and a car collided while firefighters were en route to battle a blaze.
The crash happened about 1:20 p.m. Friday at The Paseo and Linwood Boulevard. This was about three blocks from the scene of the raging fire at 2912 The Paseo.
An ambulance was ordered to the scene after a person in the car was injured. That person is expected to be OK.

The fire truck was traveling north on the Paseo when the back corner was struck by the driver traveling east on Linwood.
Fire department spokesman James Garrett said the crash did not significantly slow down the response to the fire, which was at a vacant home.
Crews were sent to the crash scene to check on the victims, and another truck was routed to the fire scene, Garrett said.
"We always have units ready to respond," he said. "However, the quick response of that company may have delayed our ability to extinguish this fire just a little bit."
He urged motorists to immediately pull to the right when they hear sirens.

Copyright 2014 KCTV (Meredith Corp.) All rights reserved.