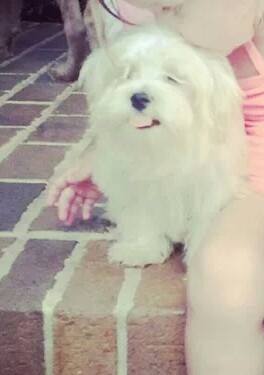 The dog, named Baby Girl (Courtesy: the Elbertson family)
WILLIAMSTON, SC (FOX Carolina) -
A dog who was believed to have ran off from the scene of a deadly car crash has been found and will soon have a new home.
Travis Ridgeway said the dog named Baby Girl, who belonged to his mother, was able to run from the wreckage on Beaverdam Road after a Chevy Tahoe ran off the road and rolled over early Friday morning, and eventually claimed his mother's life.
Anderson County Coroner Greg Shore said the Tracy Elbertson was not wearing her seat belt and was thrown from the vehicle.
According to troopers, the Elbertson was transported to Greenville Memorial Hospital where she died of her injuries.
Ridgeway said someone had found Baby Girl at the Saluda Valley Country Club Sunday afternoon, not far from where Elbertson lived. Despite the crash and the extremely cold temperatures over the weekend, Ridgeway said the dog was in good health.
Ridgeway said he plans to give the down to the owner of the Town & Country Lounge in Williamston, where he said Elbertson worked.
"The bar owner has always loved Baby Girl, and he was good to my mom all the years she's worked there," Ridgeway said. "So we wanted to give the dog to him."
Copyright 2014 FOX Carolina (Meredith Corporation). All rights reserved.